Percy Jackson's Greek Heroes by Rick Riordan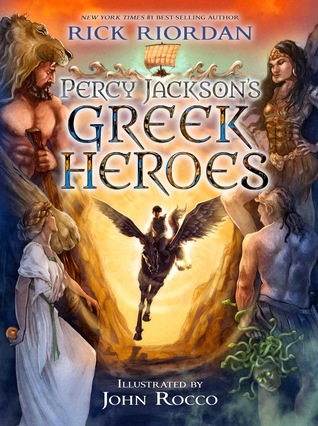 Genre: YA Fantasy/Mythology
Publisher: Disney Hyperion
Publication Date: August 18, 2015
Goodreads Rating: 4.59 stars
Pages: 336
Synopsis:
"Who cut off Medusa's head? Who was raised by a she-bear? Who tamed Pegasus? It takes a demigod to know, and Percy Jackson can fill you in on the all the daring deeds of Perseus, Atalanta, Bellerophon, and the rest of the major Greek heroes. Told in the funny, irreverent style readers have come to expect from Percy, ( I've had some bad experiences in my time, but the heroes I'm going to tell you about were the original old school hard luck cases. They boldly screwed up where no one had screwed up before. . .) and enhanced with vibrant artwork by Caldecott Honoree John Rocco, this story collection will become the new must-have classic for Rick Riordan's legions of devoted fans–and for anyone who needs a hero. So get your flaming spear. Put on your lion skin cape. Polish your shield and make sure you've got arrows in your quiver. We're going back about four thousand years to decapitate monsters, save some kingdoms, shoot a few gods in the butt, raid the Underworld, and steal loot from evil people. Then, for dessert, we'll die painful tragic deaths. Ready? Sweet. Let's do this."
**********************************************************************************************
About Rick:
Information from Rick Riordan's Goodreads profile:
"Rick Riordan is the #1 New York Times bestselling author of many books, including the Percy Jackson & the Olympians series. Please follow him on Twitter and via his official blog."
**********************************************************************************************
Why We're Waiting:
Lauren: I love Greek Mythology! I love Percy Jackson! I love Rick Riordan! Needless, to say…even without reading this book I already know I'm going to love it! Percy's voice in the Percy Jackson and Heroes of Olympus series is a big reason I love the series so much. He is such an entertaining character to experience books with. A book of myths written in Percy's point of view is a great addition to a wonderful series! Not only will reading the stories be entertaining with all of Percy's sass, there is also the wonderful addition of artwork from the wonderful John Rocco! Each picture is truly beautiful to look at, it would be easy to just stare at it all day! I know this book is HUGE, but I would love to add this one to my shelf, right next to the other books by Rick that I own! (I still need to get a copy of Percy Jackson's Greek Gods as well!) The only thing that would be better than having this book, would be to have it signed!
Melissa: I am thrilled that Rick is coming out with a second guide book! It is just as massive as Percy Jackson's Greek Gods and I love that!  If you've read Percy Jackson books before, you need to add this book to your collection. It's told from Percy's perspective and he's always been very funny. I can't wait to see how Rick puts a slight twist on the stories using Percy's voice. I also am eager to see all the new artwork John Rocco has done for this book.  He's done such a phenomenal job with all of Rick's book covers, I wish I could collect prints of them all and hang them up! My love for Rick's books run deep so you know I'll be running around trying to find a signed copy!
Kelly: I haven't read too much into Mythology yet, but while researching for my manuscript, I've grown to slowly love it. I mean, I'm researching all sorts of demons, gods, mythical creatures and everything in between. This book sounds like a lot of fun because it seems like it can tell me a lot about the mythical creatures I'd like to know about and all of the Greek legends, but it will also be told from the perspective of the quirky, fun, story-teller like narrator that is Percy. I still need to read the Percy Jackson series… don't judge me…
**********************************************************************************************
Coming Soon:
LLR Girls Night!
Our new poll is up! We have our finalists for our LLR Girls Night in August! Vote for your favorites below!
Also, what would work better for you guys: Friday, August 21st or Saturday, August 22nd? Leave us a comment or tweet us and let us know! =)
Keep an eye out for more about this event and if you would like to keep updated, sign up for the e-mail notifications by clicking here!
Blog tags!
Melissa has a couple of blog tags coming up, so if you're a blog friend of hers, BEWARE! She's coming for you. 😉
Reviews and more reviews!
Tangled Webs by Lee Bross – Coming Soon!
Henrietta and the Dragon Stone by Beth Barany – Coming Soon!
The Short Life of Sparrows by Emm Cole – Coming Soon!
The Creeping by Alexandra Sirowy – Coming Soon!
The Heart of Betrayal by Mary E. Pearson– Coming Soon! 
We hope you all have a wonderful night!! =)
❤ Melissa, Lauren, and Kelly