Amani is known for many things in The Rebel of the Sands by Alwyn Hamilton. Me on the other hand have been blogging for less than a year and not "known" for much in the blogging community. However, if you have gotten to know me as a person within the last year then you know I have several obsessions.
I am OBSESSED with Sailor Moon
I am CRAZY about Doctor Who
I am KNOWN for designing some book related graphics (see above) & for Live Love Read
I LOVE Penguins!
I am WANTED for having too many book boyfriends
What are some of the things you are most well known for or wanted for? Let me know in the comments below!
---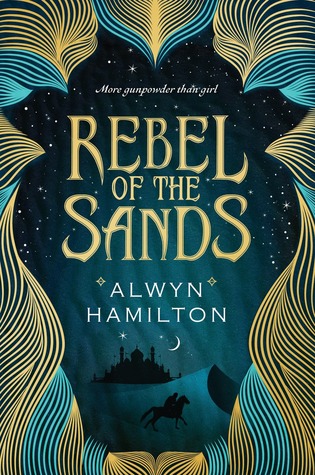 The Rebel of the Sands by Alwyn Hamilton
Publisher: Penguin
Genre: YA Fantasy, Action & Adventure
Release Date: March 8, 2016

"You will cheer for Amani the whole way as she escapes the bonds of oppression and finds her own power, and you will mark your calendar for the sequel."—Rae Carson, bestselling author of the Fire & Thorns trilogy

Mortals rule the desert nation of Miraji, but mythical beasts still roam the wild and remote areas, and rumor has it that somewhere, djinn still perform their magic.  For humans, it's an unforgiving place, especially if you're poor, orphaned, or female.
Amani Al'Hiza is all three.  She's a gifted gunslinger with perfect aim, but she can't shoot her way out of Dustwalk, the back-country town where she's destined to wind up wed or dead.
Then she meets Jin, a rakish foreigner, in a shooting contest, and sees him as the perfect escape route. But though she's spent years dreaming of leaving Dustwalk, she never imagined she'd gallop away on mythical horse—or that it would take a foreign fugitive to show her the heart of the desert she thought she knew.
Rebel of the Sands reveals what happens when a dream deferred explodes—in the fires of rebellion, of romantic passion, and the all-consuming inferno of a girl finally, at long last, embracing her power.
 Available for Pre-Order!
Penuin | Amazon | B&N | Book Depository
---
About Alywn Hamilton

Alwyn Hamilton was born in Toronto and spent her childhood bouncing between Europe and Canada until her parents settled in France. She grew up in a small town there, which might have compelled her to burst randomly into the opening song from Beauty and the Beast were it not for her total tone-deafness. She instead attempted to read and write her way to new places and developed a weakness for fantasy and cross-dressing heroines. She left France for Cambridge University to study History of Art at King's College, and then to London where she became indentured to an auction house. She has a bad habit of acquiring more hardcovers than is smart for someone who moves house quite so often.
---
The Giveaway
5 WINNERS: (US ONLY)
A hardcover of REBEL OF THE SANDS
A PenguinTeen tote bag