Writing Through Difficulty
by Shanna Swendson
It's relatively easy to stay on target with your writing goals when everything in your life is going well — you don't have a lot of stress, your relationships are happy, and you don't have a lot of other things to deal with. But life isn't always (or even usually) that way, and because writing fiction is such an emotional endeavor, turmoil in your life can spill over into your writing, affecting both the quantity and quality of your work. How can you keep writing in difficult times?
If you don't have a deadline, the easy answer is that you don't have to worry about it, but if you hope to make a career out of writing, there will be times you have to keep going when you don't feel like it. That means it's good practice to at least try to keep going, even if you have to make some modifications in your goals. There may be some circumstances in which it's impossible, and it would be impossible even if you had a contract and a deadline — an editor would likely understand a delay if your house burned down or you were undergoing cancer treatment, so you should give yourself the same break — but in other circumstances, there are ways to power through.
First, acknowledge your difficulties. Trying to pretend that nothing is different won't help. You may need to give yourself permission to work less while you have other priorities, and you should do so without guilt. If you do have a deadline and realize that meeting it will be difficult, notify your editor, agent, co-authors, or anyone else who might be affected as soon as possible. Most of the time, they can make other plans and accommodate you if they have enough warning. Things become difficult if they don't know you're not going to deliver until you've already missed the deadline. Just making this notification can take a weight off your shoulders and make it easier to work. If you don't have a deadline that isn't self-imposed, adjust your goals and targets so you won't feel like you're failing.
Next, find a way to carve out an environment in which you can work. Shutting out all your worries for a little while will not only help your work, but may also be therapeutic in giving you a momentary escape. This may entail going somewhere else to work, like to the library or a coffee shop, or finding a place within your home where you can shut out as many distractions as possible. When I'm in this state, I sometimes write at night, with the only light in the house being the light around my writing area. It's almost like shutting out the rest of the world so that the only thing that exists is my writing.
One problem I face when writing in the midst of turmoil is those thoughts that I can't quite shut off, swirling around in my brain and blocking out the characters and story. I went through this ten years ago when I was in the middle of the third book in my Enchanted, Inc series and one of my good friends, who had served as a beta reader for my books, passed away. I knew she was ill, but she hadn't let on just how bad it was, so her death was a huge shock. I really didn't feel like writing because she'd been a big part of the development of this series, and writing it was a constant reminder of loss. But I had a contract and a deadline, and I knew she'd come back from the grave to haunt me if I didn't write that book, so I had to keep going. This is when it helps to create a kind of ritual to get you in the mindspace for writing. I went to a quiet corner of my house with my laptop, lit some candles, and put on music that was just enough to block out other noise without being distracting. I played the same music every time, and soon it became like a trigger that told my brain that it was time to write. While that CD played, I could shut everything else out and focus on my work.
It can also help to find ways to deal with your other emotions. If you're having trouble writing because of emotional upset, take some time to journal and write about your feelings, talk to a trusted friend, or even seek professional help. Getting things out of your brain can stop that swirling around feeling in which you can't stop thinking over and over again about the same things. Maybe even take some time out during the day when you're not writing to let yourself really think and feel instead of pushing those things aside all the time. You may even find that you can use this turmoil in your work, if not in the current project, then somewhere down the line. Record how you feel, how it affects you physically, what you think about. Write about yourself like you'd write about a character going through these things. This could give your writing a stronger emotional punch and authenticity.
Find little rewards or treats to associate with your writing. You probably got started doing this because it was fun, so try to recapture that. Have a particular beverage you like that you only get to drink while you're writing. Reward yourself for a successful writing session. Make writing a retreat from your troubles (as long as you're not using it to avoid facing your troubles).
Even if you do these things and keep going with your work, your work may be affected, and because you're so close to it, you may not be able to see it. It's especially important to get feedback from someone else on this work. Get a beta reader or an editor to look at it before you submit it, or else put it aside for at least a month and then look at it again. When I sent the initial draft of that difficult book to my agent, she said I needed to rewrite the ending entirely. When I looked at it again, I realized that my blue mood really showed. It was a total downer. By that time, I was feeling a lot better, and I was able to write a better ending. (If you want to see the difference, the original ending of Damsel Under Stress is on my web site, on that book's page.)
I usually find that I feel better if I keep trying to work instead of giving up because of my circumstances. It gives me something positive to have come out of the difficulties, even if it isn't my best work or most productivity.
---
About Shanna:
Shanna Swendson earned a journalism degree from the University of Texas and used to work in public relations but decided it was more fun to make up the people she wrote about, so now she's a full-time novelist. She's the author of the contemporary fantasy Enchanted, Inc. series and Fairy Tale series and the young adult steampunk fantasy Rebel Mechanics. She's also contributed essays to a number of books on pop culture topics. She's a frequent guest at writing conferences and science fiction conventions, where she gets to talk about books and television and consider it "work." She lives in Irving, Texas, with several hardy houseplants and too many books to fit on the shelves.
Website ~ Twitter ~ Facebook ~ Goodreads
---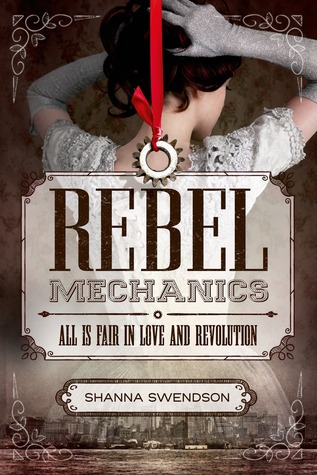 Rebel Mechanics (Rebel Mechanics #1)
A sixteen-year-old governess becomes a spy in this alternative U.S. history where the British control with magic and the colonists rebel by inventing.
It's 1888, and sixteen-year-old Verity Newton lands a job in New York as a governess to a wealthy leading family—but she quickly learns that the family has big secrets. Magisters have always ruled the colonies, but now an underground society of mechanics and engineers are developing non-magical sources of power via steam engines that they hope will help them gain freedom from British rule. The family Verity works for is magister—but it seems like the children's young guardian uncle is sympathetic to the rebel cause. As Verity falls for a charming rebel inventor and agrees to become a spy, she also becomes more and more enmeshed in the magister family's life. She soon realizes she's uniquely positioned to advance the cause—but to do so, she'll have to reveal her own dangerous secret.
Goodreads ~ Amazon ~ Barnes & Noble
---
Enchanted, Inc. (Enchanted, Inc. #1)
Katie Chandler had always heard that New York is a weird and wonderful place, but this small-town Texas gal had no idea how weird until she moved there. Everywhere she goes, she sees something worth gawking at and Katie is afraid she's a little too normal to make a splash in the big city. Working for an ogre of a boss doesn't help.
Then, seemingly out of the blue, Katie gets a job offer from Magic, Spells, and Illusions, Inc., a company that provides tricks of the trade to the magic community. For MSI, Katie's ordinariness is an asset.
Lacking any bit of magic, she can easily spot a fake spell, catch hidden clauses in competitor's contracts, and detect magically disguised intruders. Suddenly, average Katie is very special indeed.
She quickly learns that office politics are even more complicated when your new boss is a real ogre, and you have a crush on the sexy, shy, ultra powerful head of the R&D department, who is so busy fighting an evil competitor threatening to sell black magic on the street that he seems barely to notice Katie. Now it's up to Katie to pull off the impossible: save the world and–hopefully–live happily ever after.
Goodreads ~ Amazon ~ Barnes & Noble
---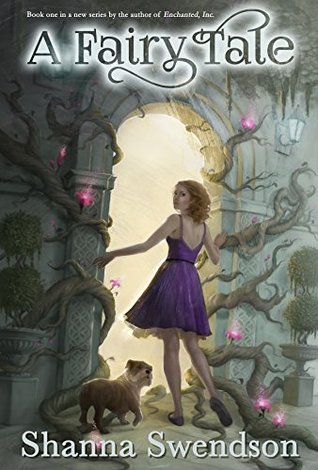 A Fairy Tale (Fairy Tale #1)
Once upon a time, a girl named Sophie Drake danced with the fairies in the woods behind her grandparents' Louisiana home. But she closed the door to the fairy world and turned her back on the Fae when they tried to steal her little sister Emily. Fourteen years later, Sophie heads to New York City on a desperate mission. Emily, now an up-and-coming Broadway actress, has gone missing. Only Sophie suspects the Fae.
Now Sophie has her work cut out for her. Emily's abduction is part of a larger plot involving the missing Queen of the fairy realm. An upstart fairy is making a bid to assume control of the entire Realm, unite the fairies, and become master over the human world. To free her sister, Sophie must derail this power scheme and find the true Queen of the Realm.
That's a lot for a small-town ballet teacher to tackle, but with the unlikely aid of her sometimes flighty sister, a pair of elderly shopkeepers with a secret, a supremely lazy (but surprisingly knowledgeable) bulldog, and a wounded police detective searching for his own missing person, she just might prevail–if she can force herself to confront her own past and face her true nature.
Goodreads ~ Amazon ~ Barnes & Noble
---
A huge thank you to Shanna, who continues to be one of the nicest authors I've ever interacted with! Her advice and kind words are always appreciated, and this post is full of some amazing musings.
As always, thank you to every author who was, is, and will be a part of this feature. Your time and effort are very appreciated! The words you say here have helped so many people work towards achieving their dreams. I thank you all every day for your kindness and generosity for your efforts to support those writers who need it.
We hope you have a wonderful rest of your week!