I did the unthinkable today. The one thing that every single girl friend you have will tell you to never do. The one thing that your friends will literally steal your phone, your laptop, your tablet, your iPod, and every other source to the internet that you have just so that you DON'T do what I did today… I'll give you three guesses as to what it is…
No?
Nothing?
…
I checked my ex-boyfriend's facebook…
Now, not only does checking your ex boyfriend's facebook do wonders for your self-esteem and emotional infrastructure, but his Facebook decided to give me an extra punch in the gut as it posted, where everyone can see, "In A Relationship" with the heart icon and everything.
Now, I'm going to get this out first, so that I can get to the actual point of this post: My first "ex-boyfriend" (in high school) was a disrespectful scumbag who I was naive enough to think loved me. After a month, he fell off the face of the planet and never even talked to me again. The man who's facebook I checked today did the exact same thing to me that my first boyfriend did. He legitimately stopped talking to me. Fell off the face of the planet. One second it was open communication and telling me everything, and the next day I was completely shut out and never to be responded to again. You can imagine how "damaged" I probably am in regards to my emotional state when dealing with these things.
Needless to say, let's get to the point here…
I'm human. I'm just like the rest of you who have insecurities, and faults, and are completely and utterly messed up on the inside, especially when you try to compare yourself to people who seem to have it all together. Let's put it this way: I'm. Not. Perfect. I never was, never am, and never will be perfect.
I will tell you that the first thing that went through my mind when I saw that relationship status was "Why was I never good enough?" and that is an absolutely HORRIBLE question to have running through your mind because it brings this onslaught of negative emotions and self-mutilating thoughts. You begin drowning in this sea of "WHY?!" and "WHAT IF…?!" and you circle down this spiral until you get to the lowest point you allow yourself to be… I call this spot the Point of Detonation.
"Detonation: to explode with suddenness and violence."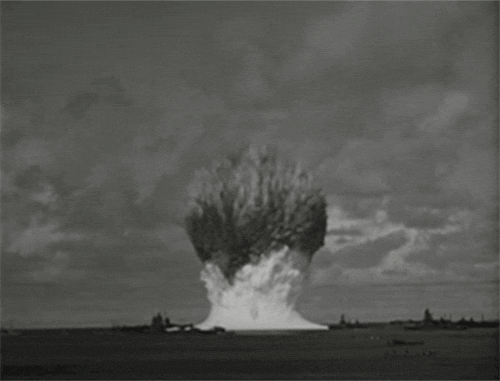 I've been down the spiral to this Point of Detonation enough times to know that it was coming, and that I was either going to have to force myself to rise from the ashes or I was going to be crippled by the explosion of emotions. By some miracle of miracles, I somehow apparently created a new path for myself by asking myself this question: "Why?"
"What do you mean WHY?! What the heck kind of question is that?!"
A very, very important one…
Why did I still feel the need to check his facebook? Why did I allow my insecurities to take over my emotional well-being? Why do I feel like I am not good enough for him? Why do I constantly do this to myself?
We all ask ourselves these questions every once in a while. Why do we do this to ourselves?! And I realized that the answer is so very simple…
We're human, and humans want to feel loved. It's natural for us to greet attention openly and revel in it. It's important for us to socialize and to make sure we feel included. It's in our nature to feel like we have to be needed by someone in order to feel like we are good enough for ourselves… because if someone else can't love us, how could we possibly love ourselves?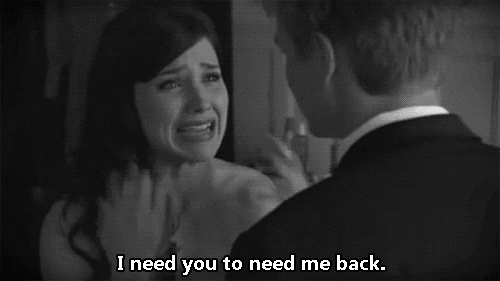 I know that the saying goes, "If you can't love yourself, how can you expect anyone else to?" In theory, this is very true, but in reality, most of us have a very hard time loving ourselves if we feel no one else finds something within us worthy enough to love, too. But why is this? Why do we degrade ourselves so much during those first couple of minutes when we feel like we were never good enough? It's like we punish ourselves for not being someone else's version of perfection and that's not okay! Because we're not perfect… we're not meant to be…
I am a work-a-holic. I have very little time for people in my life. I leave clothes and bags all over the place because I'm constantly running in and out of my house. I'm lazy. I'm an introvert. I push people away when I'm hurt. I'm afraid of confrontation. It bothers me when people leave the vacuum wire wrapped messily. I have three dressers filled with clothes. I live by my emotions, not by my logic. And I. am. insecure.
I'm going to reiterate this, because this is important: I am not perfect. Neither are you… or you… or you… or the person creepily reading this over your shoulder… None of us are perfect and the worst crime that we commit against ourselves is expecting perfection and allowing punishing thoughts to creep into our minds when we believe that we're not reaching the correct level of perfection. It's OKAY to not be perfect. It's okay to not be wanted, or cherished, or loved by anyone else because YOU should love YOU. No one else… because no one else needs to be involved in the judgments that you lay upon your body, mind, emotions, heart, etc. No one knows you. No one understands your story and your struggles like you do and THAT is what is important! You need to understand yourself, and love yourself based on those imperfections. You don't need anyone else to do that for you.
Maybe, yeah, it feels nice to be loved by someone else and it feels wonderful to be needed, but maybe it's time that I need me. Maybe it's time that you should need you, rather than someone who claims they want you. Maybe… just maybe… loving ourselves is enough to last us for a while… because no one else knows your flaws, imperfections, and absolute beauty like you do. You can scale the mountains, cross all of our oceans, and even get yourself on to The Bachelorette if you so choose, but you will never find someone who could possibly understand you better than your own self.
I know that I have difficulties dealing with my insecurities, especially when I'm being ignored and shut out… but I also know that this specific difficulty stems from my first boyfriend, and the hope that I loved someone enough that they would stay. I did nothing wrong. I wasn't perfect. I wasn't what either of them needed. I just wanted to love someone and be loved back. Was that so difficult to ask of anyone?
…
Was that so difficult to ask of myself?
I keep getting questioned on what my New Years Resolution will be for 2016, and I think I finally have it:
In 2016, I will pay attention to my wants, my needs, my goals. I will spend time with myself and get to know myself on a personal level that no one has ever known before. I will chase away all self-mutilating thoughts and insecurities. I will pick myself up when I fall. I will accept my faults. I will strive for perfection and continue to love myself, even when I don't reach it. I will allow myself to make mistakes, and I will forgive myself for all of the mistakes I have made. I will love myself unconditionally and treat my MIND, BODY, and HEART as such.
I know that I'm not the only person who struggles with insecurities and imperfection, so I'm challenging you all to take this resolution with me. A new year, a new start, a new you. Love yourself, because despite all of your flaws, you are someone worth the care and devotion of a king. Don't wait for Mr. or Mrs. "Right" to come along in order to find your acceptance. Love yourself, because no one else could love you better… love yourself… because you are worth it…
Here's to a happy, healthy, and selfish 2016!
All my love,
❤ Kelly