Sunday Street Team is hosted and run by Nori over at ReadWriteLove28! Thank you Nori for the opportunity to be a part of this tour! We all adore this book!
---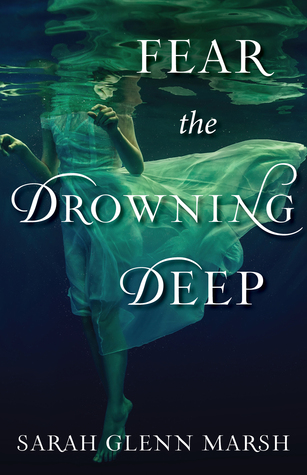 Fear the Drowning Deep
Witch's apprentice Bridey Corkill has hated the ocean ever since she watched her granddad dive in and drown with a smile on his face. So when a dead girl rolls in with the tide in the summer of 1913, sixteen-year-old Bridey suspects that whatever compelled her granddad to leap into the sea has made its return to the Isle of Man.
Soon, villagers are vanishing in the night, but no one shares Bridey's suspicions about the sea. No one but the island's witch, who isn't as frightening as she first appears, and the handsome dark-haired lad Bridey rescues from a grim and watery fate. The cause of the deep gashes in Fynn's stomach and his lost memories are, like the recent disappearances, a mystery well-guarded by the sea. In exchange for saving his life, Fynn teaches Bridey to master her fear of the water — stealing her heart in the process.
Now, Bridey must work with the Isle's eccentric witch and the boy she isn't sure she can trust — because if she can't uncover the truth about the ancient evil in the water, everyone she loves will walk into the sea, never to return.
Goodreads | Amazon | Barnes & Noble | Book Depository
---

What we liked:
The World Building
Fear the Drowning Deep takes place on the Isle of Man in 1913. The beautiful prose in this book definitely allows you, as a reader, to be transported there. Not only do you feel the creepy sense of mystery and darkness creeping in on a town where mythological creatures are very much alive, but you also can hear the waves crashing against the side of the cliffs and the mysterious creatures calling your name from the depths below. It's so incredibly descriptive to the point where you feel as if you're there once that book takes a hold of you.
The Family Support
This is something that you don't see too often in YA books, but I believe it's becoming more and more popular over time. She has a large family. A few sisters, a mother, and a father. All of these characters play a pretty vital role in this story and in supporting Bridey through her days working and as an outcast. Though they fight a lot, because what family doesn't, they still have a beautiful underlying love for each other. I loved seeing this family's strength throughout the novel!
The Mythology/Folklore
Eastern Europe is riddled with many folklore and mythological creatures of the sea. It was wonderful to see them really come alive and have the fear for this town really become yours. You not only hated the creatures and felt immobilized under the weight of this mystery, but you also found curiosity and a true fear of what was below the surface. The tension built around these creatures was real, folks! I also loved to see how Sarah really entwined the myths and folklore to make it work wonders for her novel. She created something all her own while basing it off of true told stories from a time long ago.
The Romance
Though Fynn and Bridey seemed a little rushed in their romance, I  guess that you can't really have too many options on an island, can you? I can't blame her! He's hot, mysterious, and definitely needs her help. I do wish I could have known a little more about him earlier on, as you don't really learn anything for a few chapters. I would have loved to be able to really see the character development for him come alive after a chapter or two. Overall, I think the romance in here is a definite shoe in for paranormal romance readers. You want a hot guy who has a bit of a damsel in distress situation mixed with a bit of hot alpha male with a purpose, you just found him. Obviously though, it's a YA book, so don't expect too much steam!
What could have been improved:
Tying Up Loose Ends
There were a few questions left open and a few loose ends I felt needed to be tied up by the end of the book. I can see how this might lead to a nice mysterious feel and continue the tension of the novel all the way to the end, but I also wish I was able to tie up the loose ends that are still hanging around in my brain. Sarah, I may be coming to you with some questions!
Overall, I think this was a wonderful YA paranormal with historical elements. Sarah's lyrical prose is beautiful to read, and her world really comes alive for you. She knows how to build the tension and keep it there through the novel, even if it may take a little bit to really get you hooked in there. It's a highly recommended book for readers of YA paranormal, mythology intellects, and fans of the sea alike! Four very full hearts!

---
About Sarah Glenn Marsh
Sarah Glenn Marsh writes young adult novels and children's picture books. An avid fantasy reader from the day her dad handed her a copy of The Hobbit and promised it would change her life, she's been making up words and worlds ever since. She lives in Virginia with her husband and four rescued greyhounds. When she's not writing, she's often painting, or engaged in pursuits of the nerd variety from video games to tabletop adventures and dungeon crawls. Her work is represented by Christa Heschke of McIntosh and Otis. Visit her online at http://www.sarahglennmarsh.com
Website | Twitter | Instagram | Pinterest | Goodreads
---
Sarah is just the sweetest person, and I'm so happy to have been able to meet her last year! It is always so much fun to chat with her! We're ecstatic that your book has finally come out and we can't wait to see more of your work. =)
We hope you all have a great Sunday!
Save