Chaos by Jamie Shaw (Mayhem #3)
Genre: New Adult Contemporary/Romance
Publisher: Avon Impulse
Publication Date: July 21, 2015
Goodreads Rating: 4.29 Stars
Pages: 432
Synopsis:
"From the moment she saw Shawn Scarlett perform at a school talent show, Kit Larson has loved two things: the guitar, and the gorgeous, green-eyed boy who inspired her to play. But one careless night in high school shatters her hope of ever being more than a notch on his bedpost.
Six years, two bands, and one mostly-mended heart later, Kit's about to make her rock star dreams a reality as the new guitarist for Shawn's band, The Last Ones to Know. He may not remember their reckless night together, but Kit has never forgotten… and she's determined to make him eat his heart out.
The release of their new album means a month cooped up on a tour bus, sleeping inches away from the ridiculously sexy musician she's never quite gotten over. And as Kit gets to know the real Shawn—not Shawn Scarlett, the rock god, the player—their attraction becomes too hot to resist. But the past is paved with secrets, and when they finally surface, Kit could lose everything: the band, the music, her dreams… and Shawn."
**********************************************************************************************
About Jamie:
"Born and raised in South Central Pennsylvania, JAMIE SHAW earned her M.S. in Professional Writing from Towson University before realizing that the creative side of writing was her calling. An incurable night owl, she spends late hours crafting novels with relatable heroines and swoon-worthy leading men. She's a loyal drinker of white mochas, a fierce defender of emo music, and a passionate enthusiast of all things romance. She loves interacting with readers and always aims to add new names to their book-boyfriend lists." 
**********************************************************************************************
Why I Must Have The Precious:
Kelly:
When I was younger, I used to go to shows all the time. You know, all those rock bands, speakers so loud you pop your eardrums, rocking out and getting hit by mosh pits… yeahhhh, I was definitely that type of person. Can you imagine that? Would you even believe me if I told you that my first concert was actually Slipknot?!
Anyways, I've always had this dream of dating a rock star who was actually a half decent human being… especially is he plays guitar. I've even dreamed many times about being a singer myself, like Britney Spears and Christina Aguilera, up there rocking it and dancing like there's no tomorrow. Gosh, that would be such a dream to just do once!!! 
This series is all about the dreams of one girl, becoming a rock star and dating one too. It's about her struggles and her life and her love as she goes through and accomplishes things she never thought possible. If you are anything like me and have that secret longing to be on stage and dating the hottest celeb in town… you need to pick up this series. It's like a dream come true and you can live in your own paparazzi crazed world for a while. It's a breath of fresh air to the adventure crazed side of you that longs for some crazy times and something different than the normal, everyday routines. 
Give this series a shot. You never know what you may like! 
Also, I may be biased, because I met Jamie at ApollyCon in Philadelphia this year and she is just the sweetest thing. Let me tell you, I put it out to the twitter world that I was nervous about going to ApollyCon alone, especially since it was my first every book event, and Jamie tweeted me back saying that it was her first book event too and that she was nervous about it. She offered me a seat next to her table so that we could keep each other company and from being alone. Ever since then, I've absolutely loved this woman. Even while pregnant, she came to ApollyCon, signed my books and bags, gave me a hug, took a picture with me, talked with me, and then proceeded to go around to all the other authors and get their signatures for her own copies of books and merchandise. I think she's probably the most adorable and thoughtful author I've ever met!
For your convenience, I've also added the summary and statistics below for the first book in this series, Mayhem. =)
Enjoy!
**********************************************************************************************
Mayhem by Jamie Shaw (Mayhem #1)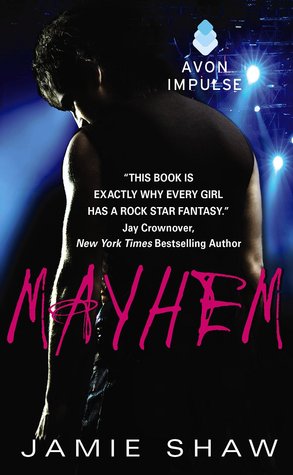 Genre: New Adult Contemporary/Romance
Publisher: Avon Impulse
Publication Date: January 20, 2015
Goodreads Rating: 4.17 Stars
Pages: 258
Synopsis:
"When college freshman Rowan Michaels meets gorgeous, up-and-coming rock star Adam Everest, she knows a player like him is the last thing she needs after her ex-boyfriend shattered her heart. But she can't stop thinking about the kiss they shared on his tour bus.
On the first day of school, Rowan is stunned when Adam saunters into her French class. He's soon failing miserably, and, on a whim, she offers to tutor him. But Adam doesn't recognize her as a makeup-free, glasses-clad college student—a far cry from the beautiful, mysterious "Peach" he met at his concert.
During a wild weekend on tour with the band, Rowan can't help falling for the sweet guy buried beneath Adam's rocker persona. Yet she knows she could never compete with the girls constantly throwing themselves at his feet. She'd just end up hurt … again.
Peach is all Adam thinks about, though, and when Rowan realizes this, she has a decision to make: stay just friends to protect her fragile heart … or reveal the truth about the night they met and admit she's fallen completely, hopelessly in love with him."
**********************************************************************************************
Coming Up:
Girls Night Watch Along!
There will be a post going up about this tonight/tomorrow, but we will be holding two movie nights this month! We couldn't all get together at once, so we decided to split it up and do two different days, times, and movies! Our first selection:
Thursday, July 16th at 9pm EST. 
27 Dresses
Our second selection:
Friday, July 24th at 10pm EST.
Sweet Home Alabama
We are trying to give you enough advance time to buy, download, borrow, redbox, netflix, etc., these movies sot hat we can all watch them together! We will be posting reminders on all of our social media outlets!  You can sign up to receive movie night notifications by filling out a google form and clicking here! Remember to use the hashtag #LLRGirlsNight on Twitter!
Blog tags!
Melissa has a couple of blog tags coming up, so if you're a blog friend of hers, BEWARE! She's coming for you. 😉
Reviews and more reviews!
Tangled Webs by Lee Bross – Coming Soon!
Henrietta and the Dragon Stone by Beth Barany – Coming Soon!
The Short Life of Sparrows by Emm Cole – Coming Soon!
The Creeping by Alexandra Sirowy – Coming Soon!
We hope you all have a wonderful night!! =)
❤

 Lauren, Melissa, and Kelly