A Difficulty in Your Writing Journey and How You Got Past It
by Sandhya Menon
Writing is such a funny endeavor.
At the beginning, when you're sequestered away in a room, you write only for yourself. At that point, it didn't even occur to me to be concerned about other people. I wrote all kinds of things—short stories, poetry, novellas, plays, non-fiction essays.
As time went by, though, and I learned more about the craft, I got serious about getting published. I went the indie route at first, self-publishing novels and serials for readers. It was thrilling. The bad reviews were hard to take, but at least people were reading my work and talking about it.
Then my agent found me—ahhh. I was thrilled, humbled, ecstatic. It felt like a whole new world. I wrote stories and discarded them; I felt like I had to get everything just right. A novel of mine, previously self-published, was accepted by a major publisher for their digital line. When that one came out, only a few people read it (it's one of my favorite stories, but it just isn't what they call 'high concept.' I suspect the editor who acquired it took it on solely as a labor of love, for which I'm very grateful).
My confidence dipped very low. I began to wonder if I would ever find readers again. I'd been writing seriously for a good four years at that point, with my two little children at my feet, and I was really tired. "Maybe I should get a real skill," I thought. I'd always had a passion for psychology—it was my major in college—so I decided to go to graduate school to train as a therapist.
I got accepted into my program right around the time the offer for When Dimple Met Rishi came through.
The hilarious thing is that I look back on my journey and wonder if I would've done anything differently to avoid that awful writing slump where I just about threw in the towel. And I've come to the conclusion that there isn't anything I could've done. I think getting really low and contemplating giving up is just a natural part of the creative person's journey.
For writers (especially writers on social media) it can feel like an onslaught of people getting agents, getting book deals, going on tour, getting starred reviews, and hitting the bestseller lists. If you're also high, this is great! More people to celebrate with! But if you're in a slump, it can feel like the entire world is moving forward while you're mired in your own untalented quicksand.
I don't have the cure for this, but I do have a suggestion: The next time you feel "slumped," remind yourself that it's normal. Not wanting to write is normal. Feeling like a talentless hack is normal. Wanting to scream, "It's not faiiiir!" is normal. If you need a break, take it. Take the opportunity to refill your well before you come back to your desk, ready to begin anew. I promise you, your stories will wait.
---
About Sandhya
Sandhya Menon is the author of When Dimple Met Rishi (May 2017). She lives in Colorado where she's on a mission to (gently) coerce her husband and kids to watch all 3,221 Bollywood movies she claims as her favorite.
Website | Twitter | Instagram | Pinterest | Goodreads
---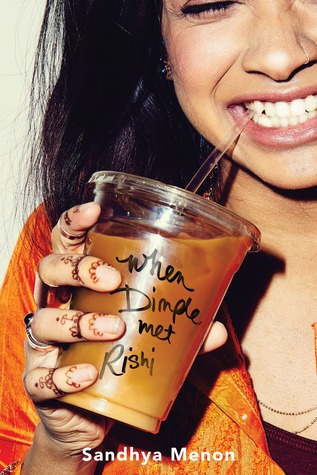 When Dimple Met Rishi
A laugh-out-loud, heartfelt YA romantic comedy, told in alternating perspectives, about two Indian-American teens whose parents have arranged for them to be married.
Dimple Shah has it all figured out. With graduation behind her, she's more than ready for a break from her family, from Mamma's inexplicable obsession with her finding the "Ideal Indian Husband." Ugh. Dimple knows they must respect her principles on some level, though. If they truly believed she needed a husband right now, they wouldn't have paid for her to attend a summer program for aspiring web developers…right?
Rishi Patel is a hopeless romantic. So when his parents tell him that his future wife will be attending the same summer program as him—wherein he'll have to woo her—he's totally on board. Because as silly as it sounds to most people in his life, Rishi wants to be arranged, believes in the power of tradition, stability, and being a part of something much bigger than himself.
The Shahs and Patels didn't mean to start turning the wheels on this "suggested arrangement" so early in their children's lives, but when they noticed them both gravitate toward the same summer program, they figured, Why not?
Dimple and Rishi may think they have each other figured out. But when opposites clash, love works hard to prove itself in the most unexpected ways.
Goodreads | Amazon | Barnes & Noble | IndieBound | Book Depository | Simon Pulse
---
A huge thank you to Sandhya for sharing your stories of highs and lows with us. We all feel a roller coaster of emotions as writers, and sometimes we just have to struggle through the lows and experience the trials in order to just make it out okay on the other side. All of our successes will come at our own times, and we can make time to care for our own mental states while we wait. =)
As always, thank you so much to all of the amazing writers and publishing individuals who have been fundamental in keeping this feature going and continuing to share your advice with writers who need it. We appreciate you all more than you know.
We hope you have a wonderful rest of your week!