On Following Your Dreams
by Cecilia Vinesse
I grew up between three places: France, Japan, and the States. Even though I moved around a lot, every time was just as difficult as the last. Every time, I was thrown off by how much it hurt to leave behind the fierce friendships I'd made, the schools I'd grown comfortable in, and the places that felt so familiar to me. The first year in a new place was always rough for me. It took me months to get used to new social hierarchies, new inside jokes, and a whole bunch of shared references I honestly didn't get. I was constantly thinking about where I'd lived before and how far away it seemed. So far away that, sometimes, it was hard to convince myself that the life I'd had there had ever been real.
Like Sophia, the move that hit me the hardest was from Tokyo to the States when I was sixteen. When I left, it felt like I was shutting a door I might not be able to open again. I did everything I could to hold onto Tokyo—I woke up early every morning to write e-mails to my friends; I hung my favorite photographs of all of us in my room; I watched Lost in Translation over and over because it was filmed while I lived in Tokyo, so it felt like a window into the city exactly as I'd left it.
It took me years to realize that, inside those feelings, there was a story. I wrote the first draft of Seven Days of You in 2009 right after I graduated college and it was…terrible. So terrible, I honestly wanted to throw it away and pretend I'd been trying to write chocolate cake recipes instead.
But the story refused to leave me alone. Eventually, I did move back to Japan. This time to Sapporo, a city on the northernmost island of Hokkaido. During my last seven days there, thoughts of that book I'd been trying to write kept creeping back to me—this book about a girl leaving Tokyo, about the last few moments before you have to let go of a place you love. I found myself slowing down more than I usually do: listening to the rumble of trains rushing through my train station, staying up to watch my clock tick down the seconds, exploring the quiet streets of Sapporo late at night with my friends, talking the whole time, doing all we could to stave off the morning. Through it all, I could hear something whispering inside of me, telling me not to forget this. Telling me that I had to find a way to save this feeling.
Over the next three years, writing Seven Days of You wasn't any easier than it had been before, but I could feel the rightness of it—how it was the story I was supposed to work on, the story of my heart and soul and bones. And now, here it is, ready for the world.
So if you're reading this and writing is your dream, too, please know: there are stories out there waiting for you to find them. The first thing you have to do, though, is slow down and listen.
---
About Cecilia
I'm Cecilia Vinesse, and I wrote a book about saying good-bye to high school friends and staying out all night and the dizziness of falling in love and the deliciousness of ramen.
I was born in France but then moved to Japan. And then to the States. And then back to Japan. And then back to the States. When I was 18, I moved to New York where I was homesick for nearly seven years. After that, I got a job in a cold, snowy city in northern Japan and, from there, I headed to Scotland where I got my master's in creative writing and lived off tea, writer tears, and Hobnobs.
I still live in the U.K. and spend most of my time writing, reading, baking, and getting emotional over Tori Amos albums. Hobbies include pretending Buffy the Vampire Slayer is real, collecting a lipstick to match every Skittle flavor, and listening to a thousand podcasts a day.
A pup named Malfi and a Renaissancist named Rachel are my favorite things in the world. That, and books. I should probably mention the books again.
Website | Twitter | Tumblr | Goodreads | Instagram
---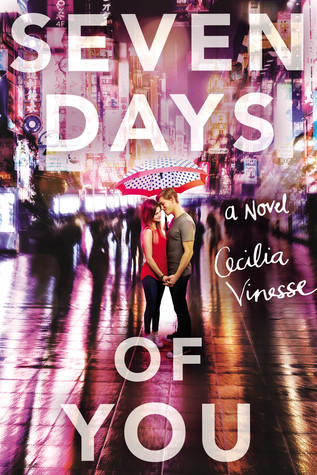 Seven Days of You
Sophia has seven days left in Tokyo before she moves back to the States. Seven days to say good-bye to the electric city, her wild best friend, and the boy she's harbored a semi-secret crush on for years. Seven perfect days…until Jamie Foster-Collins moves back to Japan and ruins everything.
Jamie and Sophia have a history of heartbreak, and the last thing Sophia wants is for him to steal her leaving thunder with his stupid arriving thunder. Yet as the week counts down, the relationships she thought were stable begin to explode around her. And Jamie is the one who helps her pick up the pieces. Sophia is forced to admit she may have misjudged Jamie, but can their seven short days of Tokyo adventures end in anything but good-bye?
Goodreads | Amazon | Barnes & Noble | Indiebound | Book Depository
---
Thank you so much Cecilia for your insight and for sharing your story. This sounds like it's your heart book… and the fact that it's getting published means that all of the struggle was worth it. It will be worth it for all of the writers out there waiting for their chances too. You'll all find the story of your heart one day, and when it comes, don't let it slip by.
As always, a huge thank you to all of the wonderful people who have contributed to this feature. Your words never go unappreciated, as you help so many writers every week continue to work towards their dreams. Thank you for sharing your hearts with us.
We hope you all have a wonderful rest of your week! Write on!