Working Under a Deadline and Dealing with Stress
I'm no stranger to working under stress. I am a full-time professor, mom of two, and I have book contracts set from now until 2019. It's a lot to balance and manage, and if I'm not careful, it can get too overwhelming to be creative. Especially when deadlines hit.
So how do I—how does anyone—work under a deadline and deal with the stress without letting it get in the way of creativity?  After all, how can you get any writing done if you're all stopped up from stress?
I'll tell you this: You have to know what kind of stress works for you. Stress can be a great motivator, but not all stress works the same. For instance, having seven things to do at one can be really invigorating for me, but the stress of not having a job (or the financial security that comes with one) a few years back was about enough to stop all of my writing. For me, balancing writing with my other career works better because of the financial security it gives me. I can handle being short on time. Because I know that, it's easier to deal with it.
The other thing is to decide what's important and make sure you give yourself time for that. I'm a mom of two boys who don't seem to want to stop growing, so I'm not willing to give up all of my time with them for either of my other jobs. I make it a point to keep family time as family time, and work time as work time. I have days that I write, and I have days that I teach. I have days that I just spend with my family.
Of course, working under a deadline means that these lines can get blurred. What do you do then? How do you make it through?
The most important thing, for me at least, is to make sure the people in my life understand what's coming and what I'll need. There's no way I could do everything I have to do without a supportive partner, but I know that not everyone has a partner—or a partner who is supportive. So find support where you can. Having that one friend you can text and complain to when things are darkest, or the coworker who's willing to commiserate and cover for you until things get done, can be your lifeline to sanity when things get tough.
Surround yourself with good people. Guard the time and the things that mean the most to you. Most of all, remember that deadlines are temporary stress. Get through them, and they disappear.  And if all else fails, be sure to have a supply of chocolate.
---
About Lisa
Lisa Maxwell is the author of Sweet Unrest, Gathering Deep, and Unhooked. Her next book, The Last Magician, will be out in July of 2017. She grew up in Akron, Ohio, and has a PhD in English. She's worked as a teacher, scholar, bookseller, editor, and writer. When she's not writing books, she's a professor at a local college. She now lives near Washington, DC, with her husband and two sons.
Website | Twitter | Facebook | Goodreads
Instagram | Tumblr | Pinterest
---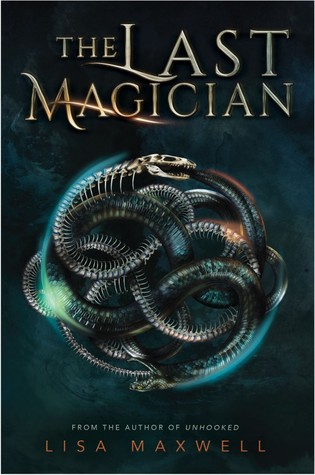 The Last Magician
Stop the Magician.
Steal the book.
Save the future.
In modern day New York, magic is all but extinct. The remaining few who have an affinity for magic—the Mageus—live in the shadows, hiding who they are. Any Mageus who enters Manhattan becomes trapped by the Brink, a dark energy barrier that confines them to the island. Crossing it means losing their power—and often their lives.
Esta is a talented thief, and she's been raised to steal magical artifacts from the sinister Order that created the Brink. With her innate ability to manipulate time, Esta can pilfer from the past, collecting these artifacts before the Order even realizes she's there. And all of Esta's training has been for one final job: traveling back to 1901 to steal an ancient book containing the secrets of the Order—and the Brink—before the Magician can destroy it and doom the Mageus to a hopeless future.
But Old New York is a dangerous world ruled by ruthless gangs and secret societies, a world where the very air crackles with magic. Nothing is as it seems, including the Magician himself. And for Esta to save her future, she may have to betray everyone in the past.
Goodreads | Amazon | Barnes & Noble | Indie Bound
---
Unhooked
For as long as she can remember, Gwendolyn Allister has never had a place to call home—all because her mother believes that monsters are hunting them. Now these delusions have brought them to London, far from the life Gwen had finally started to build for herself. The only saving grace is her best friend, Olivia, who's coming with them for the summer.
But when Gwen and Olivia are kidnapped by shadowy creatures and taken to a world of flesh-eating sea hags and dangerous Fey, Gwen realizes her mom might have been sane all along.
The world Gwen finds herself in is called Neverland, yet it's nothing like the stories. Here, good and evil lose their meaning and memories slip like water through her fingers. As Gwen struggles to remember where she came from and find a way home, she must choose between trusting the charming fairy-tale hero who says all the right things and the roguish young pirate who promises to keep her safe.
With time running out and her enemies closing in, Gwen is forced to face the truths she's been hiding from all along. But will she be able to save Neverland without losing herself?
Goodreads | Amazon | Barnes & Noble | Indie Bound
---
Sweet Unrest
Lucy Aimes has always been practical. But try as she might, she can't come up with a logical explanation for the recurring dreams that have always haunted her. Dark dreams. Dreams of a long-ago place filled with people she shouldn't know…but does.
When her family moves to a New Orleans plantation, Lucy's dreams become more intense, and her search for answers draws her reluctantly into the old city's world of Voodoo and mysticism. There, Lucy finds Alex, a mysterious boy who behaves as if they've known each other forever. Lucy knows Alex is hiding something, and her rational side doesn't want to be drawn to him. But she is.
As she tries to uncover Alex's secrets, a killer strikes close to home, and Lucy finds herself ensnared in a century-old vendetta. With the lives of everyone she loves in danger, Lucy will have to unravel the mystery of her dreams before it all comes to a deadly finish.
Goodreads | Amazon | Barnes & Noble | Indie Bound
---
Thank you so much, Lisa, for all of your hard work and wonderful writing! Dealing with stress and working under deadlines is something that affects so many writers, especially as they start to work with editors and agents. Your insight is so appreciated!
As always, thank you to everyone who participates in this feature. Your words of advice never go unheard. You're helping more writers than you know!
Have a wonderful weekend, and a great Thanksgiving if you're in the U.S.! =)