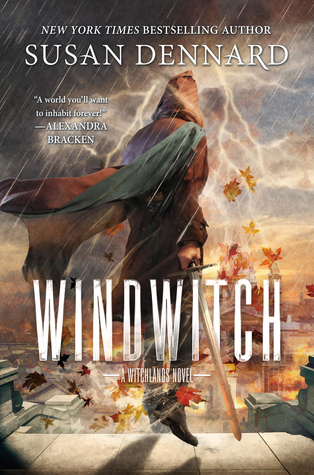 Author: Susan Dennard
Genre: Fantasy
Pages: 400
Release Date: January 10 2016
Publisher: Tor Teen
Source: An Uncorrected Proof from author
Goodreads | Amazon | B&N | Indiebound| Book Depository
Sometimes our enemies are also our only allies…When an explosion destroys his ship, the world believes Prince Merik, Windwitch, is dead. Scarred yet alive, Merik is determined to prove his sister's treachery. Upon reaching the royal capital, crowded with refugees, he haunts the streets, fighting for the weak—which leads to whispers of a disfigured demigod, the Fury, who brings justice to the oppressed.

When the Bloodwitch Aeduan discovers a bounty on Iseult, he makes sure to be the first to find her—yet in a surprise twist, Iseult offers him a deal. She will return money stolen from him, if he locates Safi. Now they must work together to cross the Witchlands, while constantly wondering, who will betray whom first?

After a surprise attack and shipwreck, Safi and the Empress of Marstok barely escape with their lives. Alone in a land of pirates, every moment balances on a knife's edge—especially when the pirates' next move could unleash war upon the Witchlands.
A month ago, I read an early version of this book as a favor to the author.  She asked to share my reactions and thoughts as I read as well as picked my brain for feedback afterwards asking for my opinion on specific things.  This is an honest review and our friendship has no bearing on how I felt about the book.
To me the book as a whole is the perfect sequel to Truthwitch! Our knowledge of The Witchlands grows as we explore new places and we're introduced to new characters who will entice you.  Windwitch is unputdownable and unforgettable it'll leave you wanting more.  It is the perfect blend of action, suspense, heartbreak, shocking and swoon worthy moments.  It'll keep you coming back for more.
The world building is made up of so many little nuances adding up to the larger picture. It may seem like info dumping or over building, yet I know each time Susan drops a hint or introduces something new, it has a purpose. I find a thrill in making those small connections and start wondering what role they'll play later on. I like it when a book keeps me guessing and discovering if my predictions are right or wrong. I love how vast the world is and how everything is being revealed at an even steady pace. I could not read this book fast enough!!
I found Windwitch to be more of a character-driven book compared to Truthwitch.  Since mostly everyone is separated, we get to know each of the main characters in depth. So many events have affected our beloved main characters, that Susan does a fantastic job developing and describing the changes everyone undergoes through the course the book.  We discover how complex they are as we see more of their personalities, mannerisms, and history.  I also enjoyed the new characters that Susan introduces, one whom I loved right off the bat and the other grew on me. Below I take the time to summarize each of the main character's development in Windwitch.
CLICK TO AVOID CHARACTER SUMMARIES!
Merik's journey is a hard one as he's healing mentally and physically, which is hard on a person. He's learning to cope with the guilt of his threadbrother and Safi weighing him down.  It was heartbreaking to see him vulnerable. At the same time, presuming to be dead provides Merik a chance to start over, but his choices to be vengeful clouds his judgement thus influencing events around him.  It was fascinating to witness Merik deal with internal conflict, attempting to tame the Nihar rage.  I feel like the cover and title perfectly encompasses Merik's  new persona.
Vivia, Merik's sister is crazy, short tempered, jealous, power hungry, and daddy's little Tidewitch. So much like Azula from Avatar the Last Airbender, I love it!  I thoroughly enjoyed getting to know her character and experience the story from her perspective.  It might seem like she is bitch, but there are times she's really just trying to do the best she can to prove herself a worthy leader.  She's definitely a misunderstood character who's finding a way to stand on her own.  It's a much more difficult journey for her because she is a woman. A woman who is overshadowed by her brother, surrounded by male advisors, and being constantly watched by her father who is loved by everyone.  It's to be expected she might crack under pressure and lash out.
There is a common thread between the next four characters where enemies are blurred and they are forced to become allies if they are to survive.  This is a large part of Safi's journey throughout Windwitch and she encounters several enemies aside from Vaness. Safi must learn to stand on her own without depending on Iseult to ground her. She has to make the most of a situation in order to survive an explosion, pirates, and others hunting her. I find that Safi's personality shines through more when she's separated from Iseult. She's sassier, bolder, and more compassionate.
Vaness is an Empress who is respected by her people.  She's also ruthless, manipulative, and deceiving when we first meet her in Truthwitch and in the beginning of Windwitch.  Yet throughout the story, the more we learn about Vaness, the more we learn she's not a complete monster. She truly cares about her people and wants to protect her kingdom even if she has to take advantage of Safi.
Iseult and Aeduan… I SHIP THEM SO HARD! Through out their journey, it was a matter of learning to trust. I loved learning more about the brooding monk Aeduan. He has always been a loner since leaving the monastery only ever looking out for himself. He can't trust anyone and sees many people as the enemy. His journey comes at a crossroads a couple of times and he has to decide between what is expected and what is beneficial for himself.  You also get a glimpse into his past and I am dying to learn more because you know he can be a decent human being.
Iseult she's only ever laid complete trust in Safi. Aeduan had even threatened to kill her if he ever found her again, so should have her guard up. Since she's been mostly dependent on Safi, Iseult must finds the inner strength to be independent and find out who she is and embrace it. Her journey is also one of self-discovery and there were times I sympathized with her.  She's definitely the character I connect with the most. Out of all of the characters, I think Iseult grows the furthest. I can't even being to imagine where Isuelt will be by the end of book 3.
 
Windwitch is a whirlwind of a book, full of many emotions that had me laughing, squealing, and screaming.  There was actually one moment where I had to put the book down to process the crucial moment where I screamed. BRACE YOURSELVES!!  If you thought you LOVED Truthwitch, just wait until you read Windwitch.  With its mesmerizing and thrilling plot and vivid writing, Susan catapults you into a world you don't want to leave.