Truth in Fiction
By Lois Sepahban
Several months ago, I overheard a well-meaning teacher explain to my child's class that non-fiction is real and fiction is fake.
I'd heard this before. I'd heard it when I was a college student studying to become a teacher. I didn't agree with it, but it didn't bother me, either. But this time, it was different. Something about hearing it this particular time brought on a period of introspection.
Because I write fiction.
Hearing it this particular time made me look closely at my fiction.
When I write historical fiction, I pay careful attention to details—from the mundane, like window placements in old houses, to the profound, like acts of injustice.
None of that is fake.
Sure, the story is made up. The characters are, for the most part, made up. Their experiences are made up.
But their emotions? Those are real. Those are true.
My experiences might differ from my characters' experiences, but the suffering? The longing? Those are emotional truths.
Emotional truths are what readers connect to when they read.
Emotional truths create empathy and compassion.
Emotional truths in fiction allow us to view our own world, the real world, through a different lens—the lens of another person's experience.
See, there is a difference between TRUE and TRUTH.
TRUE is all about facts. They're important. They're the details, both mundane and profound. They're the notes we take when we research.
But they're also difficult to connect to.
It's a fact that half of the Japanese Americans imprisoned in internment camps in the United States during World War II were children.
It's a terrible fact.
It's a fact that most children cannot comprehend.
But when I transform that fact into the story of one child who experiences this imprisonment, then I also transform something that is TRUE into something that is a TRUTH.
It is the TRUTH that children can comprehend. They love the child they meet in the story. They understand her. They relate to her. They, too, have experienced loss. They, too, have longed for something that has been taken away from them. They, too, have felt voiceless and powerless.
This is the importance of the work fiction writers do. The work of observing what is true and transforming it into an emotional truth that lives beyond the end of the story.
---
About Lois
Lois Sepahban lives in central Kentucky with her family and a barnful of animals. Her debut novel, PAPER WISHES (FSG/Margaret Ferguson Books) was published in 2016.
You can find Lois on social media!
Website | Twitter | Facebook | Goodreads
---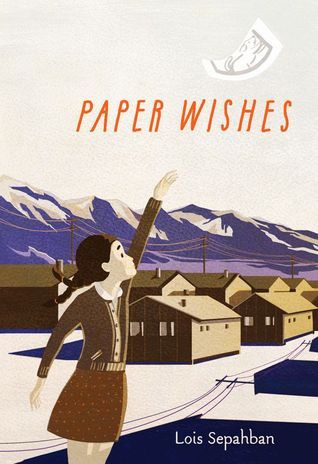 Paper Wishes
A moving debut novel about a girl whose family is relocated to a Japanese internment camp during World War II–and the dog she has to leave behind.
Ten-year-old Manami did not realize how peaceful her family's life on Bainbridge Island was until the day it all changed. It's 1942, after the attack on Pearl Harbor, and Manami and her family are Japanese American, which means that the government says they must leave their home by the sea and join other Japanese Americans at a prison camp in the desert. Manami is sad to go, but even worse is that they are going to have to give her dog, Yujiin, to a neighbor to take care of. Manami decides to sneak Yujiin under her coat, but she is caught and forced to abandon him. She is devastated but clings to the hope that somehow Yujiin will find his way to the camp and make her family whole again. It isn't until she finds a way to let go of her guilt that Manami can accept all that has happened to her family.
Goodreads | Amazon | Barnes & Noble | Indiebound
---
A very special thank you to Lois, who brings up such a valid point about truth in children's fiction. Even when children can't quite comprehend true historical facts, when put into the perspective of a relatable character and shown emotional truth, it derives a connection to the main characters that causes children to learn and be invested. This is so important in writing children's fiction!
A huge thank you to all of the authors who have participated in this feature! Your words and kindness don't go unappreciated. You are inspiring and helping hopeful writers everyday, and they are so much more thankful than you know!
We hope everyone has a wonderful rest of the week!