Read A Different Book
by Anna-Marie McLemore
We all know that to write, we have to read. And we all know that to write any genre or category or topic well, you have to read widely within that genre, category, or topic. If you want to write YA, read a lot of it. If you want to write MG, fill your TBR list with MG. And goodness, if you want to write a character with a marginalized experience that is not your own, one of your first steps is to read as many books as you can get your hands on by authors who have lived the experience you want to write about.
But right now I'm not talking about the books you read for research. If you're a writer hoping to responsibly write a life experience that's not your own, or write about another time period, or write anything else that might need thoughtful research, my guess is your research has its own TBR stack.
Right now I'm talking about your other TBR stack. The one that lives not on your desk but on your nightstand (or, on the nightstand and maybe also in stalagmite-like piles on the floor next to your nightstand). I'm talking about the books you read in your downtime.
Please do read widely within your category or genre. We all have to. It's how we stay sharp, and informed, and anyway most of us who write in a particular genre love it. (I should hope so, or else why would we write it?) As is probably no surprise, I'm a huge fan of magical realism, and I read all of it I can.
But sometimes….sometimes if you're feeling stuck in your writing, what you need is to read something totally different. Something to take you not only out of your own head but out of your own writing. If you're writing YA fantasy, yes, you must read all the YA fantasy you can. But you should also read some completely-not- your-genre books. Because if you're at a stuck place in your manuscript, you're going to be reading that amazing YA fantasy and saying to yourself, "this one has sea monsters…is that the problem, I don't have enough sea monsters?" Or "this author does such spectacular things with a fictionalized geological ice age and now I officially hate my snowstorm scene."
Save that book for a little later, when you're a little steadier in your drafting. Pick up a mystery. A contemporary. A biography. Get yourself out of your own category and find a few books that let you just enjoy what an author's doing, free from judgment of your own work. Your story will wait for you. And when you come back, it might look a little different than when you left.
---
About Anna-Marie
Anna-Marie McLemore was born in the foothills of the San Gabriel Mountains, raised in the same town as the world's largest wisteria vine, and taught by her family to hear la llorona in the Santa Ana winds. Her debut novel, THE WEIGHT OF FEATHERS (out now from Thomas Dunne Books/St. Martin's Press), was a Junior Library Guild Selection, named to YALSA's Best Fiction for Young Adults list, and a finalist for the William C. Morris Debut Award. Her second novel, WHEN THE MOON WAS OURS, will be released on October 4, 2016, and WILD BEAUTY is forthcoming in 2017. You can find Anna-Marie at annamariemclemore.com or on Twitter @LaAnnaMarie.
Website | Goodreads | Twitter | Facebook | Book Info
---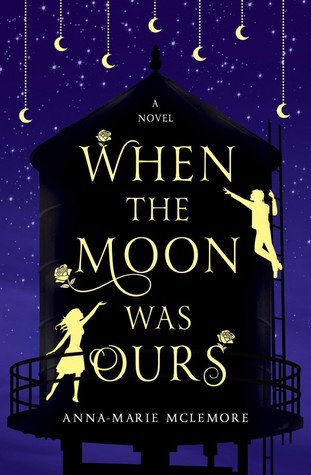 When The Moon Was Ours
To Be Published October 4th, 2016

When the Moon Was Ours follows two characters through a story that has multicultural elements and magical realism, but also has central LGBT themes—a transgender boy, the best friend he's falling in love with, and both of them deciding how they want to define themselves.
To everyone who knows them, best friends Miel and Sam are as strange as they are inseparable. Roses grow out of Miel's wrist, and rumors say that she spilled out of a water tower when she was five. Sam is known for the moons he paints and hangs in the trees, and for how little anyone knows about his life before he and his mother moved to town.
But as odd as everyone considers Miel and Sam, even they stay away from the Bonner girls, four beautiful sisters rumored to be witches. Now they want the roses that grow from Miel's skin, convinced that their scent can make anyone fall in love. And they're willing to use every secret Miel has fought to protect to make sure she gives them up.
Goodreads | Amazon | Barnes & Noble
---
The Weight Of Feathers
For twenty years, the Palomas and the Corbeaus have been rivals and enemies, locked in an escalating feud for over a generation. Both families make their living as traveling performers in competing shows—the Palomas swimming in mermaid exhibitions, the Corbeaus, former tightrope walkers, performing in the tallest trees they can find.
Lace Paloma may be new to her family's show, but she knows as well as anyone that the Corbeaus are pure magia negra, black magic from the devil himself. Simply touching one could mean death, and she's been taught from birth to keep away. But when disaster strikes the small town where both families are performing, it's a Corbeau boy, Cluck, who saves Lace's life. And his touch immerses her in the world of the Corbeaus, where falling for him could turn his own family against him, and one misstep can be just as dangerous on the ground as it is in the trees.
Beautifully written, and richly imaginative, The Weight of Feathers is an utterly captivating young adult novel by a talented new voice.
Goodreads | Amazon | Barnes & Noble
---
A large thanks to Anna-Marie for writing this and being a part of this feature! I highly recommend all writers take her advice and read outside your comfort zone every once in a while. It can be life changing for both yourself and your writing. Your writing will always be there, and you may just discover the best idea you've had yet!
As always, a huge thank you to all of the authors who have participated or are participating in this feature. Your willingness to help proves how wonderful this community truly is. Every week, you all encourage and give strength to future writers who are waiting to join your ranks. =)
We hope you have a great rest of your week!
Save