Failure is a Plot Twist in Our Success Story
by Kerri Maniscalco
Whenever I see the word "failure" I automatically jerk back and squint at the screen. "What is this 'Failure' thing you speak of?" Is it measured by a certain amount of rejection letters? If so, goodness, have I failed before. As an eternal optimist—who's faced a bunch of "failure" before getting that elusive publishing contract—I can honestly say that I choose to see failure as an important stepping stone in your career.
After all, what is failure other than an unexpected plot twist? As writers we understand that it's the challenges our characters overcome that make for a fantastic story. The same is true for us.
Before I signed with my agent I'd queried her with a YA futuristic thriller. I was over the moon excited when she requested the full manuscript, but didn't stop working on my craft. When I saw a Writer's Digest webinar she was teaching, I took a chance (hoping she wouldn't think I was stalker-y) and signed up for it.
Guys? It was one of the best decisions I've ever made. Our communication door opened up, allowing us to chat back and forth and get to know each other over a few months…
So when I received a rejection on my manuscript, it was NOT the way I'd envisioned this dream unfolding. However, that "failure" was attached with an invitation to directly submit my next project. I took the positive from the heartbreak, hoarded the bright-spots like a miser with her shiny gold, and wrote the story of my authorly heart. The result? I directly submitted it and signed with Barbara a few weeks later.
Was it fortune and fame from that point on? Er, not exactly. You see publishing has all these hurdles and potential for "failure" that pop up when you least expect it. Editors who love your work get rejected too.
You better believe that I didn't let that submission failure/plot twist stop me from writing my next work, a YA gothic horror that DID sell. Over a holiday weekend, no less.
There's no easy way around it: failure sucks. But how you deal with it and what you choose to focus on doesn't have to. Honestly? I don't believe there's EVER failure in trying. You might not succeed with your first project (or your fifth), but you are learning and growing and becoming this ginormous badass in the process. You're staring Failure down and showing it who's Top Cat. (I'm a total cat lady.)
If you're getting similar rejections in the query trenches, then taking time to see what might be wrong in your query or opening pages, is succeeding. Or if you're polishing up your words until their incandescence blinds you, it's succeeding. And if you're taking advice and criticism well and incorporating it into your art…you're already succeeding.
How, you might ask? Because you're coming at Failure with your arms open wide, saying, "Come at me, bro." Like me, you know that failure is only a temporary plot twist on your journey toward success.
---
About Kerri
Kerri Maniscalco grew up in a small town just outside of New York City where her love of the arts was fostered from an early age. In her spare time she reads everything she can get her hands on, cooks all kinds of food for her family, and drinks entirely too much tea while discussing life's finer points with her cats.
STALKING JACK THE RIPPER, her debut YA gothic horror, is coming September 20, 2016 from jimmy patterson books/Little, Brown.
Hang out with Kerri online and discuss things like book boyfriends, cat videos, and watch her unapologetically post way too many Sherlock and Stormtrooper gifs.
Author Photo Credit: Kelli Maniscalco @ Dogwood Lane
Twitter | Website | Instagram | Facebook | Pinterest
Amazon | Barnes & Noble | Goodreads
---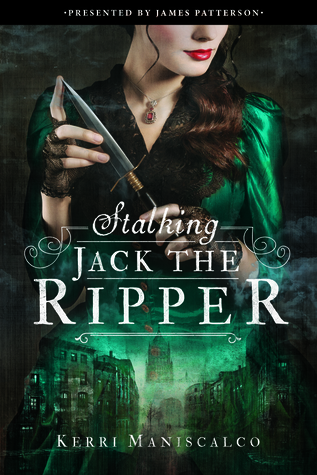 Stalking Jack The Ripper
Seventeen-year-old Audrey Rose Wadsworth was born a lord's daughter, with a life of wealth and privilege stretched out before her. But between the social teas and silk dress fittings, she leads a forbidden secret life.
Against her stern father's wishes and society's expectations, Audrey often slips away to her uncle's laboratory to study the gruesome practice of forensic medicine. When her work on a string of savagely killed corpses drags Audrey into the investigation of a serial murderer, her search for answers brings her close to her own sheltered world.
STALKING JACK THE RIPPER was also a 2016 BEA YA Buzz book!
Goodreads | Amazon | Barnes & Noble
---
Thank you so much, Kerri! Your words of wisdom and failure are so important in today's world. We all feel like failures at one point or another and I see too much of the disappointment and inner turmoil in this business. You're not failing… you're growing. =)
A huge thank you to everyone who has participated in this feature! Your posts and words of wisdom help writers around the world find the courage needed to spend another day putting their hearts to paper. You're appreciated more than you know!
We hope you all have a wonderful rest of your week!