Deadline Eve
by Adi Alsaid
It's three a.m on the day of your deadline. Whatever beverage of choice is powering you through this late night writing session is down to its last swills. An overhead fan casts more noise than breeze, shadows that make you think your phone is calling out for attention. Outside, crickets. This is maybe your twentieth time reading through this book, which is too many times to read the 300 pages in a six month span. You're wondering if maybe you'd be better off going to sleep for a few hours, trying to finish off those last notes in the morning, clearheaded. You could even send this in by the end of the business day and your editor will be pretty chill about it.
Except you don't really do clearheaded in the morning, do you. It was the same thing with basketball. Mornings, airballs all of them. Hell, do you even do clearheaded at all? Do you have any idea if this book has improved, or have you simply been rewording sentences, creating new problems? Have you gotten better at all in the last few years, or are you phoning it in?
You click away to Twitter, dead at this hour, thank God. A scroll or two, you click back to your book. Delete something, undo. Then you open your documents and scroll through, thinking maybe an earlier draft has a great line that'll finally help you nail this scene. You find a short story you wrote a page of three years ago. Man, the writing in this sounds different, no? More like you. Better somehow. You should give this another shot. There's something to the concept. Two paragraphs in you're already rooting for this couple and their heartbroken friend, already hooked by the fact that there's a teacup pig character. There's no teacup pigs in this book you're sending in tonight. What a sham.
You sigh, click away from the short story. Look at the draft you're working on, still three thousand words over your editor's goal. You get up to use the bathroom, even though you don't really have to pee all that much. Open the fridge quietly. Imagine what you would do if there was suddenly a building-toppling earthquake, news of an asteroid, a monster waiting for you back on the patio by your computer. You go back to your computer, and apply that same imagination to your doubt.
What if you've never been all that good, just lucky? What if you've peaked? If you keep on writing the same book over and over again, the same characters? What if you're lazy, and nothing you've ever written has reached its potential? What if you're too respectful of deadlines, not respectful enough of the art in your craft? You talk about character arcs, but you don't really know how to frame them. You love nuance in books, but you don't know how to execute it. What was that lyric you used to sing to yourself? "You want everything to be just like the stories that you read but never write."
Ugh, get back to Twitter. Anyone Snapchatting at this hour? Maybe start reading this chapter from the start, instead of the muck of this scene. Hey, that's not so bad. Skip ahead. Okay that paragraph isn't garbage either. Breathe a little easier, take a sip, wish you were good at cracking your fingers, since you think maybe that's the trick you're missing. Like bending your knees at the free throw line. Take a breath, follow through, fingers pointed at the rim. There's more subtlety in this scene than you thought. You scroll back to the page you were stuck on.
Utter garbage.
This book is garbage.
You are garbage.
That teacup pig story was onto something though.
You go use the bathroom again. Switch the song that's playing on your headphones, because surely it is to blame. 3:30 a.m. You hit delete on a whole paragraph and pat yourself on the back. You read a line that makes you feel everything is okay again. You belong in this world. You have worked hard. Look at you. It's three thirty in the morning and you are not giving up. You have faced countless days staring at the screen, trying to shape a story, something representative of life, something that speaks to the human experience, all while dealing with this stupid brain of yours that keeps wanting to complicate everything. It comes up with delusions of grandeur one moment, tears the delusions down the next. And this is all such big picture stuff that you can worry about on another day. When you don't have a deadline.
You look at your edit letter. Click back to your book. Remember this one moment early in act two that clashes with who the character is the rest of the book. There, gone. Fast forward a few pages, identify a new dent in the manuscript. Set your fingers on the keys and gently push words into their rightful place. Go back and forth. Read. Delete. Reshape. Are you there yet? No? No. None of this works. None of it. Feel the frustration building like boiling water. Shake your fist like a cartoon villain, curse the heavens. Whistle the steam away.
Return to the work. Get on a roll, two chapters down that don't need to be touched again. Open mother-effing SimCity and blow all your momentum to hell. Throw your phone across the room (but onto the couch, because sanity). Look back at your document. Realize there's one scene where you can seed in a character's entire desire for their actions the rest of the book. Feel like a genius. Kind of write what you had in mind. Go get your phone. Open SimCity. 3:45, scene's done. Scroll up. Delete. Scroll down, add a sentence. Realize you have almost the exact same sentence two lines later. Delete. Rework. Reshape. Pee.
Get back to work. Yawn. Wonder if you've addressed everything, if all the little tweaks have incorporated your editor's thoughts about how to get this stack of words into tip-top shape. Have you juggled all the elements in every scene? Are the emotional beats where they need to be? Is the tone consistent, is there too much of this, too little of that? Is a character nuanced enough? Are they pointless? Are they a sexy lamp, a cliché, a stereotype, boring? Are they well-written? Is any of this well-written?
Four a.m.
You think to yourself: this is what I do. It is insane and difficult. It involves doubt, and delusion, and uncontained imagination in ways that are not helpful. It is repetitive, like the dribble of a basketball on the sideline. It is craft. It is the feel of the empty gym. Scratch this metaphor, because it is introduced too late. Kill the darling. Or do the work and seed it in earlier. Skip this song. Know this is the best book you've written. But it's not quite there yet. Almost.
Write more. Get to work. Do not let these things get in the way. Write more.
---
About Adi
Adi Alsaid was born and raised in Mexico City. He attended the University of Nevada, Las Vegas. After graduating with a bachelor's degree in Marketing, Adi moved to Monterey, California. He is the author of several YA books, including Let's Get Lost, Never Always Sometimes, and the upcoming North of Happy. He now lives and writes in his hometown.
Website | Twitter | Facebook | Goodreads
---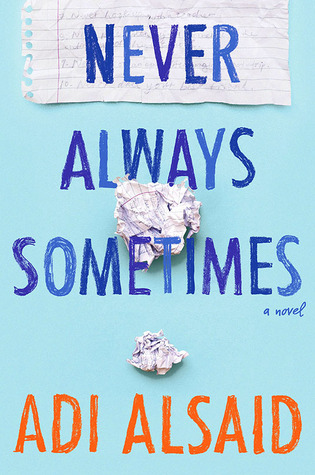 Never Always Sometimes
Never date your best friend.
Always be original.
Sometimes rules are meant to be broken.
Best friends Dave and Julia were determined to never be cliché high school kids—the ones who sit at the same lunch table every day, dissecting the drama from homeroom and plotting their campaigns for prom king and queen. They even wrote their own Never List of everything they vowed they'd never, ever do in high school.
Some of the rules have been easy to follow, like #5, never dye your hair a color of the rainbow, or #7, never hook up with a teacher. But Dave has a secret: he's broken rule #8, never pine silently after someone for the entirety of high school. It's either that or break rule #10, never date your best friend. Dave has loved Julia for as long as he can remember.
Julia is beautiful, wild and impetuous. So when she suggests they do every Never on the list, Dave is happy to play along. He even dyes his hair an unfortunate shade of green. It starts as a joke, but then a funny thing happens: Dave and Julia discover that by skipping the clichés, they've actually been missing out on high school. And maybe even on love.
Goodreads | Amazon | Barnes & Noble
---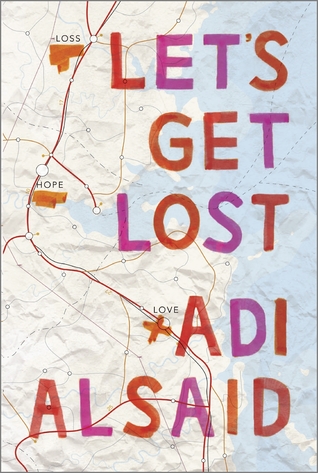 Let's Get Lost
Five strangers. Countless adventures. One epic way to get lost.
Four teens across the country have only one thing in common: a girl named Leila. She crashes into their lives in her absurdly red car at the moment they need someone the most.
Hudson, Bree, Elliot and Sonia find a friend in Leila. And when Leila leaves them, their lives are forever changed. But it is during Leila's own 4,268-mile journey that she discovers the most important truth—sometimes, what you need most is right where you started. And maybe the only way to find what you're looking for is to get lost along the way.
Goodreads | Amazon | Barnes & Noble
---
Giveaway
A signed copy of a Never Always Sometimes ARC is available to one lucky winner!
U.S. ONLY
We have the right to disqualify anyone who enters this contest by cheating, or any accounts that are "Giveaway Robots"
---
Who wants to bet that Adi was writing this on a night when he was missing a deadline for North of Happy and looking for something to procrastinate with? Hehe! By the way, have you all heard of his North of Happy yet?! NO?! Guess what… you're welcome…
"New from critically acclaimed author of LET'S GET LOST andNEVER ALWAYS SOMETIMES. In the wake of his brother's untimely death, a teen chef runs away from home to find his true path in life.
Carlos Portillo has always led a privileged and sheltered life. A dual citizen of Mexico and the US, he lives in Mexico City with his wealthy family where he attends an elite international school. His friends and peers-fellow rich kids-have plans to attend college somewhere in the US or Europe and someday take over their parents' businesses. Always a rule follower and a parent pleaser, Carlos is more than happy to tread the well-worn path in front of him. He has always loved food and cooking, but his parents see it as just a hobby.
When his older brother, Felix–who has dropped out of college to live a life of travel–is tragically killed, Carlos begins hearing his brother's voice, giving him advice and pushing him to rebel against his father's plan for him. Worrying about his mental health, but knowing the voice is right, Carlos runs away to the US and manages to secure a job with his favorite celebrity chef. As he works to improve his skills in the kitchen and pursue his dream, he begins to fall for his boss's daughter–a fact that could end his career before it begins. Finally living for himself, Carlos must decide what's most important to him and where his true path really lies." – Goodreads
Adi, thank you SO MUCH for taking the time to write this. I honestly believe that just about every writer goes through this struggle, and if I'm being honest, agents go through similar feelings of doubt as well. Always try to have as much faith in yourself as possible, and if you can't do that, push through until you find your faith again!
Thank you so much to Adi and all of the other authors of this feature. You're helping so many writers achieve their dreams every week. Also, if no one has told you yet this week… You're all amazing writers. =) Keep your chin up!
We hope you have an amazing rest of your week!