Survival Lessons of an Author
by Jenny Martin
My first book, Tracked, came out last year. Recently, the sequel did, too.
It's about a young driver who rockets from street racing to galactic stardom, from reckless child to formidable warrior. My heroine, Phee, is bold. She's fearless. She's ready to tear up the road and smash through any setback that gets in her way.
And mostly…she's everything I'm not.
Yes, I confess. I've never rescued an exiled prince, or slipped behind the wheel of a flying car. Truth be told, I'm as timid as they come, and I tend to dine on self-doubt, more often than not. As for obstacles, I stumble over them. I crash and burn. Wreck and roll. Every time.
But I also know how to be ruthlessly stubborn. I know how get back up. I know how to put a book aside, when it's clunky and terrible. I know how to pin a hundred rejections to the wall of my heart, and still keep clacking the keys. I know how to work with an agent, and what to expect from a publisher, once the ink is dry on the deal. I've learned what real revision is, and that nothing matters but the real heart and soul of the story.
I've learned how to let go of a book, and give it readers. How to accept total failure, without beating myself into a pulp. How to shelve a dream that's not working, and how to trade it for one made of sturdier words. I've figured out that my friends are right; success truly is just a matter of luck, talent and persistence. What's more, all you need is two of out of three, and at the end of the day, you can make your own luck, though the timing's crucial and the alchemy's tricky.
I've learned how to sit back and sit by the phone. How to recover from close calls, and how to not-cry, definitely-do-not-cry when no call ever comes. I've learned how to say forget it, never sit by the phone, just forget the phone already, and just keep clacking those keys.
I've discovered the magic spell for keeping my eyes on my own paper, and how to grow a wiser spirit and a bigger heart. It requires a shrunken ego, but leads to celebration. It is possible to cheer for a friend's triumph, as fiercely as one's own.
I've learned that a bad agent is worse than no agent, and that a good agent is everything, and is worth quadruple her weight in gold. I've learned what to do when your editor leaves, and what to do when your new editor is wicked smart, and what to do when your season changes, and what to do when your year changes, and what to do when your chances are next to nothing, and what to do when you finally figure this out, as your last deadline looms and your ninetieth draft transmogrifies into a cat-batted lump of nonsensical yarn.
And lastly, I've learned what you already know–that obstacles aren't really obstacles at all. They're simply stern instructors, and we are all enrolled. Since figuring that out, I can breathe. I can thank them for everything they've taught me. How to bulk up on humility and get by on gratitude and feast on stolen joy. And now, for once, I am doubtless. I know, as surely as you, that whatever's waiting around the next turn, be it success or failure, I will be fine. I will be better than fine. I will be the strongest I've ever been.
Because I know how to climb out of a spectacular wreck. And that will make all the difference.
---
About Jenny
Jenny Martin is an author and librarian. Her first novel, Tracked, has been featured on The Mary Sue, Bustle, Bookriot and Hypable. Tracked was named one of Paste Magazine's and Teen Magazine's 'Best Books of 2015', and its sequel, Marked, released May 17th, 2016, from Dial, an imprint of Penguin-Random House. Jenny is also an experienced speaker, panelist and presenter who's appeared Texas Teen Book Festival, Texas Library Association and San Diego Comic Con. She lives in the Dallas-Fort Worth area with her husband and son, where she hoards books and writes fiction. And yes, she's still on a quest for the perfect pancake.
If you are interested in having Jenny visit your school, library, meeting, conference, etc., e-mailreadjennymartin@gmail.com for more information. 
Website | Facebook | Twitter | Goodreads | Instagram | Pinterest | Tumblr
---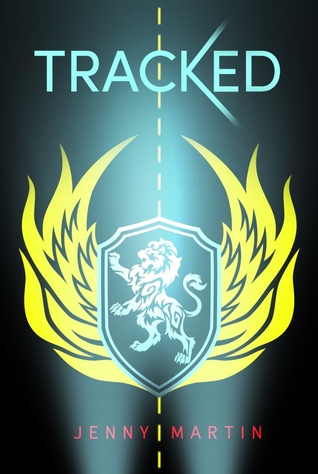 Tracked (Tracked #1)
The Fast and the Furious gets a futuristic twist in this action-packed debut!
On corporately controlled Castra, rally racing is a high-stakes game that seventeen-year-old Phoebe Van Zant knows all too well. Phee's legendary racer father disappeared mysteriously, but that hasn't stopped her from speeding headlong into trouble. When she and her best friend, Bear, attract the attention of Charles Benroyal, they are blackmailed into racing for Benroyal Corp, a company that represents everything Phee detests. Worse, Phee risks losing Bear as she falls for Cash, her charming new teammate. But when she discovers that Benroyal is controlling more than a corporation, Phee realizes she has a much bigger role in Castra's future than she could ever have imagined. It's up to Phee to take Benroyal down. But even with the help of her team, can a street-rat destroy an empire?
Goodreads | Amazon | Barnes & Noble | Penguin
---
Marked (Tracked #2)
Mad Max meets Firefly in the exhilarating sequel to the sci-fi novel Tracked.

After an escape gone wrong, Phee barely made it out of Castra alive. But Cash, the leader of the rebellion, is still missing–and Charles Benroyal is to blame. Caught between grief and blinding thoughts of revenge, Phee fights for the resistance, gaining new allies and, perhaps, making new enemies, too. Meanwhile, Phee can't control her growing feelings for Bear, her best friend since childhood, and she's forced to make a choice–between the boy who has always been there for her, and the one who might never return. As Benroyal's attacks grow bolder, Phee and her team embark on a daring mission to defeat the Sixers and save the planet. But no one is prepared for the sacrifices Phee will have to make to win this war once and for all.
With nonstop action and a wholly original science fiction world,Marked will have your heart racing until its breathless conclusion.
Godreads | Amazon | Barnes & Noble | Penguin
---
Thank you so much, Jenny, for writing this amazing post! I love this type of life advice and being able to see someone truly succeed and grow as a person because of what they've learned about themselves. You are such a wonderful author and I look forward to more advice and many more experiences to come. =)
As always, a huge thank you to everyone who has and/or will participate in this feature. You're helping so many writers and authors succeed and follow their dreams. We appreciate it more than you know!
We hope everyone has a great rest of your week and a wonderful weekend!
Save