Writing From The Real World
By Kimberly Karalius
I eat cereal without milk. I sit in commuter traffic in the mornings, gather around the coffee machine with my fellow bleary-eyed coworkers, and fold my laundry (terribly). And yet, people think that because I'm a writer, my reality is different than everyone else's.
It's not.
But my comfortably mundane life is what inspires me to seek inspiration outside of my reality. I want to write books that take me far away from my cubicle, to worlds where logic is crooked, mermaids run cake shops, and Love has a voice and a bone to pick with someone it made a bad bargain with.
When I'm looking for a new story to write, I usually find it buried in strange historical facts, objects, or images I come across rather than pulling from my day-to-day experiences with the people I work with and the conversations I overhear while grocery shopping. My instinct is always to move away from what I know as reality and explore the what ifs.
Yet real life does play an important role in every good story. For me, it has to do with capturing very real emotions on paper. Most of the time that involves digging up some uncomfortable or overwhelmingly lovely feelings from my past to write convincing and truthful scenes in my books.
I've never flown on the back of a dragon, but I've been on a ton of roller coasters. The wind in my hair, the squelchy stomach-dropping sensation when I barrel roll down the tracks, and the tickling in the back of my throat from laughing through the entire ride. I've never lost a magical pearl necklace in a storm, but I've been caught in torrents of sudden rain (oh, Florida) and still regret forever losing a precious toy that I had dropped in elementary school through the cracks in a sewer drain.
No matter how small the memory, the emotions tied to them stay with us. As a writer, it's important to use emotions to connect a reader with your characters. Because no matter how unusual your book's world is, the struggles, hopes, and dreams of your characters should always be familiar and grounded in real life – the real emotions that come with living.
---
About Kimberly
Kimberly Karalius is the author of Love Fortunes and Other Disasters and its forthcoming sequel Love Charms and Other Catastrophes (May 2016). If you gave her a wish bone, she would wish fervently for snow in Florida. Her love for 90s cartoons (or any cartoons, really) knows no bounds. Being in Florida certainly has one big perk: going to Disney World. Which she does. Frequently.
Kimberly holds an MFA in fiction from the University of South Florida. Her fiction has appeared in literary journals such as Luna Station Quarterly, The Medulla Review, andHogglepot. Her chapbook, Pocket Forest, was published by Deathless Press in August 2013.
Website | Twitter | Facebook | Goodreads | Tumblr | Instagram | Pinterest
---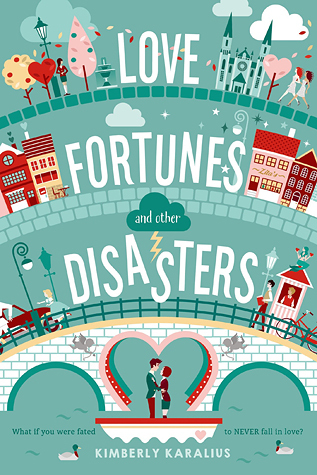 Love Fortunes and Other Disasters (Grimbaud #1)
In the tradition of Alice Hoffman's Practical Magic, one girl chooses to change her fortune and her fate by falling in love.
Love is real in the town of Grimbaud, and Fallon Dupree has dreamed of attending high school there for years. After all, generations of Duprees have successfully followed the (100% accurate!) love fortunes from Zita's famous Love Charms Shop to happily marry their high school sweethearts. It's a tradition. So she is both stunned and devastated when her fortune states that she will NEVER find love.
Fortunately, Fallon isn't the only student with a terrible love fortune, and a rebellion is brewing. Fallon is determined to take control of her own fate—even if it means working with a notorious heartbreaker like Sebastian.
Will Fallon and Sebastian be able to overthrow Zita's tyranny and fall in love?
Goodreads | Amazon | Barnes & Noble
---
Love Charms and Other Catastrophes (Grimbaud #2)
Sometimes love comes gift-wrapped…literally.
Aspiring love-charm maker Hijiri Kitamura was excited to come back to Grimbaud for her sophomore year—until she learned about the upcoming charm-making competition. She, along with her friends and fellow rebels, had worked too hard to free the town from Zita's tyrannical love fortunes to allow some other charm maker to move in and take over. The only solution is for Hijiri to win the contest herself.
Unfortunately, that's easier said than done, especially when Love itself has decided to meddle in Hijiri's life. Concerned that its favorite charm maker has given up on finding a love of her own, Love delivers a very special gift—the perfect boyfriend, specially crafted just for her.
Goodreads | Amazon | Barnes & Noble
---
Giveaway!
Melissa is kind enough to be giving away an ARC of each of Kim's amazing books in the Grimbaud series to one lucky winner! A few rules:
U.S. Only.
Ends Midnight July 26th (7/26/16)
We have the right to disqualify entries that have violated ours and/or Rafflecopter's rules.
---
A special thank you shout out to Kimberly, who is so sweet and extremely helpful with this post! You are dead on with your writing relativity to real life instances. I'm sure many writers will benefit from your wise words. =)
A huge thank you to all who have, are, and will be participating in this feature. Your words do not go unread, and your advice doesn't go unheeded. You're helping writers all over the world fulfill their dreams. Thank you. ❤
We hope you have a wonderful rest of your week!
Save