In Defense of Writing Less
By Karen Bao
When people ask me for advice on how to become an author, I say, "Read, write, and don't forget to go play outside." More than half of that sentence has nothing to do with books or the writing process, and here's why.
Reading a great book, and then practicing the techniques you liked, will teach you how to write a story. But as for what to write – something that you and you alone could put on paper – only life can teach you that.
I'm a relatively new author, and I haven't seen all that much of life yet, but actively not writing has become one of the most valuable uses of my time. My passion for science during high school and my conversations with my mother about Maoist China – which she experienced firsthand – fueled the first draft of Dove Arising. My recent research trip to Fiji, which was full of natural wonders, conservation challenges, and generous, perceptive villagers, provided ample inspiration for my current fantasy project. Funny enough, during those three weeks in the South Pacific, I hardly thought about writing, let alone wrote a single word of a story.
Stepping away from a computer or notebook not only provides inspiration for new books, it also solves problems in current drafts. When faced with writer's block, I immediately leave my desk. But I didn't always do this. Two years ago, I was editing Dove Exiled, and Murray, Wes' troubled sister, absolutely refused to cooperate. I didn't understand her at her core, which meant she was just a placeholder character, more symbol than person. Even after marking up edit letters and drafts, and nearly tearing my hair out, I still couldn't portray Murray as a real person.
Then, as the next semester was starting, I took a break.
A month-long break.
Occupied with classes that challenged me and friends who understood me, I realized that I had more in common with Murray than I thought. And in the next draft? Boom. Murray became a complex human being who revealed herself to Phaet over the course of many pages.
History is full of writers who did so much more than just write. Charlotte Brontë, my favorite author of all time, was a talented artist, governess, teacher, and scorned lover – no wonder her books show such a deep understanding of human emotion. Mark Twain was, in no particular order, a prospector, soldier, lecturer, steamboat driver, and amateur scientist. Chimamanda Ngozi Adichie, of Americanah fame, studied medicine and political science before pursuing a writing degree. So what can we learn from these incredible people? Pursuing other interests in great depth will probably make you a better writer in ways you're not even aware of yet.
So, if you're having trouble with that scene, or want to write but aren't sure what to write – shut down your computer. Close your notebook. Call a friend, go rock climbing, take a long drive, chase fireflies, dissect a plant – you choose. Even if you're on deadline, breathe in the fresh air.
Your draft won't even notice you've been gone.
---
About Karen Bao
Karen Bao is a writer, musician, and aspiring scientist. She has a brother three years younger than her and a violin sixty years older than her. Born in California and raised in New Jersey, she currently studies environmental biology at college in New York City. Karen began writing Dove Arising at the age of seventeen.
Website | Goodreads | Twitter | Facebook | Amazon
---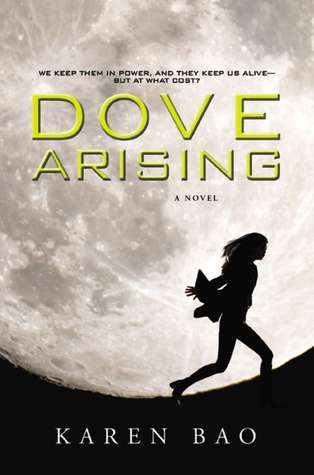 Dove Arising (Dove Chronicles #1)
Phaet Theta has lived her whole life in a colony on the Moon. She's barely spoken since her father died in an accident nine years ago. She cultivates the plants in Greenhouse 22, lets her best friend talk for her, and stays off the government's radar.
Then her mother is arrested.
The only way to save her younger siblings from the degrading Shelter is by enlisting in the Militia, the faceless army that polices the Lunar bases and protects them from attacks by desperate Earth dwellers. Training is brutal, but it's where Phaet forms an uneasy but meaningful alliance with the preternaturally accomplished Wes, a fellow outsider.
Rank high, save her siblings, free her mom:  that's the plan. Until Phaet's logically ordered world begins to crumble…
Suspenseful, intelligent, and hauntingly prescient, Dove Arising stands on the shoulders of our greatest tales of the future to tell a story that is all too relevant today.
Goodreads | Amazon | Barnes & Noble
---
Thank you, Karen! This is something that I know many of us in the writing and publishing industry tend to forget. We run on our own schedules, work 24/7, and get frustrated quickly when things don't work out, only to push harder. Because of this, we all have a tendency to forget that there's a world out there we need to explore. If not for sanity, explore it for inspiration! This is a wonderful post, and we thank you so much from the bottom of our hearts for writing it and continuing to help writers everywhere achieve their dreams!
As always, a huge thank you to all of the authors who have, are, and will be participating in this feature. Your continued advice, tips, and stories help so many more people than you can know. You all are extremely loved and appreciated.
We hope everyone has a great rest of your week!