If I Could Write A Letter To My 13 Year Old Self…
By A.C. Gaughen
Writing Prompt:
If you could write a letter to your child-self explaining your journey and what they need to prepare for, what would it say?
Dear 13 year old Annie,
So I know you just got your first rejection letter. You have zero perspective, so you can't know how brave you were to send out your work (despite the fact that it was seriously just terrible, I'm sorry) to publishers as a 13 year old. You don't know how amazing it was that you got a handwritten note in return—something that, as an adult and probably due to email, which wasn't really a THING when you were thirteen, doesn't happen. But best of all, you don't know how incredible it was that you didn't let that stop you.
This isn't the first time I've written to you [see post here], but before, I was stupid enough to think that I should be giving you advice. This time, let me tell you what you taught me, kid.
1. Have faith in myself. You would think that me as the adult, who knows that all your hours of writing pay off, that most of the best dreams come true, that nothing is on fire by the end of puberty would actually have MORE faith in myself that you. But somewhere along the line, faith was really easy to lose. But you always held on, and it taught me that somewhere within myself, I have the ability to hold on.
2. By the way, hurting is not the same thing as losing my faith, my drive or my determination. You went through so much pain as a kid—you lost people. You had diabetes and really awful migraines. Your family cracked apart. There were even times when you really wanted to just totally give up. But you didn't—you asked for help. You wrote until some kind of demon was exorcised from you. You coped your ass off.
3. Sadly, you also taught me to really enjoy clutter. Like notebooks and pens. So many notebooks and pens…which I have no idea what to do with in my little city apartment!
4. You gave me permission to really, really suck at writing. After our first few rejections, you stopped submitting for a while, and you just wrote. You wrote everything you could think of. You woke up early. You stayed up late. You were a sleep deprived little teenager with a sore shoulder from carrying notebooks like Rory Gilmore carries books, but you never judged yourself. You just wrote, and got better, and edited, and experimented. We never lit a book on fire, and I really appreciate that.
5. Speaking of which, there's a book you're going to start writing two years from now and your future editor LOVES it. It took us the remaining 16 years to figure out the best way to write it, but at its heart, it still belongs to you.
6. A book isn't a book unless there's kissing. LIFE LESSON.
7. You always put your people first—you pride yourself on being a good and loving friend. Thank you for that, because some of the people in your life now are still around, and they mean everything to me—but it also meant that you taught me to try and see our characters like our best friends: with all of their faults, with all of their best qualities, and love them as complete people.
8. You taught me that I may have chosen the only profession where having the same interests as my 13 year old self is totally ok.
9. Looking back on it, I think you really knew when you were ready. Somehow, you knew the difference between the books that were teaching us something and the books that could one day be shared with the world. You were able to identify tools and resources that helped make up the difference, and you went after them. You learned. You adapted. You worked like hell. And sometimes I wish I were better now about trusting my instincts to know when I'm ready and when I just need a little more time to suck at something.
10. That "have faith" thing doesn't end with myself. You taught me how to have faith in my writing, because sometimes it takes 16 years to figure out how to write a story, but YOU DO KNOW HOW TO WRITE YOUR STORY. You gave me that faith in my own writing.
11. Love books for more than what they can teach you. You were the queen of staying up late into the night so you can finish a book and hold it to your chest and tear up because you just loved it so much. As an adult, sometimes I'm afraid of that passion, because it makes me doubt my own writing. It's hard to be creative with someone else's words swirling lovingly in your mind. But it's part and parcel to loving books with an open heart, and I always try to remember that.
12. More dragons. Always more dragons.
13. The biggest thing I've learned from you is that writing isn't publishing. Writing is this beautiful experience of learning and occasional self-loathing, of playing and practicing. It's flawed, and it rejoices in its flaws. Writing is the thing I can control, the thing I love, and publishing is just the candy shell around the exterior. It's shiny and delicious, but ultimately, we're in this for the chocolate center. It's so easy to forget that, but I just think of you, happy with nothing but a composition notebook and an RSVP pen, and I remember. Thank you for giving me something that is both a simple joy and a lifelong learning process.
Thank you for never giving up.
Much love,
Your older and less-wise self.
---
About A.C. Gaughen
A. C. GAUGHEN is the author of Scarlet, Lady Thief and Lion Heart. She serves on the board for the non-profit Boston GLOW, creating opportunities to encourage and engage teen girls in the Greater Boston area. She has a Masters in Creative Writing from St. Andrews University in Scotland and a Masters in Education from Harvard University.
Website | Twitter | Goodreads | Tumblr | Facebook
---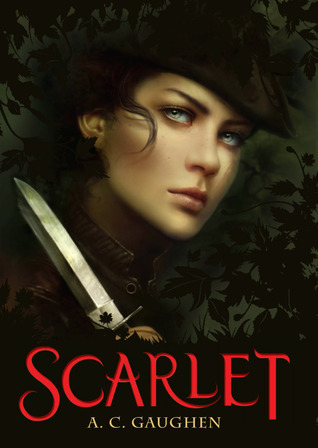 Scarlet (Scarlet #1)
Will Scarlet is good at two things: stealing from the rich and keeping secrets – skills that are in high demand in Robin Hood's band of thieves, who protect the people of Nottingham from the evil sheriff. Scarlet's biggest secret of all is one only Robin and his men know…that she is posing as a thief; that the slip of a boy who is fast with sharp knives is really a girl.
The terrible events in her past that led Scarlet to hide her real identity are in danger of being exposed when the thief taker Lord Gisbourne arrives in town to rid Nottingham of the Hood and his men once and for all. As Gisbourne closes in a put innocent lives at risk, Scarlet must decide how much the people of Nottingham mean to her, especially John Little, a flirtatious fellow outlaw, and Robin, whose quick smiles have the rare power to unsettle her. There is real honor among these thieves and so much more – making this a fight worth dying for.
Goodreads | Amazon | Barnes & Noble
---
This post had me tearing up and trying so hard to hide it while I'm sitting at the front of my classroom and all my students are so patiently working. This was so amazing and refreshing to read. It just brings me back to all of the times I doubted myself, that other people doubted me, and all of the life lessons I've learned from being exactly who I am. I think I'm going to write a letter to my 13 year old self too… This needs to be a "thing."
A huge thank you to A.C. Gaughen and all of the other amazing book-ish professionals who have contributed, are contributing, or will contribute to this feature. You all have no idea how much you continue to inspire and help writers of all kinds from all over the globe. You're some of the most amazing people I will ever get the pleasure to know.
Have a wonderful week, and we hope you've enjoyed this week's post!