Are you a plotter or a pantser and how has this helped in your writing process?
By Lori Goldstein
I am a dedicated plotter. I outline anywhere from three to six weeks before writing, and my outline for Becoming Jinn was eighty pages and the one for the sequel, Circle of Jinn, which released just two days ago (!), was about seventy. The outline for my current YA in-progress contemporary is fifty pages. While things still change, I need to have a blueprint to rely on as I'm writing. I know where I need to go. When I don't, I find myself much more easily distracted as I stare into space thinking "what now?" If I wrote without an outline, it'd take me years to accomplish anything.in fact…it did.
When I wrote my first manuscript, in addition to not having a clue what I was doing, I didn't plan a thing. I figured the story would just "come to me." And it did, over three long, grueling years during which I rewrote the novel from start to finish probably eight times because I had no idea you needed to do more than have two people just chatting with each other. 😉
That book was my education in writing. Combined with some great craft books and a course in novel planning, I changed gears before writing Becoming Jinn. My planning process includes the actual plot of course but also character profiles, setting exercises, and more. I went into the writing of Becoming Jinn knowing so much about the world, which allowed me to write it fast (three months after six weeks of plotting). I consider that long outline essentially a very short draft of the book. My first draft is more like a second draft. It's the only way I'll write from now on. I know it doesn't work for everyone (though I think there are elements that every writer can and should adopt), but it's a good fit for me.
---
PREORDER GIVEAWAY!
The sequel to BECOMING JINN, which VOYA Magazine named one of the Best Science, Fiction, Fantasy or Horror of 2015 in a starred review, releases on May 17, 2016.
Advance praise for CIRCLE OF JINN from Booklist says "book two takes a sharp turn into high fantasy . . . Romance and wish granting take a backseat to friendship, political intrigue, and Azra's maturation and ongoing discovery of her heritage. Fans of the first book should be satisfied by this conclusion."
Preorder or buy a new copy of CIRCLE OF JINN by May 27, 2016, and you'll automatically become a genie* yourself!
Every preorder, including signed preorders from Lori's local indie, Porter Square Books (both books available for signed orders), will be mailed a signed bookmark, signed bookplate, and metallic bracelet tattoos.
But wait, there's more! You'll also be entered into the grand giveaway to win one of the exact shiny silver bangles featured on the cover of both Becoming Jinn and Circle of Jinn.
Details: http://www.lorigoldsteinbooks.com/2016/04/18/preorder-time/
* Swag includes temporary bracelet tattoos; the power to become a Jinn must already be inside you.
---
About Lori
Lori Goldstein was born into an Italian-Irish family and raised in a small town on the New Jersey shore. A former journalist, she currently lives and writes outside of Boston. BECOMING JINN is her first novel. The sequel, Circle of Jinn, is out now! (Feiwel and Friends/Macmillan).
Website | Twitter | Facebook | Tumblr | Instagram
---
Becoming Jinn
Forget everything you thought you knew about genies!
Azra has just turned sixteen, and overnight her body lengthens, her olive skin deepens, and her eyes glisten gold thanks to the brand-new silver bangle that locks around her wrist. As she always knew it would, her Jinn ancestry brings not just magical powers but the reality of a life of servitude, as her wish granting is controlled by a remote ruling class of Jinn known as the Afrit.
To the humans she lives among, she's just the girl working at the snack bar at the beach, navigating the fryer and her first crush. But behind closed doors, she's learning how to harness her powers and fulfill the obligations of her destiny.
Mentored by her mother and her Zar "sisters", Azra discovers she may not be quite like the rest of her circle of female Jinn . . . and that her powers could endanger them all. As Azra uncovers the darker world of becoming Jinn, she realizes when genies and wishes are involved, there's always a trick.
Goodreads | Amazon | Barnes&Noble | Book Depository | Indiebound
---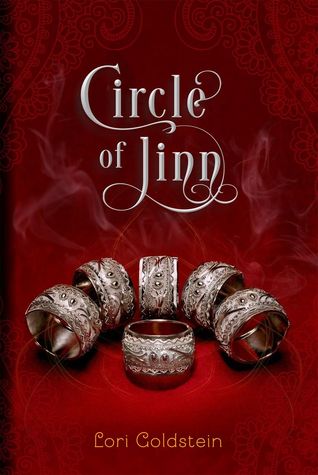 Circle of Jinn
Being Jinn is Azra's new reality. As she grants wishes under the watchful eye of the Afrit council, she remains torn between her two worlds—human and Jinn. Soon, secrets spill. Zars are broken. Humans become pawns. And rumors of an uprising become real as the Afrit's reach extends beyond the underground world of Janna.
Straddling the line becomes impossible. Aware of her unique abilities, Azra must not just face but embrace her destiny. But when the role she must play and those she must protect expand to include a circle of Jinn greater than her own, Azra will be forced to risk everything. A risk that means there's everything to lose, and at the same time, everything to gain—for herself and her entire Jinn race.
In this dramatic sequel to Becoming Jinn, Azra's story comes to a heartfelt and thrilling conclusion.
Goodreads | Amazon | Barnes&Noble | Book Depository | Indiebound
---
GIVEAWAY!!
*WIN 1 signed HC copy of Becoming Jinn & a wristband*
Open to U.S. Residents Only
As always, I moderate all entries. I have the right to disqualify any entry who has not been truthful
Ends Friday  May 28th
Thank you so much to Lori for being such a wonderful author and a gracious guest. We truly appreciate your time and effort put into telling your story and helping future writers.
As always, a huge thank you to all publishing/writing professionals who have, will be, and are participating in this feature. The words you post on this blog have a larger effect than any of you could imagine. Thank you for helping our future writers.
We hope you all have a wonderful rest of your week, and a safe and happy weekend