Is there any advice you would give to young writers?
By Isabel Bandeira
I love catching mental snapshots of moments in the world: A group of private school boys still in their uniforms and soaking up the sun on a hill, or two girls rocking out in a convertible with their hair flying behind them, or a young couple on a date at the ice rink, laughing as they stumble together against the boards. There are stories in these moments, magic that I might someday translate to the page in a scene or a feeling or just background noise to round out my fictional worlds.
I love new experiences. It might take shutting my eyes and hitting send on buying a plane ticket or signing up for a new volunteer opportunity as I step outside of my comfort zone (to a degree…you'll probably never see me skydiving), but I've never regretted those choices. Because of that, I've watched the sun set over Nariman Point in Mumbai, tried First Nations cuisine in Ottawa, and fenced on a men's collegiate fencing team (foil and epee). I've climbed to the tops of castles and visited Revolutionary battle fields, imagining the knights or colonial militia who stood on those sites.
I love recapturing things that have been a part of my world since forever. When I go for walks, I memorize the feel of sugar sand under my feet (even though it's impossible to forget after years of dragging sleeping bags through it) and love the weird-sticky feel of mountain laurel flowers under my fingers when they're in bloom. And there's nothing like the feeling of that butterflies-and-fireworks moment of a first kiss with someone you like.
Dear young writers, the most important piece of advice I can give you is to make sure to pull your head up from your writing every once in a while to be a part of the world. We tend to put so much focus on word count and butt-in-chair and outlines that we forget one of the most important parts of being a writer: living.
Be present. Try new things. Keep an open mind and let the moment take over. Sometimes, shut your eyes and hit send. Feel silly and laugh and get mad and cry. These moments are our reservoir of emotions, ideas, places, people, and events that will color and populate our stories. This life we live in this amazing world of ours is our continuous education as authors. Make sure you get all the credits you can.
---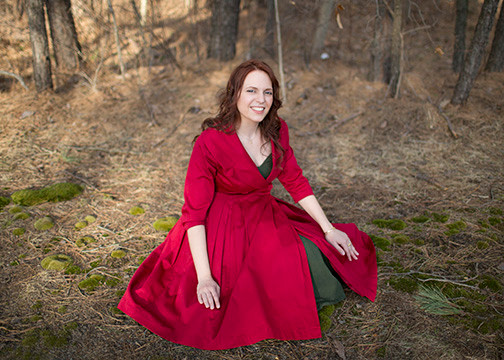 About Isabel

Growing up, Isabel Bandeira split her time between summers surrounded by cathedrals, castles, and ancient tombs in Portugal and the rest of the year hanging around the lakes and trees of Southern New Jersey, which only fed her fairy-tale and nature obsessions. Even though she's a Mechanical Engineer and tones down her love of all things glittery while designing medical devices during the day, it all comes out in her writing. In her spare time, you'll find her at the dance studio or at the rink, working on her jumps and sit spin.
Isabel lives in South Jersey with her little black cat, too many books, too much yarn, and a closetful of vintage hats. She is represented by Carrie Howland of Donadio and Olson, Inc.
Website | Goodreads | Twitter | Tumblr | Instagram | Pinterest
---
Bookishly Ever After
In a perfect world, sixteen-year-old Phoebe Martins' life would be a book. Preferably a YA novel with magic and a hot paranormal love interest. Unfortunately, her life probably wouldn't even qualify for a quiet contemporary.
But when Phoebe finds out that Dev, the hottest guy in the clarinet section, might actually have a crush on her, she turns to her favorite books for advice. Phoebe overhauls her personality to become as awesome as her favorite heroines and win Dev's heart. But if her plan fails, can she go back to her happy world of fictional boys after falling for the real thing?
Goodreads | Amazon | Barnes & Noble | Indigo | Book Depository | Indiebound
---
HUGE thank you to Isabel for being a wonderful author and providing us with this post last minute due to a change in the schedule. We truly appreciate your time and effort put into telling your story and helping future writers.
As always, a huge thank you to all publishing/writing professionals who have, will be, and are participating in this feature. The words you post on this blog have a larger effect than any of you could imagine. Thank you for helping our future writers.
We hope you all have  a safe and happy weekend!