Putting Yourself Into Your Writing
by Roshani Chokshi
I think it's impossible not to put a little of yourself into your books. Books are wondrous and persnickety beasts. They steal things from you. They'll take your favorite time of day and magically turn it into the setting for an important scene. Your favorite snack might be found on the long dining table of a side character's house. Your favorite phrases and words will slink into paragraphs and sew themselves into dialogue. But I don't think any of this was conscious. In fact, I tend to cringe whenever someone asks me if Maya (the main character) is based off of me or anyone I know. No. She is not. But I'd be lying if I didn't say that certain aspects of her are lifted from my life. Like anyone else, the people I know or who have had an impact on me cobbled together most of my life experiences. So is Maya part of me? Or is she just me "adjacent"? And does it really matter? Probably not.
I think many authors write to recreate an emotion. Sometimes that emotion draws from personal life experiences so the book's plot/characters mirror that. Othertimes it's the emotion that takes center stage and everything about the book only borrows coincidental slivers of that author.
I fall in the latter camp. What I tried to create in The Star-Touched Queen was my sense of wonder. That's the purest thing of myself that I see on every page.
Every setting, character, experience was born out of that desire to feel stunned. Not just surprised. Because, if we're being honest, a plot twist can surprise you. A cat jumping around a corner can surprise you. But what astounds you? That's the stuff of magic. It can be anything from the reflection of the night sky in the ocean, so that the sea looks made of stars. It can be how you discover parts about yourself you never knew you possessed. Or what love feels like. That's what motivated me. That's the part of myself I put into the book. 🙂
---
About Roshani
Roshani Chokshi comes from a small town in Georgia where she collected a Southern accent, but does not use it unless under duress. She grew up in a blue house with a perpetually napping bear-dog. At Emory University, she dabbled with journalism, attended some classes in pajamas, forgot to buy winter boots and majored in 14th century British literature. She spent a year after graduation working and traveling and writing. After that, she started law school at the University of Georgia where she's learning a new kind of storytelling.
Connect with Roshani: Website | Goodreads | Twitter
---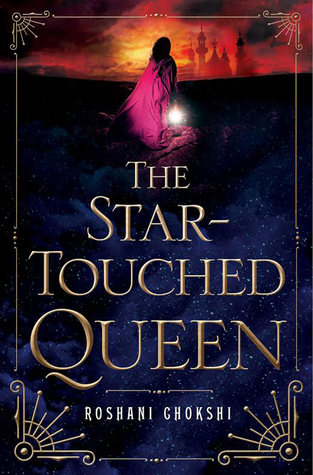 The Star-Touched Queen
Fate and fortune. Power and passion. What does it take to be the queen of a kingdom when you're only seventeen?
Maya is cursed. With a horoscope that promises a marriage of Death and Destruction, she has earned only the scorn and fear of her father's kingdom. Content to follow more scholarly pursuits, her whole world is torn apart when her father, the Raja, arranges a wedding of political convenience to quell outside rebellions. Soon Maya becomes the queen of Akaran and wife of Amar. Neither roles are what she expected: As Akaran's queen, she finds her voice and power. As Amar's wife, she finds something else entirely: Compassion. Protection. Desire…
But Akaran has its own secrets — thousands of locked doors, gardens of glass, and a tree that bears memories instead of fruit. Soon, Maya suspects her life is in danger. Yet who, besides her husband, can she trust? With the fate of the human and Otherworldly realms hanging in the balance, Maya must unravel an ancient mystery that spans reincarnated lives to save those she loves the most. . .including herself.
A lush and vivid story that is steeped in Indian folklore and mythology. The Star-Touched Queen is a novel that no reader will soon forget.
Goodreads | Amazon | Barnes & Noble
---
Thank you so much to Roshani for being such a wonderful author and a courteous guest. We truly appreciate your time and effort put into telling your story and helping future writers.
As always, a huge thank you to all publishing/writing professionals who have, will be, and are participating in this feature. The words you post on this blog have a larger effect than any of you could imagine. Thank you for helping our future writers.
We hope you all have a wonderful rest of your week, and a safe and happy weekend!