This Sunday, we're featuring S. Usher Evans! This time, she was gracious enough to let me interview her for her new novel, The Island! So lovely readers, sit tight, get your wallets ready, and enjoy her wonderful answers. =)
---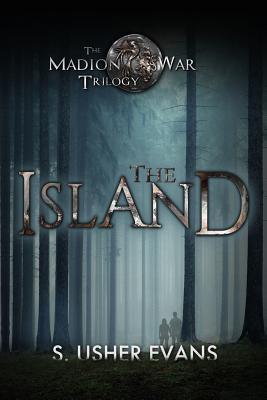 The Island
Genre: YA Fantasy
Publisher: Sun's Golden Ray Publishing
Publication Date: April 26th, 2016
Goodreads Rating: 4.14
Pages: 260
Synopsis: Prince Galian is third in line to the throne, but prefers his place as a resident at the Royal Kylaen Hospital. When his father urges him to join the military to help reclaim their colony, Galian is forced to put aside his oath to Do No Harm and fight a war he does not believe in.
Across the great Madion Sea, Captain Theo Kallistrate dreams of a day when she is no longer bound by conscription to fight for her country's independence. But when the Kylaens threaten, honor and duty call her to the front lines to fight off the oppressors.
When an air skirmish goes wrong, both Theo and Galian crash on a remote island hundreds of miles from either nation. Grievously injured, Theo must rely on Galian's medical expertise, and Galian must rely on Theo's survival skills, to live another day in a harsh and unforgiving terrain.
Can they put aside their differences long enough to survive? Or will the war that brought them to the island tear them apart?
The Island is the first in a new romance trilogy by S. Usher Evans, author of the Razia series and Empath.
Goodreads | Amazon | Barnes & Noble
---
Interview with S. Usher Evans
What inspired you to come up with this new series and idea?
I was driving home from the grocery store one night and a song came on with the lyrics "I dare you to kiss me with everyone watching." I had this vision of two people in the spotlight and unable to act on their feelings publicly. A long, long time ago, (we're talking pre-teen years), I'd written a book about pilots from warring nations so I "borrowed" that idea and applied it and the name Galian and the names of the four countries. I'd been watching a lot of Arrow at the time, so that's how the marooned piece got incorporated.
You have some really interesting and unique names for characters and places in your book. Do you have a routine/particular way you come up with the names in your books?
A lot of the characters and names come from those original stories I came up with between 11 and 15. Sometimes, a name I had before didn't fit (Theo was originally Hannah), so I use Scrivener's name generator until I find something that fits.  
Can you tell us a little bit about what you love most in Theo and Galian's relationship and what makes it so interesting?
I really like how Theo's the one who knows how to survive and Galian's a fish out of water. But at the same time, Galian's medical expertise saves Theo's life at first. So they really are on equal footing, and I think that's important to any relationship. Theo's very jaded and mission-focused, and she tends to hope for survival, but is prepared for the worst. Galian, on the other hand, is Mr. Optimistic, and believes everyone is good at heart and all will be just fine. As their relationship develops, she becomes a little more silly and relaxed, and he grows a bit more pragmatic.
What is your writing process like? Are you a plotter or a pantser?
It really depends. If a book originated as one of those early-life books, then the story's firmly ensconced in my head and I don't deviate that much (though the end of the third Razia book was a surprise). For these new kids, it's a mix of outlining and just writing. For The Chasm, the sequel to The Island (coming July 16th),  I found myself pantsing a bit more than before. I'd sit down and write a scene, and suddenly, it changed the tone for the whole book.
Chasm was actually a new area for me because I was not only writing dual-POV, but Theo and Galian are back in their respective countries with their own distinct storylines, so I was, in effect, writing two books at once. It was an interesting process!
Who was your favorite character in this book to write and why?
I am firmly #TeamPrinceling. As much as I love Theo, I tend to identify more with Galian (right or wrong) and how he sees the world. I, too, like to believe everyone is generally good at heart.
Does this book have a different feel to write than your Razia series? Do you prepare yourself differently?
I was reading through a draft a few months ago, and I kept asking myself "who wrote this book because I sure didn't." It definitely reads differently than any book I've written thus far, a bit darker, a bit more angsty and bleak.
Razia and Theo share some qualities, mostly in that they don't really allow a whole bunch of nonsense from people. But Theo's a little softer and a little more protective of people. And instead of running away from love (as a certain space pirate does), Theo embraces it. I definitely think Galian and Sage would get along famously, though.
Is there anything that you'd like your readers to take away from this book or enjoy?
I enjoyed playing with the idea of perspective in this book. Theo comes to the island with her idea of how the world is and what the war is about, and Galian has his. Even in the opening chapters, Theo describes the war as one of independence and Galian talks about it as quashing a 50-year-rebellion. When they finally come face to face with each other, they spend a lot of time talking past each other because they aren't even on the same page.
The Chasm takes this to a new level as their worldviews open to a much larger reality and they see that what they considered to be "their side of the story" didn't even come close. For Theo, who is fiercely patriotic and loyal to her country, finding out the truth about what her country is really like shakes her to her core.
When you're not writing, what are a few things your readers might find you doing in your spare time?
I write full-time, but I also freelance edit and help folks out with marketing. When I'm not working, I knit scarves for my followers (as it's too hot in Florida to wear them), and play with my two dogs, Zoe and Mr. Biscuit.
Do you have any books or authors that have helped inspire you to become a writer?
The first Harry Potter book came out when I was eleven years old, and from first read, I was a Potterhead. I wrote a TON of HP fanfiction in my youth, which was actually how I feel I grew as an author. I got immediate feedback from people on my work, and it grew my confidence as an author. Even today, the first two gals who get my books are holdovers from my HP fanfiction days.
We all know that writing isn't easy. What is one thing or one person that keeps you going through the darkest parts of your journey?
For me, I spent ten years doing everything BUT writing. I was a consultant for the US government, developing websites and content management systems. I'd work for months on a program just to have a client turn around and say, "Nah, just kidding." I actually had a client once pick up a brochure that me and a team of three had spent six months putting together and say, "This will never see the light of day. Burn them."
After a break-up (which you can read about in Empath), I had this massive quarter-life-crisis. I found myself questioning everything I knew about myself and everything I wanted. I'd spent so long doing what everyone else expected me to do that I finally said, "Okay, I'm going to do something that I want to do." I told myself that I would self-publish a book to check that off my list of self-care items.
Well, during the process, I realized that not only was I rocking the writing part of it, but thanks to my decade in consulting, I also had the business acumen. So I said, "Okay, I'm going to de-tangle myself from this life I don't want in DC and move back home to Florida to write full-time." Eighteen months later, I did just that.
So long, winding story short: The darkest part is behind me. As stressful as it can be to write and market and feel like I'm spinning my wheels, it doesn't compare to where I used to be. And I can't complain about that.
---
About S. Usher Evans
S. Usher Evans is an author, blogger, and witty banter aficionado. Born in Pensacola, Florida, she left the sleepy town behind for the fast-paced world of Washington, D.C.. There, she somehow landed jobs with BBC, Discovery Channel, and National Geographic Television before finally settling into a "real job" as an IT consultant. After a quarter life crisis at age 27, she decided consulting was for the birds and rekindled a childhood passion for writing novels. She sold everything she owned and moved back to Pensacola, where she currently resides with her two dogs, Zoe and Mr. Biscuit.

Evans is the author of the Razia series and Empath, both published by Sun's Golden Ray Publishing.
Website | Facebook | Twitter | Instagram | Goodreads
---
Giveaway
S. Usher Evans is kind enough to be giving away a copy of The Island, plus swag! This giveaway is U.S. ONLY (sorry INTL peeps) and lasts through the month. Be sure to keep up with and follow S. Usher Evans and her many tour stops every Sunday through the month of April. There's plenty of fun to be had! =)
Click Here for the Rafflecopter Giveaway!
---
Thank you so much S. Usher Evans for taking the time to answer all of my questions, and for appearing on our blog again! You're such a wonderful person. Know that you will always have a fan and support system found here!
I hope everyone has a wonderful rest of your weekend and a beautiful start to your week!