Waiting For Your Break
By Jodi Meadows
Waiting sucks. I know it. You know it. The neighbor's barky dog knows it. Waiting is the worst. But in writing, we're made to wait whether we like it or not. And sometimes that can be a good thing. No, wait (haha), hear me out. There are benefits to waiting, especially when it comes to publishing a book.
That whole thing about "it's worth waiting for" is true. Figure out what you want out of publishing. For me, I wanted a deal with a Big Five publisher (Big Six when I started), and all the things that should include: a passionate editor, something resembling a marketing plan, a cover designer, a great copyeditor and proofreader, and a hundred other things I didn't know about yet. I wanted distribution and to make enough money to write full time.
I was reaching high, and I knew it. It would take a lot of work. Maybe even — ugh — patience. I thought I was willing, but I had no idea how much waiting would actually be involved. It took seven years of writing full time before I got my current agent and sold my first book. (Not that long to some people, but to twenty-something me, it was ages.) And that first book that was published? That was the seventeenth manuscript I'd written. (As in completed. We won't even count the starts and stops, even those I almost finished but abandoned instead.)
Seventeen manuscripts.
General wisdom says it takes ten years of writing before you get published. A million words of crap. I figure my seven years (short, by this standard) and seventeen manuscripts (long — at ~100k each, that's 17 million words) averages out the whole ten years/million words thing.
I've received a lot of rejections in my time (see photo), and though there were certainly times when I became bitter about them (and other times I saw them as just serving my time in the query trenches), there's something they all have in common.
None of them say "No. Never."
Instead, the message between the lines is something more like, "Not right now." Or "Not this one." Or even "I'm not right for you but someone else will be. Just wait for them."
Yes, it's stressful. Yes, it's discouraging. Yes, it seems like you're waiting for something that will never happen. But being told to wait forced me to work harder and become a better writer. If I wanted my Big Five publisher and all that other stuff — I had to wait for it.
And you know, it was worth it. There were times in there I could have gone with something that wasn't my big goal, but I'm glad patience won and I didn't give up on what I knew I wanted. (There's nothing wrong with other paths, of course. I've always just had very firm ideas about what I need out of publishing. It's good to know what you want and what's right for you.)
I needed to wait. To grow. To become emotionally ready, as well as writing ready. As much as waiting sucks, I'm glad none of my efforts to rush through the process worked, because years after the publication of my first book, I'm still darn proud of it — in a way I don't think I'd have been proud of the stories I'd written before.
Whether you're just starting out, or you've been at this a while and have a long trail of "keep waiting"s behind you, I hope you stick with it. You're waiting for the right thing, after all.
---
About Jodi
Jodi Meadows lives and writes in the Shenandoah Valley, Virginia, with her husband, a Kippy (cat), and an alarming number of ferrets. She is a confessed book addict, and has wanted to be a writer ever since she decided against becoming an astronaut. She is the author of the INCARNATE Trilogy and the ORPHAN QUEEN Duology (HarperCollins/Katherine Tegen), and a coauthor of the forthcoming MY LADY JANE (HarperTeen). Visit her at http://www.jodimeadows.com
Website | Twitter | Facebook | Goodreads | Tumblr | Instagram | Pinterest
---
The Orphan Queen (The Orphan Queen #1)
Wilhelmina has a hundred identities.
She is a princess. When the Indigo Kingdom conquered her homeland, Wilhelmina and other orphaned children of nobility were taken to Skyvale, the Indigo Kingdom's capital. Ten years later, they are the Ospreys, experts at stealth and theft. With them, Wilhelmina means to take back her throne.
She is a spy. Wil and her best friend, Melanie, infiltrate Skyvale Palace to study their foes. They assume the identities of nobles from a wraith-fallen kingdom, but enemies fill the palace, and Melanie's behavior grows suspicious. With Osprey missions becoming increasingly dangerous and their leader more unstable, Wil can't trust anyone.
She is a threat. Wraith is the toxic by-product of magic, and for a century using magic has been forbidden. Still the wraith pours across the continent, reshaping the land and animals into fresh horrors. Soon it will reach the Indigo Kingdom. Wilhelmina's magic might be the key to stopping the wraith, but if the vigilante Black Knife discovers Wil's magic, she will vanish like all the others.
Jodi Meadows introduces a vivid new fantasy full of intrigue, romance, dangerous magic, and one girl's battle to reclaim her place in the world.
Goodreads | Amazon | Barnes & Noble | Series Link
---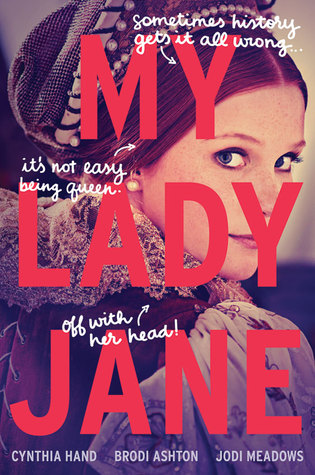 My Lady Jane
The comical, fantastical, romantical, (not) entirely true story of Lady Jane Grey. In My Lady Jane,coauthors Cynthia Hand, Brodi Ashton, and Jodi Meadows have created a one-of-a-kind fantasy in the tradition of The Princess Bride, featuring a reluctant king, an even more reluctant queen, a noble steed, and only a passing resemblance to actual history—because sometimes history needs a little help.
At sixteen, Lady Jane Grey is about to be married off to a stranger and caught up in a conspiracy to rob her cousin, King Edward, of his throne. But those trifling problems aren't for Jane to worry about. Jane gets to be Queen of England.
Like that could go wrong.
Goodreads | Amazon | Barnes & Noble
---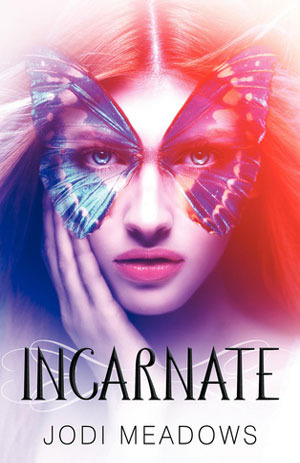 Incarnate (Newsoul #1)
New soul
Ana is new. For thousands of years in Range, a million souls have been reincarnated over and over, keeping their memories and experiences from previous lifetimes. When Ana was born, another soul vanished, and no one knows why.
No soul
Even Ana's own mother thinks she's a nosoul, an omen of worse things to come, and has kept her away from society. To escape her seclusion and learn whether she'll be reincarnated, Ana travels to the city of Heart, but its citizens are afraid of what her presence means. When dragons and sylph attack the city, is Ana to blame?
Heart
Sam believes Ana's new soul is good and worthwhile. When he stands up for her, their relationship blooms. But can he love someone who may live only once, and will Ana's enemies—human and creature alike—let them be together? Ana needs to uncover the mistake that gave her someone else's life, but will her quest threaten the peace of Heart and destroy the promise of reincarnation for all?
Jodi Meadows expertly weaves soul-deep romance, fantasy, and danger into an extraordinary tale of new life.
Goodreads | Amazon | Barnes & Noble | Series Link
---
GIVEAWAY!
We have a giveaway for an ARC of The Mirror King and an ARC of Vengenace Road by Erin Bowman.  Both Jodi & Erin will be visiting Boston, so Melissa will be able to get both ARCs signed and personalized if you wish.
Rules:
You must be a U.S. Resident.
You must respond within 24 hours of winning.
We have the right to disqualify any entry who has not been truthful, has entered without actually doing the actions, or who is a "giveaway robot" (meaning an account we believe to be fake, just entering giveaways and nothing more).
ENDS April 5th at Midnight EST
---
Shout out and huge thank you to Jodi Meadows, who still to this day remains one of the nicest authors I've ever had the pleasure of meeting. You're amazing for sharing your story, writing this post six months early, and doing what you do every day (even if that includes signing seven of my books and then losing in author trivia with me). If you have yet to meet this woman, you are truly missing out!
A huge thank you, as always, to all writers, agents, editors, etc., who are participating or have already participated in making this feature amazing. You all have no idea how many writers you help every single week by posting your own stories of struggles, mishaps, advice, and triumphs. I've never met a more kind group of people than all of you.
I hope everyone has a wonderful rest of your week! Enjoy!
Save