A Letter to my Child Self – Some Advice for your Journey
by Julie Eshbaugh
Below is a letter of advice to my twelve-year-old self—a girl who wanted to grow up to be an actress, and had given very little thought to writing a book.
Dear twelve-year-old Julie,
It must be so exciting to hold this letter in your hands—a letter from the future! I'm sure you're hoping it will promise you that you will "make it" someday—that a day will come in the future when you'll feel like you've crossed some imaginary finish line and won some race you've been running all your life.
But here's the thing—there is no finish line. The path of your artistic career doesn't have a goal where it ends. You may not know it now, twelve-year-old Julie, but you won't want it to end. You won't want to say you've won. Because it's not a race; it's a journey. And there's not just one destination. The places you can go are countless.
So how do you know which path to choose? It might sound cliché, but you'll find it's true: when it comes to art, do what you love. Do what makes you happy.
Somethings will make you happy for a while. Like acting. Then you'll realize that you want more control over your artistic life, and you'll try filmmaking. That, too, will make you very happy for a while. You'll grow as an artist. You'll learn about storytelling. Your acting path will converge with a filmmaking path, and that path will converge with a video production path. Each of these will have obstacles and challenges of its own—long uphill climbs—but at the crest of those climbs you'll rest and enjoy the view.
Don't check to make sure you're "getting somewhere." That's not what you need as you develop as an artist. You just need to do the things that bring you happiness and create the art that only you can make. You will find out what that art is as you make it. It takes time. But that's not wasted time.
Eventually, the path you're on will lead to writing novels. You will love writing. You will love the process of finding your voice and the stories only you can tell. Don't rush it. Walk the novel writing path for as long as it takes.
Then one day the path will widen and you'll be able to see farther than you've ever seen before. You'll have a book deal—a deal that will allow you to write a trilogy. You'll be able to see that far ahead—three years into your future—but no farther. But that's okay. You wouldn't want it any other way.
Because it's not good to know what's coming. If you'd been able to see that place in your path from way back where you first started, you may have been tempted to take a shortcut. You may have jumped right from acting to novels, thinking you were saving time and "getting somewhere" faster. But if you hurried or avoided part of the trail, you wouldn't be the artist you need to be. You might come to the place in the path where you're book deal should be, and find you're not ready.
So take your time as you travel into your future. You're on a journey to discover yourself and the artist you were meant to be. That journey's not a race; it's an expedition. Take the side trips. Explore. Find the artist you were meant to be.
I'm way ahead of you on the path, twelve-year-old Julie, and I'm still looking for her.
Love,
Me
---
About Julie
Julie Eshbaugh is the author of the upcoming Ivory and Bone (HarperCollins, 2016). She used to have trouble staying in one spot, having lived in places as varied as Utah, France, and New York City. Julie eventually returned home to the Philadelphia area, where she now lives with her husband, son, cat and dog. Her favorite moments are when the unexpected happens and she cheers loudest when the pitcher gets a hit.
Website | Twitter | Facebook | Goodreads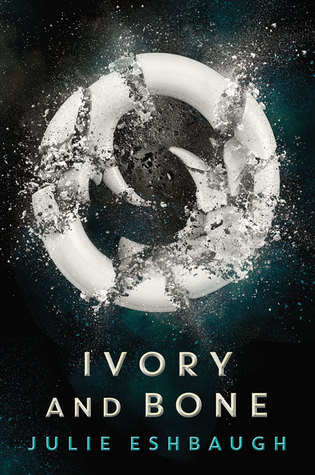 About Ivory and Bone
A prehistoric fantasy—with allusions to Pride and Prejudice.
Hunting, gathering, and keeping his family safe—that's the life seventeen-year-old Kol knows. Then bold, enigmatic Mya arrives from the south with her family, and Kol is captivated. He wants her to like and trust him, but any hopes of impressing her are ruined when he makes a careless—and nearly grave—mistake. However, there's something more to Mya's cool disdain…a history wrought with loss that comes to light when another clan arrives. With them is Lo, an enemy from Mya's past who Mya swears has ulterior motives.
As Kol gets to know Lo, tensions between Mya and Lo escalate until violence erupts. Faced with shattering losses, Kol is forced to question every person he's trusted. One thing is for sure: this was a war that Mya or Lo—Kol doesn't know which—had been planning all along.
---
A huge thank you to Julie, who wrote such an insightful post reminding us that we should take the time to enjoy the journey and everything will eventually fall into place.  Life is full of obstacles, self-discovery, and not an easy road to take. However we will all get to where we're meant to be in time.
As always, thank  much to everyone who was, is, or will be a part of this feature. Your words of wisdom help so much more than you will ever know. We all truly appreciate your time, effort, and advice.
Have a wonderful rest of your week!