Sunday Street Team is run by Nori at ReadWriteLove28!
Find more information on her blog!
It's been a while since I've participated in Sunday Street Team, but I'm happy to say that I am back and with a very exciting interview for you! I'm so happy to welcome Ava Jae to our blog today, to talk all about her new book Beyond The Red! So sit back, read, and let the money fly from your pockets for this book!
---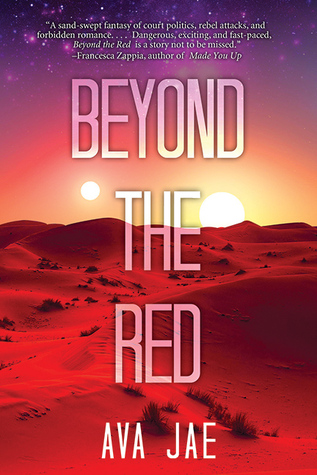 Beyond The Red
Alien queen Kora has a problem as vast as the endless crimson deserts. She's the first female ruler of her territory in generations, but her people are rioting and call for her violent younger twin brother to take the throne. Despite assassination attempts, a mounting uprising of nomadic human rebels, and pressure to find a mate to help her rule, she's determined to protect her people from her brother's would-be tyrannical rule.
Eros is a rebel soldier hated by aliens and human alike for being a half-blood. Yet that doesn't stop him from defending his people, at least until Kora's soldiers raze his camp and take him captive. He's given an ultimatum: be an enslaved bodyguard to Kora, or be executed for his true identity—a secret kept even from him.
When Kora and Eros are framed for the attempted assassination of her betrothed, they flee. Their only chance of survival is to turn themselves into the high court, where revealing Eros's secret could mean a swift public execution. But when they uncover a violent plot to end the human insurgency, they must find a way to work together to prevent genocide
Goodreads | Amazon | Barnes & Noble
---
Weclome Ava Jae!
Do you remember how the idea came to you of Kora, Eros, and their alien species?
Well I came up with the species and the planet well before it ever occurred to me to write about it, and later on when I decided I wanted to write a Sci-Fi book that took place on another planet and had an alien POV, I remembered I already had a race and planet set up. From there I drastically changed a character I had in reserve who became Eros, and developed Kora's character as the plot started coming together. It was an exciting process!
Was there anything that helped you develop your plot and enhance your world building techniques?
Revisions. That sounds a little like a joke, but a ton of the plot nuances, character development, and world building was built and refined over the course of many, many rounds of revisions. Writing is rewriting, as they say…
What are your favorite characteristics of Kora and Eros?
I love how snarky and resilient they are. They also both struggle with a ton of responsibility and pressure to stay strong, while they both deal with some really emotional situations, which is something I can really relate to.
What is your writing strategy like? Do you have a process?
I'm fairly methodical, yeah. I usually start with loose brainstorming until I have enough to pull together into a plot, then I plot everything out in Scrivener and start writing when I'm done. While first drafting, I usually aim for roughly 2,000 words a day, and I try to start early in the morning, when I have the most motivation and energy. It's worked well for me so far! 🙂
Who was your favorite character to create and write?
Hmm…probably Eros. I identified with both Kora and Eros while writing, but something about Eros's voice and character really grabbed me from day one.
Without spoilers, did your ending turn out anything like you had wanted it to? Is there a sequel in the works?
It did! I had to rewrite the climax several times to get it right, but the last chapter has stayed largely the same from first to final draft. And it's exactly how I envisioned it.
As for a sequel, that'll depend on sales! I have plans and would love to continue Eros and Kora's stories, so fingers crossed. 🙂
How many books have you written so far, both published and unpublished? Do you plan on going back to any unpublished works?
I'm currently up to thirteen books total. Beyond the Red was my tenth novel, and the manuscript I wrote while I was querying Beyond the Red I've pulled out of the drawer and have revised. Fingers crossed I'll be able to share it with you guys some day. 🙂
When you're not writing, what are a few things your readers might find you doing in your spare time?
Reading, answering blog/vlog comments, catching up on e-mail, playing Assassin's Creed, and streaming Supernatural, or Vikings, or one of the many other shows I enjoy.
Do you have any books or authors that have helped inspire you to become a writer? 
I was pretty obsessed with Ted Dekker novels when I first decided I wanted to be a writer. From there I developed a love for YA and was (and continue to be!) inspired by a lot of really incredible writers like Beth Revis, Tahereh Mafi, Leigh Bardugo, and more.
We all know that writing isn't easy. What is one thing or one person that keeps you going through the darkest parts of your journey?
Hearing stories from other writers about persevering through rejections and how long it took them to get published was really encouraging for me during my very long search for representation. Their stories and triumphs helped to remind me that as long as I didn't give up, I'd see my dream come true. I'm glad I stuck with it!
It was so wonderful having you on the blog Ava! Thank you for sharing everything Beyond The Red and giving us a little insight to your writing life. =)
Thanks so much for having me!
---
About Ava Jae
Ava Jae is a writer, an Assistant Editor at Entangled Publishing, and is represented by Louise Fury of The Bent Agency. Her YA Sci-Fi debut, BEYOND THE RED, is releasing March 2016 from Sky Pony Press. When she's not writing about kissing, superpowers, explosions, and aliens, you can find her with her nose buried in a book, nerding out over the latest X-Men news, or hanging out on her blog, Twitter, Facebook , tumblr, Goodreads, Instagram, or YouTube channel.
---
Giveaway!
Ava is kind enough to be giving away one finished copy of Beyond The Red to a lucky winner! Enter now, before it's too late! =)
Beyond The Red Rafflecopter Giveaway!
---
Thank you again to Ava Jae for being so wonderful! Thank you to Nori for allowing me to participate in this tour. You both are so awesome!
I hope everyone enjoyed this interview and continues to follow Ava on her journey to becoming a very successful author (as if she's not already! =P). Have a great week!