On Getting an Agent…
By Ava Jae
I decided pretty early on in my very long path to publication that I wanted to work with an agent, both because I knew I wanted to be traditionally published (which is not so easy to do without an agent) and because I really liked the idea of having someone to help guide and build my career. And while it took me a really long time to get an agent (something I'll get to in a minute), it's a decision I'm really happy I made.
As I just mentioned, however, getting an agent was not an easy process for me.
I sent my first query for my first book—a YA Fantasy with just about every fantasy cliché in existence—in May 2007. Needless to say, that didn't pan out, and neither did querying for my next book, or the next after that. In fact, I queried five different times with four different manuscripts (one I queried twice, several years apart) before I queried the tenth book I wrote, Beyond the Red.
Ultimately, it was chance that got my manuscript in front of my now-agent. I participated in Miss Snark's First Victim Secret Agent blog contest, in which you submit the first 250 words of your manuscript and entries are randomly chosen to appear on the blog, where the Secret Agent will look at and give feedback on the openings, then pick their favorite to request a submission from.
Due to a glitch in the system, I wasn't actually notified that my entry had been randomly selected—so I had no idea that I'd even made it into the contest. When the winners were announced a little while later, for reasons I still can't explain, I decided to see who the winners were, which is not something I normally did when I wasn't a participant of a contest. But it's a good thing I did, because I recognized the title of one of the runner ups—it was my manuscript.
After sending two partials, and then the full manuscript upon request, I finally got The Call from my agent in December 2013, and I officially signed with her in February 2014, just a few days before my birthday. It was a truly excellent early birthday present. 🙂
Now—as of this week, in fact—I've been with my agent for two years. I would not be a soon-to-be published author without her valuable insight and skills. Getting an agent isn't for everyone, but it was definitely the right decision for me.
---
About Ava
Ava Jae is a writer, an Assistant Editor at Entangled Publishing, and is represented by Louise Fury of The Bent Agency. Her YA Sci-Fi debut, BEYOND THE RED, is releasing March 1, 2016 from Sky Pony Press. When she's not writing about kissing, superpowers, explosions, and aliens, you can find her with her nose buried in a book, nerding out over the latest X-Men news, or hanging out on her blog, Twitter, Facebook, tumblr, Goodreads, Instagram, or YouTube channel.
---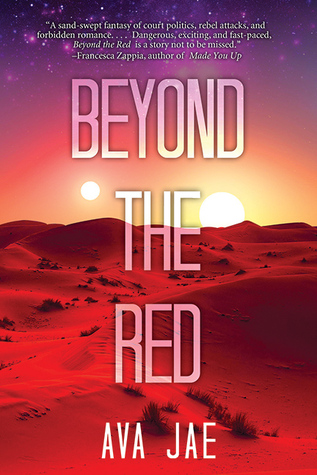 Beyond the Red
Alien queen Kora has a problem as vast as the endless crimson deserts. She's the first female ruler of her territory in generations, but her people are rioting and call for her violent younger twin brother to take the throne. Despite assassination attempts, a mounting uprising of nomadic human rebels, and pressure to find a mate to help her rule, she's determined to protect her people from her brother's would-be tyrannical rule.
Eros is a rebel soldier hated by aliens and human alike for being a half-blood. Yet that doesn't stop him from defending his people, at least until Kora's soldiers raze his camp and take him captive. He's given an ultimatum: be an enslaved bodyguard to Kora, or be executed for his true identity—a secret kept even from him.
When Kora and Eros are framed for the attempted assassination of her betrothed, they flee. Their only chance of survival is to turn themselves in to the high court, where revealing Eros's secret could mean a swift public execution. But when they uncover a violent plot to end the human insurgency, they must find a way to work together to prevent genocide.
Amazon | B&N | IndieBound | BAM!
---
A huge thank you to Ava for being a wonderful sport and writing this post, as well as an interview, for this blog! Don't worry, you will all get to read the interview closer to Beyond The Red's release date! =)
As always, thank you to all authors, editors, agents, publishers, who have participated, are participating, or will participate in this feature. The advice and stories you share are invaluable for all writers who read it.