Finding Inspiration for World Building
by Beth Barany
I write young adult fantasy in a world I created—a mix of the European Middle Ages and of landscapes I know and love or am fascinated by.
My two books (so far) in the Five Kingdom series take place in varied terrain, weather, and cultures. I feature five kingdoms, as the name of the series states, and have people from all kingdoms interacting with each other, not always easily.
I've always been fascinated with the French and English Middle Ages, specifically the art, stories, architecture, and technology of that era. Then after living in Paris, France and visiting lots of cathedrals in the northern half of the country, I soaked up atmosphere of that era. I was especially inspired by the cathedral-fortress of Mont. St. Michel. In Paris, I visited many sites to feel the history and actually touch the old stone.
My inspiration for my Five Kingdoms world stems from my interest in world cultures, specifically their folklore and legends, but also religion, food, music, and customs. I was almost an anthropology major in college because I loved the notion of studying different cultures, but it was too narrow of a focus. I ended up getting a Bachelor's degree in Interdisciplinary Studies with an emphasis in Education. I guess I just love learning. That interdisciplinary approach informs the research for my fiction, where I roam through world cultures and history to get inspired.
For example, for one of the kingdoms in my story, the Oro Islands, I set it up as a cross between three islands cultures that I find fascinating: Hong Kong, Polynesia, and Venice. My city is colorful like Venice, warm like Polynesia, and Asiatic in much food and customs like Hong Kong. I also pull from my interesting European experiences and name an alcoholic drink, jenever, after a similar drink in the Netherlands I tasted when I visited there.
What inspires me to keep creating the depth of my world is actually the characters themselves, specifically my main character, Henrietta the Dragon Slayer.
The more Henrietta travels into adulthood and toward her destiny of leadership the more she gets a chance to see her world through new eyes. In her backstory, she pursued fame and fortune and took much for granted in her world. In Book 1, Henrietta The Dragon Slayer, all that starts to change. In this story, she travels through the woods and up the mountains with her new companions—environment she's familiar with—but now these places take on a new meaning as Henrietta discovers the beginnings of friendships.
In Book 2, Henrietta and the Dragon Stone, Henrietta has to confront the king who gave her the title of legendary Dragon Slayer and travel back into the capital city. She sees it with new eyes, with a new goal, and a new identity.
In Book 3, Henrietta and the Horse Mesa (coming soon), Henrietta must travel into a new kingdom, an unknown dangerous territory, the so-called Horse Kingdom, for a mission. Her interaction with the new culture, people, and new high-desert environment pushes her to limits about what she think she can accomplish.
Into every new territory Henrietta travels, she faces the opportunity to stretch, grow, and make new connections.
I am deeply inspired by travel, so I love creating opportunities for Henrietta to become more of the leader she's meant to be as she expands her knowledge of her own world.
---
About Beth:
Award-winning author, Beth Barany writes in two genres: young adult fantasy and contemporary fantasy romance.
Inspired by living abroad in France twice and Quebec once, she loves creating magical tales of romance and adventure to enchant readers into new worlds where magic conspires to bring more love into the world.
In her off hours, Beth enjoys walking, reading and watching movies, and traveling, with her husband, author and singer/song writer Ezra Barany.
Beth Barany lives in Oakland, California with her husband, a cat named Leo, and over 1,000 books.
When not writing or playing, Beth runs her own company helping novelists as a book midwife and teacher to help them write, market, and publish their books. She holds authors' hands while they push their book out into the world.
Beth also writes contemporary fantasy romance. More about those books here: http://author.bethbarany.com/romance/.
Connect with Beth:
Website ~ Twitter ~ Facebook ~ Goodreads ~ Instagram ~ Pinterest
---
Henrietta The Dragon Slayer
(Young Adult Epic Fantasy Adventure)
(The Five Kingdoms Book 1)
Henrietta, the legendary Dragon Slayer of the Kingdom of Bleuve, can't stomach the thought of one more kill. Yet, in order to save her dying mentor, she must go on one last quest. But will misfit companions, seasickness, and an ego maniacal king derail the quest for the healing stone? And will she be able to cut past her conscience and kill the dragon?
**2012 Grand prize winner at the California Fiction Writers Book Contest!**
**2011 Finalist at the Hollywood Book Festival!**
CLICK HERE to read an excerpt!
Goodreads ~ Amazon ~ Barnes & Noble ~ iBooks
---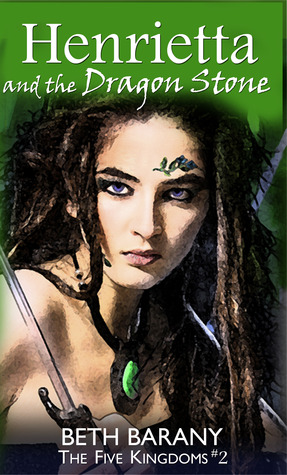 Henrietta and the Dragon Stone
(Young Adult Epic Adventure Fantasy)
(The Five Kingdoms Book 2)
What if all those you loved were threatened by a force you couldn't see or fight?
Henrietta the legendary ass kicking dragon slayer wants to return to her village for a heroes' welcome. But an unknown sorcerer rides after her and her Dragon Stone, and aims to destroy everyone she cares about. Can she claim her newfound powers sparked by the Dragon Stone and keep her loved ones safe, especially her more-than-friend, and her stalwart bodyguard, before the sorcerer destroys her and everything in his path?
CLICK HERE to read an excerpt!
Goodreads ~ Amazon ~ Barnes & Noble ~ iBooks
---
A Cupcake Christmas
(A Christmas Elf Romance)
Now on sale for $0.99!
What if you risked losing your baking legacy by cooking up a love truly special?
Florian MacMillian needs a final job to complete his baking resume—preferably a job where he's unlikely to blow things up with his unruly magic—before returning to the North Pole and taking his rightful place as Master Baker to all the elves.
Kate Delore desperately needs help in her fast-growing cupcake business. Florian is a perfect fit, so she brings him on as baker. Florian is happily up to his elbows in batter, and Kate's business is booming.
But when things heat up between them, Florian wonders if he should risk his legacy to cook up something truly special.
---
It's been such a pleasure to interact and work with Beth over the last few months, so I'm extremely thrilled to finally have her guest post on the blog. Not only is she a writer, but she also teaches writing techniques for a living! She even has books out about getting past writers' block and writing romance novels, so if you're struggling, you may just want to check out some of her other books! =)
As always, a huge THANK YOU to everyone who has been, currently is, or will be a part of this wonderful feature. Know that every post is another step closer to helping new writers achieve their dreams.
Have a wonderful holiday season!