Experiences and opinions on self-publishing and traditional publishing
by Dahlia Adler
I think it's a really common misconception that you have to be Team Self-Pub or Team Trad-Pub. The fact is, I do both (which makes me referred to as a "hybrid author"), and I think that was absolutely the right decision for me, and is for many authors. The key, in my opinion, is knowing what to self-pub and what to traditionally publish, and why.
(At this point, I'm going to do the obligatory "These are my personal opinions, your mileage may vary, etc. etc. etc." This can be a very fraught topic, and everyone's entitled to their own opinions; I'm only speaking to mine.)
Like in any other commercial business, supply and demand matters. The way I determine what I think should be trad vs. self-pubbed comes down to what the market is offering. As you've probably noticed if you follow the self-pub market, far and away the most successful across the board has been contemporary college-set romance. Why? Because that was exactly the gap in the traditional market—with very few exceptions, neither YA nor adult would touch them.
On the flip side, when you look at what is (or was) consistently published by the industry—for example, pretty much every genre of YA—that's stuff I would always aim to publish traditionally, because, frankly, why would anyone choose a non-gatekept version, for which they can't ensure quality, when there are a million options they know for sure have been through editors and have multiple professional seals of approval?
(In case you don't know, or haven't figured it out, I self-publish NA and traditionally publish YA.)
The other big differentiation is how people shop for what you're selling. NA? Primarily sells digitally, which is great for self-publishing. YA? Primarily sells in hard copy. Even though the ebook of my debut was $2.99 for about the first six months it was available, paperback still sold it under the table.
And with hardcopy sales dominating a category, that means store placement is key as well. Traditionally publishing YA not only got it on store shelves (another NA issue that makes it less useful for traditional publishing is that 99% of stores don't have a designated section for it, so it's hard to seek it out specifically), but also allowed me to do events through bookstores and participate in festivals—something that, again, seems to be considerably more important in YA than in NA.
Nowadays, the contemporary NA market is pretty massively oversaturated, so unless you're gonna be very on-trend or have a decent platform/following going on, it's a bigger challenge to get noticed than may be worth it for many. And while I know people are very gung-ho to try to take NA beyond Contemporary, I think enough time has passed that we can see that's not its fate. Which makes sense—it's not like spec fic with protags that age haven't been selling this entire time. It goes back to the YA gatekeeper theory, but in this case, it's adult.
So, for me personally, this division works. As the NA market cools, I'm not sure what I think my future in it is. Mostly likely I'll keep self-publishing whatever I want to see out there that I don't think is viable as YA, or that I do think is viable as YA that the industry isn't doing enough with, e.g. light contemporary f/f. I love it for the same reason a lot of other authors do: control. It's a hard thing to give up, getting to make all the decisions, having all the errors in your hands to fix.
I'm a fan of hybrid life, and I think it's a pretty great option for authors who are comfortable doing a lot of their own work, want to see what it's like to take the reins, and may have something to offer that traditional publishing doesn't. If you think that might be you, give it a shot!
---
About Dahlia
Dahlia Adler is an Associate Editor of Mathematics by day, a blogger for B&N Teens by night, and writes Contemporary YA and NA at every spare moment in between. She's the author of the Daylight Falls duology, the upcoming Just Visiting, and Last Will and Testament, as well as over five billion tweets as @MissDahlELama. She lives in New York City with her husband and their overstuffed bookshelves.
Website | Goodreads | Blog | Twitter
---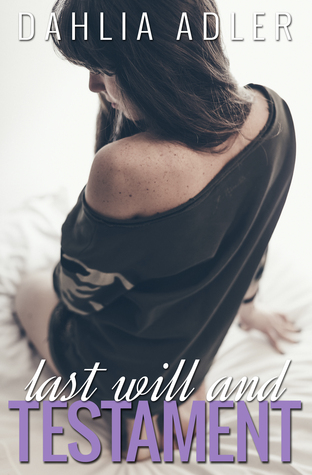 Last Will and Testament
Lizzie Brandt was valedictorian of her high school class, but at Radleigh University, all she's acing are partying and hooking up with the wrong guys. But all that changes when her parents are killed in a tragic accident, making her guardian to her two younger brothers. To keep them out of foster care, she'll have to fix up her image, her life, and her GPA—fast. Too bad the only person on campus she can go to for help is her humorless, pedantic Byzantine History TA, Connor Lawson, who isn't exactly Lizzie's biggest fan.
But Connor surprises her. Not only is he a great tutor, but he's also a pretty great babysitter. And chauffeur. And listener. And he understands exactly what it's like to be on your own before you're ready. Before long, Lizzie realizes having a responsible-adult type around has its perks… and that she'd like to do some rather irresponsible (but considerably adult) things with him as well. Good thing he's not the kind of guy who'd ever reciprocate.
Until he does.
Until they turn into far more than teacher and student.
Until the relationship that helped put their lives back together threatens everything they both have left.
---
Behind the Scenes
High school senior Ally Duncan's best friend may be the Vanessa Park – star of TV's hottest new teen drama – but Ally's not interested in following in her BFF's Hollywood footsteps. In fact, the only thing Ally's ever really wanted is to go to Columbia and study abroad in Paris. But when her father's mounting medical bills threaten to stop her dream in its tracks, Ally nabs a position as Van's on-set assistant to get the cash she needs.
Spending the extra time with Van turns out to be fun, and getting to know her sexy co-star Liam is an added bonus. But when the actors' publicist arranges for Van and Liam to "date" for the tabloids just after he and Ally share their first kiss, Ally will have to decide exactly what role she's capable of playing in their world of make believe. If she can't play by Hollywood's rules, she may lose her best friend, her dream future, and her first shot at love.
---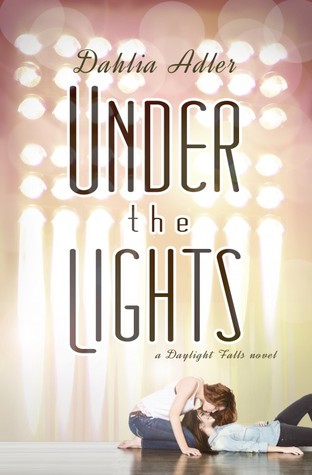 Under the Lights
Josh Chester loves being a Hollywood bad boy, coasting on his good looks, his parties, his parents' wealth, and the occasional modeling gig. But his laid-back lifestyle is about to change. To help out his best friend, Liam, he joins his hit teen TV show, Daylight Falls … opposite Vanessa Park, the one actor immune to his charms. (Not that he's trying to charm her, of course.) Meanwhile, his drama-queen mother blackmails him into a new family reality TV show, with Josh in the starring role. Now that he's in the spotlight—on everyone's terms but his own—Josh has to decide whether a life as a superstar is the one he really wants.
Vanessa Park has always been certain about her path as an actor, despite her parents' disapproval. But with all her relationships currently in upheaval, she's painfully uncertain about everything else. When she meets her new career handler, Brianna, Van is relieved to have found someone she can rely on, now that her BFF, Ally, is at college across the country. But as feelings unexpectedly evolve beyond friendship, Van's life reaches a whole new level of confusing. And she'll have to choose between the one thing she's always loved … and the person she never imagined she could.
---

Just Visiting
Reagan Forrester wants out—out of her trailer park, out of reach of her freeloading mother, and out of the shadow of the relationship that made her the pariah of Charytan, Kansas.
Victoria Reyes wants in—in to a fashion design program, in to the arms of a cute guy who doesn't go to Charytan High, and in to a city where she won't stand out for being Mexican.
One thing the polar-opposite best friends do agree on is that wherever they go, they're staying together. But when they set off on a series of college visits at the start of their senior year, they quickly see that the future doesn't look quite like they expected. After two years of near-solitude following the betrayal of the ex-boyfriend who broke her heart, Reagan falls hard and fast for a Battlestar Galactica-loving, brilliant smile-sporting pre-med prospective… only to learn she's set herself up for heartbreak all over again. Meanwhile, Victoria runs full-speed toward all the things she thinks she wants… only to realize everything she's looking for might be in the very place they've sworn to leave.
As both Reagan and Victoria struggle to learn who they are and what they want in the present, they discover just how much they don't know about each other's pasts. And when each learns what the other's been hiding, they'll have to decide whether their friendship has a future.
---
That's it for this week! Thank you Dahlia for being so wonderful providing this insightful post.
Another huge thank you, as always, to everyone who has participated or will participate in this feature. We appreciate all of your time spent giving new writers advice and sharing your stories and love of writing with people who need it. Your kindness doesn't go without gratitude!