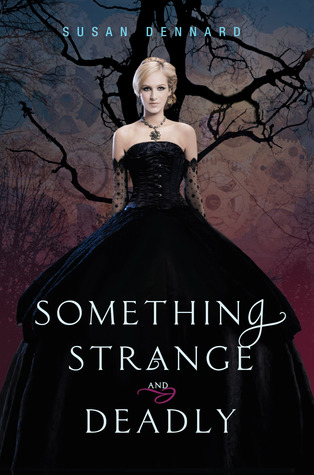 I'm back again with Discussion Post number two! All of us on the Truthwitch Street team were challenged to read Something Strange and Deadly. The lovely Waterwitch Babes are hosting this heist, particularly Steph in Wonderland! You can click on the link to visit her blog and find out more information regarding the read-along. It's not too late to join! =)
So, with this read-along, we were asked to post some answers to our discussion questions and I'm pretty. flipping. stoked. to be talking about zombies. Let me tell you, I've legitimately been going around to everyone and telling them that I'm reading books about zombies and the living dead. This is a first for me! HA! So, let's get our second discussion party started, shall we?
---
1. Were you surprised at who was behind the sudden zombie uprising?
NOPE! You can even ask my cousin Heather. As soon as I started reading the book, I texted her and was like, "yo, I bet that person is the necromancer!" All I have to say right now, is I TOLD YOU SO AND I KNEW IT! 
2. What would you do if you were in the same situation as Eleanor and her brother?
Well, I don't have a brother, but I do have a half sister… I don't know if I could have done that though. I probably would have acted the exact same way that Eleanor did. I may act like I have guts, but I definitely don't have the guts it takes to do what she was trying to do. No way, Jose.
3. What do you think about Daniel's answer to Eleanor's question? Do you think he was being honest?
PFFFTTTT! NO! He was definitely not honest. It's not even funny how bad of a liar he obviously is. It's even worse as soon as you start reading the second book. Seriously, this kid is a horrible liar.
4. What was your first impression of Jie?
Jie is my favorite. I'd hope that I would be exactly like her (minus the shaved head) if I lived in the time period. Corsets? Nahhhh. Manners? Pshhhhh! Fighting skills? Always. Knocking zombies knees out? Everyday. Complete BA? CHECK.
5. Which character were you the most sorry to see meet their end?
SSHHHHHHHH why are you asking this question?!?! I can't give spoilers!
6. What was the biggest twist in the story for you?
Well, since I guessed the necromancer right off the bat, the biggest twist in the story probably came from Clarence and the fun plot line that came with him. I won't say any more! =)
7. Who is your favorite character in the first book and why?
Jie. Most definitely Jie. I mean, the girl slipped onto the trolley and put a quarter in Eleanor's hand without anyone even knowing she was there. She has some serious skills. 
8. How would you convince your friends to read this book?
By raving about zombies. COME ON ALL! IT'S ZOMBIES! Why would you not want to read about this? Plus, I feel like a totally awesome person when people ask what my book is about. I just look them straight in the eyes, smile wickedly, and say, "The Dead". Hehehehehe!
---
I hope everyone is having a great week so far! Enjoy your Thursday! =)
❤ Kelly