Hello lovelies! Today we are lucky enough to welcome Jenn Bennett, author of The Anatomical Shape of a Heart, here on Live, Love, Read. Jenn decided that she wanted to do a post about some of her favorite books in her book stack, so she picked some random favorites and is going to tell you all about why she loves them so much. =)
---
Jenn Bennett's Book Stack

Today, just for you, dearest reader, I pulled twelve random books from my bookshelf. You'll find them here, as seen with my handsome pug. (Don't trust that sweet face, for he is truly wicked and most evil. Trivia: he was named after one of my favorite literary characters, the armored bear from the His Dark Materials series.) Some of the books in my stack are related to my YA debut, The Anatomical Shape of a Heart, and some are not:
My Crowd, Charles Addams
Dry wit. Hilarious stuff. My character, Bex, mentions the Addams Family. (People at school call her Morticia because she likes to draw anatomy, and therefore assume she must be gruesome. She's not.)
Infinite City, Rebecca Solnit
This is a terrific compendium of San Francisco atlases. A wonderful Bay Area author, A.J. Larrieu, gave this to me. I could stare at it for hours.
Colored Pencil Bible, Alyona Nickleson
My first love is art, and I do a lot of colored pencil drawings. This is a great resource.
Reading Egyptian Art, Richard H. Wilkinson
I'm a fanatic about Ancient Egypt and have been since I was a wee tike.
Struwwelpeter, Heinrich Hoffmann
I was born in Germany (my father was in the U.S. army and was stationed near Frankfurt when my Swedish mother was knocked up with me), and this book of cautionary tales for children scared the bejesus out me when I was a kid.
Last Train to Memphis: The Rise of Elvis Presley, Peter Guralnick
In my book, my hero, Jack is obsessed with rockabilly music. Cool, young Elvis (we'll forget about bloated, old bedazzled Elvis for now) wasn't just a brilliant musician, much like my hero, he also had a great pompadour.
Harry Potter and the Deathly Hallows, J.K. Rowling
Yes, I have them all. Yes, I own all the movies. No, I have never dressed up as Luna Lovegood, I mean, uh…
Perfect Chemistry, Simone Elkeles
Man, I loved this YA romance. The Latino hero is total swoons.
Graceling, Kristen Cashore
One of my fave romantic YA fantasy books. Only, I wish the ending had turned out differently. (Look, I'm a hopeless romantic, okay?)
Howl's Moving Castle, Diana Wynne Jones
Love, love, love this book. Total charmer. Old favorite of mine.
Shiver, Maggie Stiefvater
I like her Raven Cycle the best, but I have those on my e-reader. (I swing both ways.)
Flapper, Joshua Zeitz
I write books for adults about the Roaring Twenties. I'm mad about that era, so I have a whole collection of books about it, if you ever need to borrow one.
---
About Jenn:
Jenn Bennett is the author of the Arcadia Bell urban fantasy series with Pocket and the Roaring 20's historical paranormal romance series with Berkley. She lives near Atlanta with one husband and two pugs.
Website ~ Goodreads ~ Amazon ~ Twitter ~ Tumblr ~ Facebook
---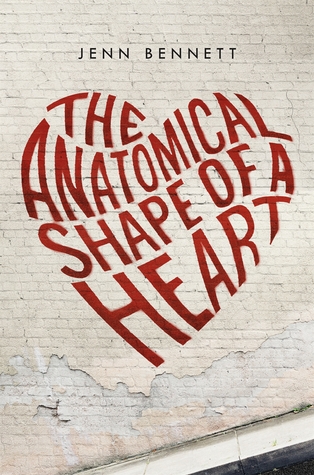 The Anatomical Shape of a Heart
Artist Beatrix Adams knows exactly how she's spending the summer before her senior year. Determined to follow in Da Vinci's footsteps, she's ready to tackle the one thing that will give her an advantage in a museum-sponsored scholarship contest: drawing actual cadavers. But when she tries to sneak her way into the hospital's Willed Body program and misses the last metro train home, she meets a boy who turns her summer plans upside down.
Goodreads ~ Amazon ~ Barnes & Noble
---
Giveaway!
Luckily for all of you, Jenn is kind enough to be giving away 10 copies of The Anatomical Shape of a Heart to 10 lucky entries! There's only one week left in this giveaway, and sorry international peeps, this is U.S. only!
---
Well, that's all for today, lovelies! What did everyone think? Has anyone read the books Jenn picked out for us?
We hope everyone has a great week and we can't wait to talk about this weeks Top Ten Tuesday with you all! See everyone tomorrow! =)
❤ Kelly, Lauren, and Melissa