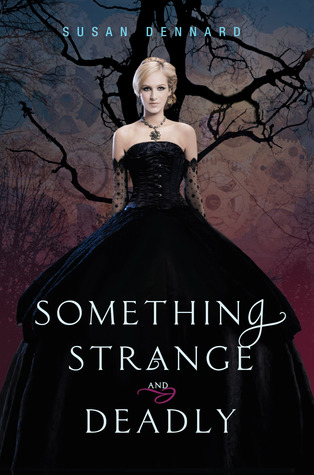 So, all of us on the Truthwitch Street team were challenged to read Something Strange and Deadly. I can't tell you how happy this heist has made me though, because these books have been sitting on my shelf for so long! I have the entire series signed and personalized and yet, I hadn't even read the first book until today… go figure… that's so typical of me.
Anyways, the lovely Waterwitch Babes are hosting this heist, particularly Steph in Wonderland! You can click on the link to visit her blog and find out more information regarding the read-along. It's not too late to join! =)
So, with this read-along, we were asked to post some answers to our discussion questions and I'm pretty. flipping. stoked. to be talking about zombies. Let me tell you, I've legitimately been going around to everyone and telling them that I'm reading books about zombies and the living dead. This is a first for me! HA! So, let's get this party started, shall we?
---
1. How do you think you would react to the Dead walking around in your city?
I'm not going to lie… I'd probably scream and run for a while and cry hysterically before I got my sense about me, picked up a shot gun and an axe and went to town. Imagine a girl version of Tallahassee in Zombieland. That would totally be me!! Or at least I can pretend that I would look that awesome trying to kill zombies, when instead I'd probably be tripping over my own two feet and running like a maniac…
2. What do you think about the Dead? Are you glad it isn't too Zombie-ish, or were you hoping for a more Zombie-esque theme?
I loved the zombie-esque feel of this book. Seriously, I almost wish there was a little more, but the amount of the living dead was just perfect for this book. I think Susan did wonderfully writing this gem! Just enough to scare the living guts out of you while still keeping you sane enough to read on. It's a good balance! Now we just need more spirits and ghosts… 😉
3. How do you feel about Eleanor as a character?
I actually wasn't really all that fond of Eleanor at first, but as she grew into her character, I grew into liking her a lot more than I thought I would. I absolutely adore that she is not the spoiled, haughty young woman that society seems to think she is. I love that she continues to break the stereotypes everyday, even though she still gives in to her mother a lot. I still love her!
4. What was your first impression of Daniel Sheridan? Joseph Boyer?
Well, when Eleanor met Daniel, I was seriously surprised that she didn't fire back retaliations immediately or punched him in the nose… I probably would have… Joseph I've loved from the start. He's just nothing but this kind-hearted, amazing man who wants nothing more than to help others while keeping his friends and him afloat. LOVE. I need to see him more.
5. What was your favorite part of the first half of the book and why?
Uhmmm… probably actually the first scene or the time that she meets the Spirit Hunters! The first scene is so intense that it pulls you in, and the Spirit Hunters are just my favorites. I'd totally be part of their gang if I could!
6. If you haven't read this before (or already finished it), what are you theories for the second half of the book OR even the rest of the series?
Heheheheh, I already started the second book, so I'm not going to give spoilers for the rest of my readers. All I'm going to say is that you all should read this because it's an AMAZING book! 
---
I just started reading the second book, so if anyone is willing to binge read with me, my cousin Heather and I will be continuing the rest of the series until we finish! We're so excited! Come read with us! =)
❤ Kelly