Old Manuscripts and Words Never Seen
by Mackenzi Lee, Author of This Monstrous Thing
I wrote four books before I wrote This Monstrous Thing.
That's about 250,000 words that will never be seen by anyone but me.
And that's not counting all the short stories, false starts, and time spent thinking about projects I never wrote.
It is really hard for me not to think of these words as a waste of time. I try to tell myself that it all counts. I could not have written This Monstrous Thing without first writing these 250,000 words no one will ever read. I learned a lot while I wrote them. I learned a lot from the things I did right–learned what was worth doing over again–and probably even more from my mistakes. You can't think of all the words you write before you get to the final draft as a waste of time or energy or effort or brain power. You have to think that every words counts toward the final draft–even words of totally unrelated books that never have a life beyond your computer's hard drive–because you could not have written that final draft without all those drafts of all those other things that came before it.
I struggle everyday to make myself stop feeling like the words that don't end up in my book weren't wasted time. But in the end, it all counts–rewriting, prewriting, free-writing, writing for no other reason than just to write. Think of it the same way you think of learning an instrument–it takes practice.
---
About Mackenzi:
Mackenzi Lee holds a BA in history and an MFA from Simmons College in writing for children and young adults. She loves Diet Coke, sweater weather, and Star Wars. On a perfect day, she can be found enjoying all three. She currently lives in Boston, where she works as a bookseller and almost never reanimates corpses. Almost.
Goodreads ~ Website ~ Youtube ~ Twitter ~ Facebook
---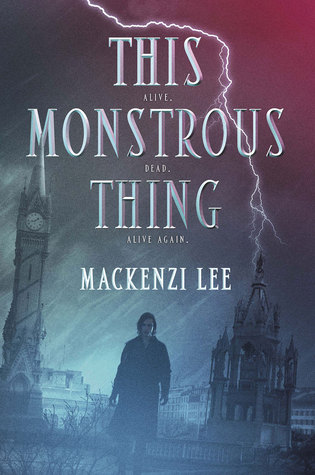 This Monstrous Thing

In 1818 Geneva, men built with clockwork parts live hidden away from society, cared for only by illegal mechanics called Shadow Boys. Two years ago, Shadow Boy Alasdair Finch's life shattered to bits.
His brother, Oliver—dead.
His sweetheart, Mary—gone.
His chance to break free of Geneva—lost.
Heart-broken and desperate, Alasdair does the unthinkable: He brings Oliver back from the dead.
But putting back together a broken life is more difficult than mending bones and adding clockwork pieces. Oliver returns more monster than man, and Alasdair's horror further damages the already troubled relationship.
Then comes the publication of Frankenstein and the city intensifies its search for Shadow Boys, aiming to discover the real life doctor and his monster. Alasdair finds refuge with his idol, the brilliant Dr. Geisler, who may offer him a way to escape the dangerous present and his guilt-ridden past, but at a horrible price only Oliver can pay…
Goodreads ~ Amazon ~ Barnes and Noble
---
A huge thank you to Mackenzi Lee for being awesome and writing this, even while sick! I hope you feel better! This is definitely something that all writers think about. I know that as the type A personality that I am, I sometimes wish I could get back the time that I spent writing words that no one will ever see… but reminding myself, and everyone else that it's the journey that counts, not the amount of words never seen. We could all learn a little bit from this post!
As always, THANK YOU to everyone who has participated and is continuing to participate in this feature by devoting some of your time to helping writers in need of a little advice. Your words are precious and well heard. Afterall, isn't it words that changed all of our lives in the first place? =)
❤ Kelly, Melissa, and Lauren