Quirks and Quarks: My Strange Path to Publication
By Kristi Charish
February 2010 was the exact month I decided I was going to try my hand at writing. I don't think I ever really considered whether I'd end up published- All I knew was that I'd been devouring sci-fi my entire life and writing stories in my head. I'd just never tried putting them down on paper before.
So I started to write. A novel to start, then some short stories, then more novels. That first novel will never see the light of day but since that start five years ago I've written more novels, gotten an agent, sold two series to major publishers and signed contracts for a grand total of seven books. My first novel, OWL & THE JAPANESE CIRCUS, was released back in January and the second in the series, OWL & THE CITY OF ANGELS, comes out next month. Audible just picked up those rights along with the next two books in the OWL series. The first book in my second series, THE VOODOO KILLINGS, comes out in May next year.
I have an awful lot of books to write.
Not a bad problem for a debut author in a genre that two years ago I was told, 'could not be sold anywhere' by a famous NY agent (who will remained un-named. Not that kind of article ;-)). By all accounts I should not be published, let alone signed for 7 books. That's not to say I know more about publishing or the UF genre than any other debut author out there, but there are a handful of things I've learned over the past couple years that I think have helped my career (outside 'sit thee down and write your book') and I'm here to share.
1. There's no such thing as an unsellable genre, only lack of originality.
If you ask most people in publishing about urban fantasy as a genre you'll probably get a mix of answers. The majority of those will be in the flavor of: 'Urban fantasy is incredibly popular, but the market is oversaturated.' It will also be followed by a mix of advice suggesting you write something else because not many editors are buying. That's true. But it doesn't make UF unsellable. What it means is that there is an abundance of UF novels being written and published with very similar premises and plots. How do you break into the market as a debut? Stray from the conventions and come up with something original that sets you apart from the park. In every genre, even urban fantasy, there's always room for something original.
2. Marketing: suck it up, buttercup.
The most common thing I hear from other debut/new authors is the gripe about marketing. There is a persistent myth that once a publisher picks you up, the publisher should be responsible for all the marketing. It'd be nice…and if you're Stephen King I guess that's a reasonable expectation, but for all of us debuts? Because writing is a solitary sport, we often loose track of just how many other authors are out there being released each month, let alone all the writers your publicist and marketing folks have to worry about. And they are working for you and getting review copies into reviewers hands and press releases out to media outlets…I'm also on the other side of the fence as I review and cohost a podcast, Adventures in Sci-Fi Publishing, but it would floor most of you to see how many books and requests for reviews we get every month. I know it was a wake up call for me. And that's just the novels from publishers, not taking into consideration the self-published works that come out every month. Your publicist and marketing teams are working to get your book out there…but so is every other marketing and publicity team at every other major publisher. And that's not counting the authors who ARE arranging their own blog tours and making sure reviewers get copies of their book. It's simply not reasonable to expect your publisher to devote an inordinate amount of time to your work at the risk of letting the marketing for other authors' books slide. Would it be nice if your publisher assigned you your own personal marketing fleet? Sure, but that leads to point number three:
3. Writing is a business.
Your publisher loves books. They also have oodles of staff – editors, copy editors, marketing teams, publicists, artists, type setters, etc – who all need to be paid. Twice a month. Like all year long. Your publisher is in the business of loving books AND making money. Series get dropped, books don't get picked up, you didn't get a 500,000$ marketing budget, or as much of an advance as your buddy who just sold his mystery series. Your publisher is in the game to make money and they need to make the money back on your books in order to publish more. Sometimes, through no ones fault, that doesn't happen. Don't take it personally- it's never a personal decision….unless you blatantly ignore point number 4, in which case it very well might be.
4. Always be polite
Talent, Likeability, and professionalism: You need two out of three to be successful as a writer is something I've heard in many reincarnations at many a convention. The point is you can be likeable and talented and never hand something in on time and you'll probably be ok, but if you choose not to be likeable you'd better be damned talented and punctual. I'd add to this and say that even authors who can't manage likeable can still shoot for polite.
If you take nothing away from this article, take this advice. Everyone you will have a working relationship with at your publishers- marketing, publicity, editing, editorial assistants- no one makes a fortune off publishing books and these people do it for the love of books. Some of them might even be the ones who argued for your book behind closed doors with the finance team and ultimately got your book the green light.
Be polite and remember number 2. There are a lot of authors in your publishing houses corral. It takes so little out of your day to be polite and makes you look that much more professional. And might just brighten someone's day enough they'll remember it the next time they have to got to bat with finance over your books.
5. Get an Agent.
Do you need an agent to get published? No. But it's certainly helped my career and I don't know where I'd be writing wise without my agent. An agent is a business partner. They aren't the writers employee, but they have a stake in the commercial success of a book. They also love books and can work as a sounding board for future projects. They also give you business advice, and can help you decide when to take or walk away from a deal. They help develop your career and (the good ones) take into consideration where you want to be in the next 5, 10 years. In short they're in the business of selling books to publishers but they're also your professional advocates. Can you have a career without an agent? Absolutely. But having one can be a really powerful tool.
---
About Kristi:
Kristi is the author of OWL AND THE JAPANESE CIRCUS (Simon and Schuster Canada/Pocket Books), an urban fantasy about a modern-day "Indiana Jane" who reluctantly navigates the hidden supernatural world. She writes what she loves; adventure heavy stories featuring strong, savvy female protagonists, pop culture, and the occasional RPG fantasy game thrown in the mix. The second installment in the Owl series, OWL AND THE CITY OF ANGELS, is scheduled for release Oct 5th 2015. THE VOODOO KILLINGS, book 1 in her second urban fantasy series, KINCAID STRANGE (Random House Canada), about a voodoo practitioner living in Seattle, is scheduled for release mid 2016.
Kristi is also a co-host for the popular Adventures in Sci-Fi Publishing Podcast and also has a PhD in Zoology from the University of British Columbia. She is represented by Carolyn Forde at Westwood Creative Artists.
Twitter ~ Facebook ~ Website ~ Podcast ~ Goodreads
---
Owl and the Japanese Circus
(The Adventures of Owl #1)
Fans of Kim Harrison, Jim Butcher, and Linda Hamilton will flock to the kick-ass world of Owl, a modern-day "Indiana Jane" who reluctantly navigates the hidden supernatural world.
Ex-archaeology grad student turned international antiquities thief, Alix—better known now as Owl—has one rule. No supernatural jobs. Ever. Until she crosses paths with Mr. Kurosawa, a red dragon who owns and runs the Japanese Circus Casino in Las Vegas. He insists Owl retrieve an artifact stolen three thousand years ago, and makes her an offer she can't refuse: he'll get rid of a pack of vampires that want her dead. A dragon is about the only entity on the planet that can deliver on Owl's vampire problem – and let's face it, dragons are known to eat the odd thief.
Owl retraces the steps of Mr. Kurosawa's ancient thief from Japan to Bali with the help of her best friend, Nadya, and an attractive mercenary. As it turns out though, finding the scroll is the least of her worries. When she figures out one of Mr. Kurosawa's trusted advisors is orchestrating a plan to use a weapon powerful enough to wipe out a city, things go to hell in a hand basket fast…and Owl has to pick sides.
Goodreads ~ Amazon ~ Barnes and Noble
---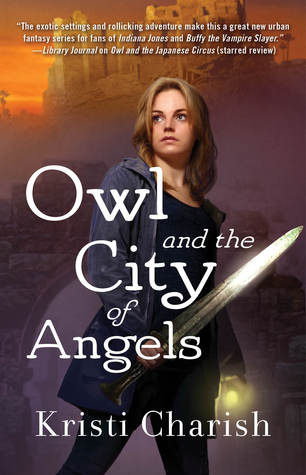 Owl and the City of Angels
(The Adventures of Owl #2)
     Pre-Order Now! (Oct. 5)
The wild second adventure for unforgettable antiquities thief Owl—a modern-day "Indiana Jane" who reluctantly navigates the hidden supernatural world—from the pen of rising urban fantasy star Kristi Charish. For fans of Kim Harrison, Jim Butcher, Jennifer Estep, Jenn Bennett, and the like.
Alix Hiboux, better known as Owl, international antiquities thief for hire, is settling into her new contract job for Vegas mogul Mr. Kurosawa, a red dragon with a penchant for ancient, supernatural artifacts. And now he has his sights set on some treasures of the mysterious Syrian City of the Dead that are sitting in a recluse's private collection.
There's just one wrinkle. To stop the resurrection of an undead army that could wreak havoc on Los Angeles, Owl must break into a heavily guarded archaeological sight in one of the most volatile regions in the world. A detour through Libya and a run-in with Somali pirates sends the clock ticking hastily toward total paranormal disaster.
Meanwhile, Alexander and the Paris vampires have stopped stalking Owl's apartment, but they have by no means forgotten their death grudge against her. To top everything off, Owl finds out the hard way that there is nothing heavenly about the City of Angels…
Goodreads ~ Amazon ~ Barnes and Noble
---
Kristi, thank you so much for volunteering your time to being a part of our blog and helping new writers. I know that many of my readers will get valid and helpful advice from your guest post! I've never read truer words than the ones you posted above!
Readers, please feel free to ask Kristi any questions you may have and talk to her about her publication process. Reach out to her on twitter or through here. She is more than happy to share her experiences and talk to you about her advice and struggle to get to the top.
Another huge thank you to all of the authors participating in this feature! Thank you!
❤ Kelly, Lauren, and Melissa