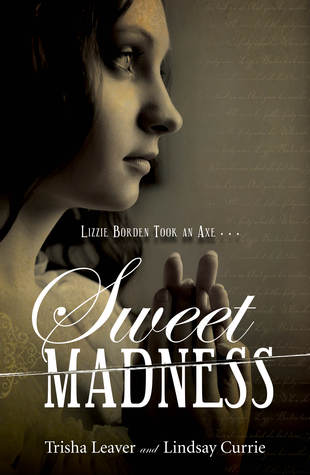 Genre: YA Historical Fiction
Publisher: Merit Press
Publication Date: September 15, 2015
Goodreads Rating: 4.19
Pages: 224
Synopsis: Seventeen-year-old Bridget Sullivan is alone in Fall River, a city that sees Irish immigrants as nothing more than a drunken drain on society. To make matters worse, she's taken employment with the city's most peculiar and gossip-laden family—the Bordens. But Bridget can't afford to be picky—the pay surpasses any other job Bridget could ever secure and she desperately needs the money to buy her little sister, Cara, passage to the states. It doesn't hurt that the job location is also close to her beau, Liam. As she enters the disturbing inner workings of the Borden household, Bridget clings to these advantages.
However, what seemed like a straightforward situation soon turns into one that is untenable. Of course Bridget has heard the gossip around town about the Bordens, but what she encounters is far more unsettling. The erratic, paranoid behavior of Mr. Borden, the fearful silence of his wife, and worse still…the nightly whisperings Bridget hears that seem to come from the walls themselves.
The unexpected bright spot of the position is that Lizzie Borden is so friendly. At first, Bridget is surprised at how Lizzie seems to look out for her, how she takes a strong interest in Bridget's life. Over time, a friendship grows between them. But when Mr. Borden's behavior goes from paranoid to cruel, and the eerie occurrences in the house seem to be building momentum, Bridget makes the tough decision that she must leave the house—even if it means leaving behind Lizzie, her closest friend, alone with the madness. Something she swore she would not do.
But when Bridget makes a horrifying discovery in the home, all that she thought she knew about the Bordens is called into question…including if Lizzie is dangerous. And the choice she must make about Lizzie's character could mean Bridget's life or death.
SWEET MADNESS is a retelling of the infamous Borden murders from the point of view of Lizzie's Irish maid, Bridget Sullivan.
---
My Review:
For this book, I'm still having trouble forming thoughts, so I'm going to jump straight to the points.
What I Liked:
Bridget
I really liked Bridget's character. She was strong, independent, able to make her own choices, and someone that I felt many younger girls could look up to. She kept the Borden house in order and was the rock for everyone who seemed to lean on her. She made logical decisions and worked hard for the little that she received. She reminds me of what we all could be and should be in so many ways. Not only is she all of these characteristics, but she's also a good friend. She has every right to be scared, terrified, and questioning, but never allows it to fully ruin her friendship with Lizzie. Bridget is just an all around good and relatable character.
Historical Accuracy
When I came across Trisha at BookItCon, all I knew about the Borden's was that there was a murder. I knew literally nothing about the case, the axe, the maid, etc. Because of this, I didn't want to research anything about Lizzie Borden before or during this novel. I was afraid that it would ruin the ending for me or change the way I see the book. So, after I finished Sweet Madness, I got curious and did a little research. I looked through countless sites and even watched the Ghost Adventures and Ghost Hunters investigative shows in the Borden household. Let me tell you that these ladies really did their research. Every piece of the Lizzie Borden story was apparent in this novel. These ladies even went so far as to make their own conclusions about what really happened behind the Borden murders!
Liam
Liam is just the sweetest. He's really the manly man that every girl dreams of. Not only is he kind, caring, and considerate, but he makes sure that he takes care of Bridget emotionally. He's always there for her, even when he's working his butt off in the mill, trying to build a life for the two of them and Bridget's sister, Cara. I just adore him and his Irish accent. Their side story was a well planned release from the creepiness that emanated from the Borden house and their dark background.
Paranormal Elements
The little bits of ghostly hauntings, creepy happenings, and mentally unstable moments really made this book feel like the thriller/mystery I had expected. Not to spoil anything in the plot, but there are definitely creaks in the floorboards and voices in the house that will leave you lying awake into the late hours of the night!
What I Felt It Needed:
Thriller Feel
I wanted just a little bit more of a terrified feeling throughout this book. Though I respect that it was created from real events and that real life is not a horror movie, I picked this up with the expectation of being scared out of my mind (because I'm a bit of a wuss. I will admit it). Though this book was creepy, it wasn't necessarily scary. I won't give anything away, but the ending made it less terrifying as well. I just wanted it to take that extra step into creepy feelings, curses, whispered voices, and axe murderers, so much so that it might haunt my dreams for another two days!
Overall, I give this book four hearts! It was well written with fluent story telling and numerous plot twists, but it just lacked that thriller feel that I so wanted from this tell tale murder story. I hope you all pick up this book and read it though! Not only do I now want to do a thousand hours of research on Lizzie Borden and her family, but I'm seriously considering the next time I'll be up in that area so that I can visit her house! *insert creepy music here*
---
About the Authors:
(All Information comes from their Goodreads profiles)
Trisha Leaver
Trisha Leaver resides on Cape Cod with her husband, three children, and one rather excitable black lab. Her YA Horror novel CREED is coming in Fall of 2014 from Flux. Her YA Contemporary THE SECRETS WE KEEP coming in the Winter of 2015 from FSG/Macmillan
Lindsay Currie
I live in Chicago, Illinois with one incredibly patient hubby, three amazing kids and one adorable, but irreverent Bullmastiff named Sam.
On the co-authored front, my debut novel, CREED (co-authored with Trisha Leaver), released from Flux on November 8, 2014. SWEET MADNESS releases from Merit on September 15, 2015, and HARDWIRED releases from Flux on November 8, 2015. However, my debut solo novel, JAMMED (young adult contemporary) is scheduled to hit shelves from Spencer Hill Press/ Spencer Hill Contemporary in 2016 and a second stand-alone novel, SUMMER SKY will releases in 2017. I am represented by Kathleen Rushall, of Marsal Lyon Literary Agency. Any inquiries regarding my work should be sent to her attention.
---
Coming Soon:
Reviews:
The Heart of Betrayal by Mary E. Pearson – Coming Soon!
A Little In Love by Susan Fletcher – Coming Soon!
Vengeance Road by Erin Bowman – Coming Soon!
❤ Kelly