Hi everyone! We had a quick change of plans and are happy to announce this week's Musings of Eternal Dreamers guest, Kendall Kulper, author of Salt & Storm, here to talk about the dreaded rewriting of your manuscript. The companion to Salt & Storm, Drift & Dagger, just came out on Tuesday so go pick up both books and start reading from this amazing author!
---
Rewriting Your Manuscript


by Kendall Kulper
"How Do You Feel About Rewriting the Book?"
That is one of those questions that authors dread. The idea that, after months of labor, you turn in a finished draft to your editor, anxiously await her response, only to hear: The Question.
I got The Question with my last novel, Drift & Dagger. It had been a difficult novel from the beginning. When my editor suggested I write a companion novel to Salt & Storm, I happily agreed, but as soon as I sat down to write it, nothing felt right. I would spend days researching things only to throw them away. I switched out the main characters, the voice, the plot. I kept waiting for that moment, when you write something and it just feels easy and relaxed, but I never quite got there.
By the time I had to hand in the final draft, I'd told myself it was fine. It was a fine book. It didn't move me the way Salt & Storm did, but, okay, it was fine. I'd made my peace.
Two weeks went by, and then on a Friday afternoon, I got an email from my editor. It was fine, it was a good book, but it was not the right book. It wasn't the story that I should have been telling, with these characters and this world. How would I feel about rewriting it?
Well.
Turns out I felt a lot! Things like disappointment, embarrassment, anger, frustration. I was so upset at the thought of all those wasted months and hours. I was freaking out at the idea of reworking a book in such a tight time span. Add in that I was six months pregnant and due to move in only a few days, and I was just about ready to quit. So long, thanks.
But I had a weekend to calm down, and by the time I talked to my editor on Monday, I knew she was right. This wasn't the right story, and it could be better.
My editor made a few suggestions about how to rework the novel into a new story, but I decided that I wanted to basically scrap the whole thing and start over. She had mentioned the parts that she really loved, and I decided to focus on those to build something totally new. For the first time, I began to feel excited about this book again. Which was good, because I had about nine weeks to rewrite it.
Those nine weeks were pretty nuts. I had to write two to three thousand words a day just to meet my deadline, and I had to edit as I went along. Every week, I'd email my editor what I'd written, we'd chat briefly about it, and then I was off again. It was exhausting, stressful, difficult—but every word I wrote was better than anything I'd done for the first draft.
Whether it was because I finally had my story, or because I knew my characters inside and out, or because I simply didn't have time to be picky over what I was writing, everything just flowed. I got that easy and relaxed feeling back, and when I finished this new draft, I knew it was just miles better than the first.
Having shared my story with other writers, it's amazing to me just how common this is. I would say a good half of my writing friends have had to do total or near-total scraps of their first drafts, and often that means that, like me, they have to rewrite in very tight deadlines.
I think there's a reluctance to admit just how deep edits often go, but in reality, edits like these are a totally normal, totally common part of the writing process. Full tear-downs make us better writers—more ruthless, more willing to try and fail—than polished first drafts could ever do.
I am so grateful that my editor had the courage to say what this book needed, even if on a personal level it was pretty bumming at the time. And I love that first draft, even if it was wrong. Sometimes we have to write the wrong book, just so we know what the right book looks like.
---
About Kendall:
I'm a Young Adult fiction writer born and raised in northern New Jersey and currently living in the hub of the world, Boston.
I graduated from Harvard University in 2008 with a degree in History and Literature (you can find out more about the program here. It is seriously awesome.).
After graduation, I worked for three years as a journalist for Bloomberg Radio in New York City. It was a fantastic, wild first job where I covered a range of topics from nitty-gritty economics to sports to arts to health and sciences.
Eventually, though, the novel sitting on my hard drive grew and developed, and I discovered that even a ten-hour day at the office couldn't keep me from spending an hour or two every night writing. With my then-fiancé living and studying in Chicago, I made a decision: quit my job, get married, move to Chicago, and write full time.
SALT & STORM is my first novel, a historical fantasy set on a 19th century whaling island. I love writing historical fiction, delving into a piece of the past and finding a story that modern readers can relate to. And I love writing YA because it gets to the heart of the theme I find most interesting: that tumultuous, defining moment in a teenager's life where they have to figure out who they really are and what they really stand for.
I'm represented by Sara Crowe of Harvey Klinger, Inc and live in Boston with my husband, Dave, and Abby, my chronically-anxious Australian Shepherd.
Social Media Links: Goodreads, Twitter, Facebook, Website
---
You don't know what you must give up to become a witch.
Avery Roe wants only to claim her birthright as the witch of Prince Island and to make the charms that have kept the island's sailors safe at sea for generations, but instead she is held prisoner by her mother in a magic-free life of proper manners and respectability.
Avery thinks escape is just a matter of time, but when she has a harrowing nightmare, she can see what it means: She will be killed. She will be murdered. And she's never been wrong before.
Desperate to change her future, Avery finds a surprising ally in Tane—a tattooed harpoon boy with magic of his own, who moves her in ways she never expected. But as time runs out to unlock her magic and save herself, Avery discovers that becoming a witch requires unimaginable sacrifice.
Avery walks the knife's edge between choice and destiny in Kendall Kulper's sweeping debut: the story of one girl's fight to survive the rising storm of first love and family secrets.
Goodreads! ~ Buy on Amazon! ~ Buy on Barnes and Noble!
---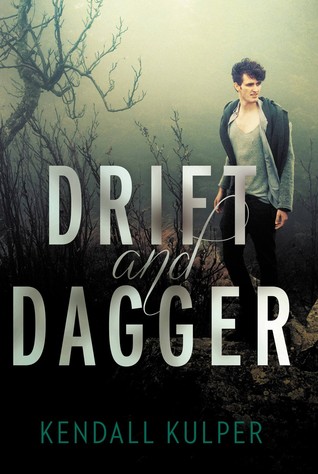 In Mal's world, magic is everything. But Mal is a "blank," the anti-magic. Blanks can't be hexed or cursed or saved or killed by magic. And everyone is afraid of them–even Mal himself.
So Mal hides what he is–except from Essie Roe, a witch and his best friend. On the day Essie reveals his secret and casts him out from the only home he's ever known, Mal experiences the true shock of betrayal.
Now Mal travels the world in search of rare, illegal magical relics. When his partner in crime, Boone, hears rumors of a legendary dagger that can steal a witch's power, Mal knows he's finally found his means of revenge. But as the chase for the fabled knife takes them from Boston to Paris to Constantinople, Mal realizes there are secrets afoot that he's only beginning to understand–and all the while the blank monster inside him threatens to escape.
Goodreads! ~ Buy on Amazon! ~ Buy on Barnes and Noble!
---
A huge thank you to Kendall for this amazing guest post! A very loving thank you to all of the authors who are a part of this feature and who continue to help new writers! Remember that these authors are here to help and would love to interact with you! Don't be afraid to ask questions and for some advice. =)
❤ Kelly, Lauren, and Melissa