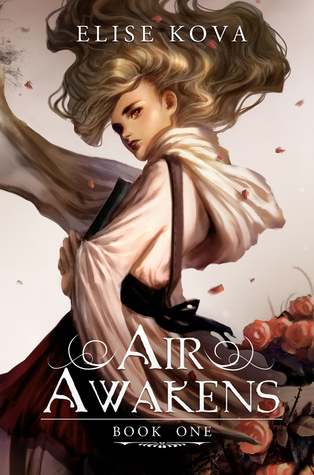 Publisher: Silver Wing Press
Page Numbers: 377
Genre: YA Fantasy
Publication Date: August 27, 2015
Summary:
A library apprentice, a sorcerer prince, and an unbreakable magic bond…
The Solaris Empire is one conquest away from uniting the continent, and the rare elemental magic sleeping in seventeen-year-old library apprentice Vhalla Yarl could shift the tides of war.
Vhalla has always been taught to fear the Tower of Sorcerers, a mysterious magic society, and has been happy in her quiet world of books. But after she unknowingly saves the life of one of the most powerful sorcerers of them all—the Crown Prince Aldrik—she finds herself enticed into his world. Now she must decide her future: Embrace her sorcery and leave the life she's known, or eradicate her magic and remain as she's always been. And with powerful forces lurking in the shadows, Vhalla's indecision could cost her more than she ever imagined.
---
About the Author
Elise Kova has always had a passion for storytelling. She wrote her first novella, a high-fantasy, in sixth grade. Over the years she's honed her love of literature with everything from fantasy to romance, science fiction to mystery, and whatever else catches her eye.
Elise lives in Saint Petersburg, Florida, where she's currently working on the next installment in her debut YA fantasy series: Air Awakens. She enjoys video games, anime, table-top role playing games, and many other forms of "geekdom." She loves talking with fans on Twitter (@EliseKova) and Facebook (/AuthorEliseKova). Visit her website, EliseKova.com, for news and extras about her books!
---
Why We're Waiting
Lauren: Anime style cover, book loving main character, fantasy genre…is there really a reason not to read this story? I alone would buy this book just to have that cover on my shelf like a piece of art! The story sounds so intriguing, and so far I have only heard good things from the reviews I have seen. This is not a well known book in the community right now, and it is also a debut author which I enjoy reading! Sometimes it's fun to find a gem to pass on to others. Thank goodness the release date is so close! 
Kelly: I love anime style covers, like all of us apparently do! I'm assuming that's why we love Throne of Glass so much? But pair an anime style cover with a fantasy genre, especially sorcerers because I'm kind of studying them for my own manuscript at the moment, and it turns into awesomeness! Plus… there's a prince. Can you say, "HELLLOOOOOO CHILDHOOD DISNEY FANTASY?!" I definitely can. 😉
Melissa: This cover is freaking GORGEOUS! I wish a lot of books had this sort of cover. I'm huge into Anime/ digital art/ fan art, so this cover thrilled me.  Names like Solaris Empire and Vhalla are unique and fascinating.  I seem to always be drawn to books about elemental magic and the fact Vhalla's a library apprentice means she's a fellow book nerd like us!  I'm ready to dive into the world Elise built like Now Please!
---
Coming Up
LLR Girls Night!
Our new poll is up! We have our finalists for our LLR Girls Night in August! Vote for your favorites below!
Our next movie night will be on Friday, August 21st, 2015! We will be watching one of the Disney movies in the poll above, so make sure to vote for your favorite! =)
Keep an eye out for more about this event and if you would like to keep updated, sign up for the e-mail notifications by clicking here!
Reviews and more reviews!
The Creeping by Alexandra Sirowy – Coming Soon!
The Heart of Betrayal by Mary E. Pearson – Coming Soon! 
Firewalker by Josephine Angelini (plus character casting) – Coming August 25th!
We hope you all have a great rest of your week! =)
❤
Lauren, Melissa, and Kelly