Henrietta and the Dragon Stone by Beth Barany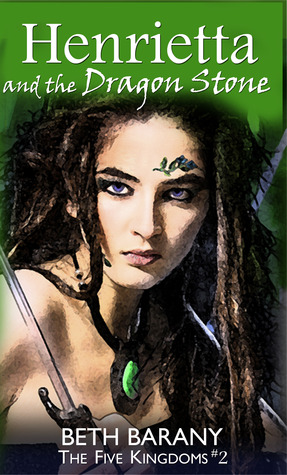 Genre: YA Fantasy
Publisher: Firewolf Books
Publication Date: January 31, 2015
Goodreads Rating: 4.57 stars
Pages: 300
Synopsis:
"A new story of young adult fantasy adventure by award-winning author, Beth Barany.
Book 2 in the Five Kingdom series of the continuing adventures of Henrietta The Dragon Slayer.
What if everyone you loved was threatened by a force you couldn't see or fight?
Henrietta the legendary dragon slayer wants to return to her village for a heroes' welcome. But an unknown sorcerer rides after her and her Dragon Stone and aims to destroy everyone she cares about. Can she claim her newfound powers sparked by the Dragon Stone and keep her loved ones safe, or will the sorcerer destroy everyone and everything she loves?
Beth Barany writes magical tales of romance and adventure to transport readers to new worlds where anything is possible.
Book 1: Henrietta The Dragon Slayer was the 2012 Grand Prize winner at the California Fiction Writers Book Contest and the 2011 Finalist at the Hollywood Book Festival."
---
About Beth:
All information is from Beth's Goodreads profile:
Award-winning author, Beth Barany has been making up fantasy and adventure stories all her life. She writes magical tales of romance and adventure for women and girls to transport them to new worlds where anything is possible.
In her off hours, Beth enjoys capoeira, reading and watching movies, and traveling, with her husband, author and singer/song writer Ezra Barany.
Beth Barany lives in Oakland, California with her husband, two cats, and over 1,000 books.
MORE ABOUT BETH BARANY
Beth Barany is a writer's coach, a keynote speaker and a marketing advisor for writers and publishers. The author of the bestselling books for writers, The Writer's Adventure Guide: 12 Stages to Writing Your Book, Overcome Writer's Block, and Twitter for Authors: Social Media Book Marketing for Shy Writers, she also publishes the monthly digital magazine, Author Entrepreneurship Magazine, to help authors create successful and sustainable careers. Beth is also the award-winning novelist of the young adult epic fantasy, Henrietta The Dragon Slayer, the first of a 3-book series.
As a Master NLP Practitioner and Certified Creativity Coach, Beth has helped authors get their books written, edited and published for over 12 years, as well as guided them in effectively marketing and selling their work. Five of her clients' books have been best-sellers. Sign up for her newsletter and receive her free Writer's Motivation Mini-Course at www.BethBarany.com. Also receive the latest issue and a free subscription to Author Entrepreneur Magazine at www.authorentrepreneurship.com.
---
My Review:
This is the sequel to Henrietta The Dragon Slayer, which I also wrote a review for that you can see here. What I didn't realize when starting this book was that it was meant to be at least a trilogy! I was surprised to find that this book did not solve the entire series, but I found it to be enjoyable none-the-less. Though possibly not quite as exciting as the first book, I found that I really started caring for Henrietta and the other characters within this novel. It was a typical middle novel that solves a few problems, achieves loads of character development, and sets the stage for the grand finale. Beth did this in style though as she created new problems that Henrietta seemed to fall into naturally. Though I still have loads of questions, I found multiple things I loved about this book.
What I liked:
Henrietta
As always, I still love Henrietta. The beautiful part of this book was that you really saw her character development. She went from being a hardened soldier to a caring friend in the first novel. In this book, you not only saw her caring for her friends, but you saw her almost allow herself to love and to truly protect and care for those who support her. You were able to dive into her deeper emotions and really start to get to who she is on the inside behind the walls. She was starting to break down those barriers as I, as a reader, was taken deeper into her depth and past, building a true understanding of who she is as a woman.
Franc
Franc is such a wonderful partner to Henrietta. I love how he complements her in the ways that she needs it most. Where she is hard, Franc is soft. Where Henrietta is weak, he keeps her strong. All of this goes vice versa as well, as you see them keep a a strong hold on their friendship (or more?). They trade off roles of strength and weakness, emotion and hardened hearts, etc. They support each other well, and I really see this as an effect of their friendship that I have seen grow between them over these two novels! Beth made sure they had that friendship as a foundation, and then chose to start letting their walls down and truly allow each other to see who they are on the inside. It's a beautiful and slow burn of a relationship that I love. It's a relationship done right!
Antione
This child was introduced in the first novel, but you never really got to know him until the second book. He is the most adorable kid. I can picture him so clearly from Beth's words, acting scared, haughty, hesitant, etc., that he seemed incredibly real to me. I work with kids all day and all night it seems and Beth must too, because his character was so lovingly flawed and childlike that I just wanted to scoop him up and take him home! Antione had the perfect characteristics to really shine in this novel and I'm very interested to see how his story develops further in the third installment.
The King
I really enjoyed reading about the king during the second half of this novel because in the end, he actually surprised me. I enjoyed the fact that he seemed like a real person, readily able to forgive others and realize that he has faults too. All of this just made him seem like a real person and someone that I would enjoy working with. He ended up being kind and I honestly enjoyed seeing him change and watching things work out for him, even if he does have a bad past with Henrietta!
What I could be improved:
Plot Inconsistencies
Just like last time, there were a few inconsistencies in plot that can be easily fixed with an editor or BETA reader. A couple times I would catch myself going back and rereading over a paragraph or two to make sure I didn't miss anything, as I found the plot skipped a bit and my brain seemed to skip a step in between where we were and where we got to in the novel.
Description
This somewhat goes along with the plot inconsistencies, because many of the skips were because there wasn't quite enough detail to allow my mind to follow along. I'd get caught up trying to explain a few things in my mind that weren't explained in detail within the novel.
Overall, I can honestly say that I truly enjoyed reading book two in this series and I can't wait for book three! I just adore Henrietta. She reminds me a bit of Celaena Sardothien from Throne of Glass with her strong, powerful drive and motivation, as well as her soft side. I do see Henrietta having more of a wall than even Celaena did though, which makes this a fun read and someone that I can very easily relate to. The characters were wonderful and the plot is really thickening! I give this book 4 hearts!
Beth, another wonderful novel! Thank you so much for allowing me to review it and read it! If you should need anything at all, please let me know! I look forward to reading more about Henrietta and Franc!… AND ANTIONE! He's such a cutie pie. =)
---
Coming Up:
LLR Girls Night!
Our new poll is up! We have our finalists for our LLR Girls Night in August! Vote for your favorites below!
Our next movie night will be on Friday, August 21st, 2015! We will be watching one of the Disney movies in the poll above, so make sure to vote for your favorite! =)
Keep an eye out for more about this event and if you would like to keep updated, sign up for the e-mail notifications by clicking here!
Reviews and more reviews!
The Short Life of Sparrows by Emm Cole – Posted on Friday 8/7
The Creeping by Alexandra Sirowy – Coming Soon!
The Heart of Betrayal by Mary E. Pearson– Coming Soon! 
We hope you all have a wonderful rest of your week! =)
❤
Kelly