Hunter by Mercedes Lackey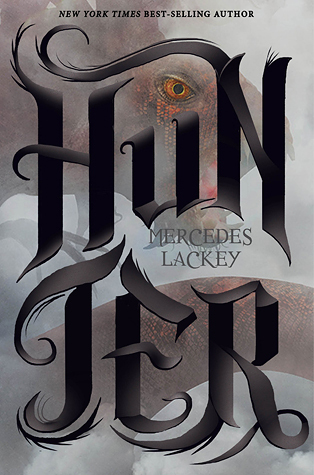 Genre: YA Dystopian/Fantasy
Publisher: Disney Hyperion
Publication Date: September 1st, 2015
Goodreads Rating: 3.79 stars
Pages: 384
Synopsis: "Centuries ago, the barriers between our world and the Otherworld were slashed open allowing hideous fantastical monsters to wreak havoc; destroying entire cities in their wake. Now, people must live in enclosed communities, behind walls that keep them safe from the evil creatures constantly trying to break in. Only the corps of teen Hunters with lightning reflexes and magical abilities can protect the populace from the daily attacks. Joyeaux Charmand is a mountain girl from a close knit village who comes to the big city to join the Hunters. Joy thinks she is only there to perform her civic duty and protect the capitol Cits, or civilians, but as cameras follow her every move, she soon learns that the more successful she is in her hunts, the more famous she becomes. With millions of fans watching her on reality TV, Joy begins to realize that Apex is not all it seems. She is forced to question everything she grew up believing about the legendary Hunters and the very world she lives in. Soon she finds that her fame may be part of a deep conspiracy that threatens to upend the protective structure built to keep dark magic out. The monsters are getting in and it is up to Joy to find out why."
---
About Mercedes:

Information is from Mercedes Goodreads profile: "Mercedes entered this world on June 24, 1950, in Chicago, had a normal childhood and graduated from Purdue University in 1972. During the late 70's she worked as an artist's model and then went into the computer programming field, ending up with American Airlines in Tulsa, Oklahoma. In addition to her fantasy writing, she has written lyrics for and recorded nearly fifty songs for Firebird Arts & Music, a small recording company specializing in science fiction folk music."
---
Why We're Waiting:
Kelly:
Okay, first off, there's a dragon-like creature on the front cover. I want to read more stories about dragons! Did you know that I still have yet to read a book about dragons or with dragons prominently in it? I also really loved The Selection which had the reality TV theme in it and I almost feel like this is The Selection meets City of Bones… yeah? Long story short… I really want to read this book!
Lauren:
Is that a dragon on the cover? Even before reading what this book is going to be about, I was drawn to the cover. I am a huge fan of dragons (although I haven't read that many dragon books..) so anything with a dragon on the cover will grab my attention. The summary sounds like a fun fantasy story, but with a sort of Hunger Games twist. Or at least, that is what I get out of it. I've heard pretty good things about this book so I'm interested to see how it I like it. Plus, I really want to read and find out if that is a dragon on the cover, or just some other magical creature.
Melissa:
I picked up my copy of the ARC at BEA this year because everyone else seemed excited for it, so I was just as curious about it too.  The cover is gorgeous and it would be a book that would catch my eye at the bookstore. I've always been skeptical about reading dystopian novels, but what drew me in was the way fantastical monsters were released into the world in the first place.  I want to find out how and why it that happened.  I can't wait to dive into this book!
---
Coming Up:
LLR Girls Night!
Our new poll is up! We have our finalists for our LLR Girls Night in August! Vote for your favorites below!
Our next movie night will be on Friday, August 21st, 2015! We will be watching one of the Disney movies in the poll above, so make sure to vote for your favorite! =) Keep an eye out for more about this event and if you would like to keep updated, sign up for the e-mail notifications by
clicking here!
Reviews and more reviews!
Henrietta and the Dragon Stone by Beth Barany – Posted on Thursday 8/6 The Short Life of Sparrows by Emm Cole – Posted on Friday 8/7 The Creeping by Alexandra Sirowy – Coming Soon! The Heart of Betrayal by Mary E. Pearson– Coming Soon!  We hope you all have a wonderful rest of your week! =)
❤

Lauren, Kelly, and Melissa