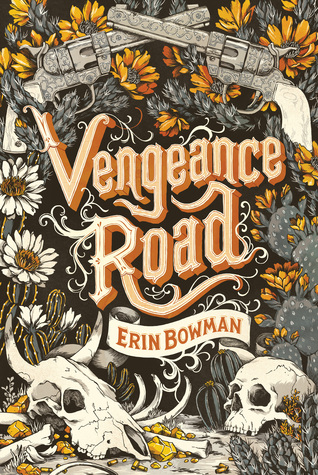 Finally getting a chance to talk about Vengeance Road! I have been over the moon being picked as part of Erin's official posse!  I have this new found love for historical fiction & westerns after having read Under a Painted Sky by Stacey Lee.  Totally stoked to find out there would be more like it! I haven't read my copy of Vengeance Road yet, but everything Erin has been posting online has made me so much more excited to pick it up. Especially after releasing an official playlist all week!  Erin has picked some great singles, songs that I would never listen to on my own, so thank you!
**All of the lyric graphics in this post are made by me! All of the videos are found on YouTube. I didn't want to bombard you all with graphics and videos for each song, so I didn't make something for every song selection.
Alright let's get to it!
1. Barton Hollow by The Civil Wars ~ I absolutely love this song! I love Joy and John's voices individually and the way their voices harmonize for this song.  I was first introduced to this duo from the duet they sing with Taylor Swift, Safe & Sound.
2. Dust Bowl Dance by Mumford & Sons
3. Bottom of the River by Delta Rae ~ Love love love Brittany's voice and how unique this song is. This is not normally the type of music I listen to, but I was captivated by this song based on her voice and the beat. I had decided to watch the lyric video first for some reason, then I checked out the music video so I linked both for you.
4. Blue Side of the Mountain by The Steeldrivers
5. Victory by Trampled by Turtles ~ Not gonna lie, but I was totally distracted by the mere fact this was a stop motion music video. I also love the irony of the band's name.
6. My Silver Lining by First Aid Kit ~ Swedish duo Johanna and Klara Söderberg have haunting, yet beautiful voices. I like this song a lot, especially the lyrics.
7. Raise Hell by Brandi Carlile
8. God's Gonna Cut You Down by Johnny Cash ~ One of Erin's favorite songs because it resembles the mood and tone of Vengeance Road as well as Kate's vendetta
9. Rattlin' Bones by Kasey Chambers and Shane Nicholson ~ Just LOOK at Shane's guitar! I do really like this song too and not just the guitar.

10. Devil's Backbone by The Civil Wars ~ Erin has helped me find a new favorite!
11. Dust Bowl by Horse Feathers, Justin Ringle, Peter Bro
12. Waitin' Round to Die by Townes Van Zandt ~ He had such an interesting voice and the lyrics really stand out. I found this clip from the documentary film Heartworn Highways.
13. Desert Song by Edward Sharpe & The Magnetic Zeros ~ The wind in the background and the rhythm gives you the feeling of being somewhere hot, dry, and dusty. Combined with the next song you feel like you're stuck in the desert.
14. Will There Be Enough Water? by The Dead Weather
15. The Stable Song by Gregory Alan Isakov ~ Bittersweet just like the ending of Vengeance Road
I hope the Vengeance Road soundtrack puts you in the right mood to pick up a copy of the book when it released September 1st! If you want to listen to the playlist as you read, Erin has put it all in one spot for you right here on Spotify!  Be sure to hit Follow so you can bookmark the playlist to your profile.
Happy Listening!
❤

Melissa