Sunday Street Team:
Welcome to another month of Nori's Sunday Street Team! This month I'm reviewing one book and spotlighting another! The first book is Rebel Mechanics by Shanna Swendson, which I'm reviewing below! For more information, you can click here to visit Nori's blog, ReadWriteLove28!
Also, there's a GIVEAWAY towards the bottom of this post! YOU WILL WANT THIS BOOK!!! Don't forget to enter!!!
**********************************************************************************************
Rebel Mechanics by Shanna Swendson: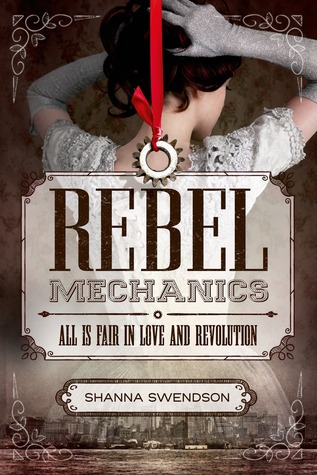 Genre: Young Adult Steampunk/Historical Fiction
Publisher: Farrar, Straus and Giroux
Publication Date: June 14th, 2015
Goodreads Rating: 3.82 Stars
Pages: 320
Synopsis:
"A sixteen-year-old governess becomes a spy in this alternative U.S. history where the British control with magic and the colonists rebel by inventing.
It's 1888, and sixteen-year-old Verity Newton lands a job in New York as a governess to a wealthy leading family—but she quickly learns that the family has big secrets. Magisters have always ruled the colonies, but now an underground society of mechanics and engineers are developing non-magical sources of power via steam engines that they hope will help them gain freedom from British rule. The family Verity works for is magister—but it seems like the children's young guardian uncle is sympathetic to the rebel cause. As Verity falls for a charming rebel inventor and agrees to become a spy, she also becomes more and more enmeshed in the magister family's life. She soon realizes she's uniquely positioned to advance the cause—but to do so, she'll have to reveal her own dangerous secret."
You can add this book on Goodreads by clicking here!
You can pre-order this book on Amazon by clicking here!
You can pre-order this book on Barnes & Noble by clicking here!
**********************************************************************************************
About Shanna:
"Shanna Swendson is the author of the popular adult romantic fantasy series, Enchanted, Inc. Rebel Mechanics is her first novel for young adults. She lives in Irving, Texas."
**********************************************************************************************
My Review:
Rebel Mechanics was my first ever Steampunk read and I'm so happy to report that I absolutely ADORED it! I LOVE steampunk and I'm so excited to read more!!!
Specifically talking about this book though, here's what I loved:
1. Verity Newton wasn't the chosen one.
Verity is the main character in this novel and it was nice to read a story about someone who was just normal, someone who is just trying to make their way in the world. She is just a young girl who comes to New York City in search of work and manages to find herself immersed in the battle between the magisters and the mechanics. I loved that she wasn't the chosen one or the most amazing assassin the world has ever seen. She doesn't kill people, she doesn't take over a throne, she doesn't become president, and she is not this kick-butt person who knows how to smash a nose in… She's just her. She solves her problems like a normal human being would and doesn't want harm to come to others around her. She has emotions, makes mistakes, and does the best she can to survive. I love her for it. 
2. Lord Henry Lyndon…
Gosh do I love this man. This is the kind of man that I would marry in real life. Completely, totally, emotionally invested in his well being throughout this entire book. Granted, I know, and I knew… But he still had me from the very beginning. I would have gone RUNNING after him! Haha, anyways, Lord Henry is just the sweetest man who honestly means to do well for the children he is raising. He cares about all of those around him and truthfully doesn't take advantage of his prestigious position. He's humble, nerdy, manly, and everything I could possibly want in a man. *sigh*… Where's my real life version?!
3. The Steampunk!
Honestly, I've been pretty hesitant to pick up a steampunk novel and now I'm so glad that I finally have! The world in which Shanna immerses her reader is wonderful. She not only brings historical fiction into account, but she also brings magic and steampunk all into one novel in a very interesting way. I was nervous because I wasn't sure I was going to like it, but the steampunk, machinery, contraptions don't overtake the entire book. There is still an incredibly strong plot that is helped along by the elements of steampunk and magic within this world. I just adored it and I adored imagining the dress styles and the machinery that came along with it! So SCANDALOUS! 😉
4. Little Olive.
Olive was probably one of my favorite characters in this novel just because she was blunt and cute and EXACTLY how a young little girl should be. She helped some conversations in the book to move faster and gave some comedic breaks during intense scenes. I just found her so adorable and realistic that my heart stuck with her through the book and just never left!
Here's what I didn't like:
1. Alec…
I only have one dislike for this entire book and that would be Alec. I won't giveaway who exactly Alec is or what happens… but I'm hoping some of you will dislike him as much as I did. Plus, he was definitely the "insta-love" of this book. He didn't make or break the story for me, but I kept shaking my head and just sitting there going, "girl… how did you let this happen?" or, "honey, what in the world are you doing?". I had a bad feeling from the beginning and even in the end I still wasn't a fan of him. Needless to say, I'm very happy with how this book turned out though!!! 
Overall, despite Alec, I LOVED this book and am giving it 5 hearts! 
CONGRATULATIONS Shanna on writing your first YA novel! It was INCREDIBLE and I need the sequel… IMMEDIATELY! I must know what happens with Henry!! PLEASE!!!!! ❤ And thank you!!! =)
**********************************************************************************************
Giveaway:
Sunday Street Team is lucky enough to be able to giveaway one copy of Shanna Swendson's Rebel Mechanics! Trust me when I say YOU WILL WANT THIS BOOK! Enter the giveaway and pre-order it! The pre-order links are above under the synopsis! =)
CLICK HERE to enter the Rafflecopter Giveaway for Rebel Mechanics!
**********************************************************************************************
Coming up:
Girls Night Watch Along!
We are beginning our trek to host a Girls Night/Movie Night! Men are of course invited to join us as well. Sorry for the "Girls" in the title! However, we want YOUR HELP in deciding the movies we're going to watch, the dates, and the times! We posted a few polls on a new page, also explaining what our Girls Night will consist of, why we're doing it, and why we really hope you will join us! You can click here to find out more information!
Reviews and more reviews!
Tangled Webs by Lee Bross – Coming Soon!
The Leveller by Julia Durango – Coming Soon!
Paperweight by Meg Haston – Coming Soon!
Henrietta and the Dragon Stone by Beth Barany – Coming Soon!
The Short Life of Sparrows by Emm Cole – Coming Soon!
I hope you all had a happy and safe holiday weekend, for those of you in the U.S.! Have a wonderful week! I'm sure you'll be hearing from me soon! =)
❤
Kelly