Emmy & Oliver by Robin Benway: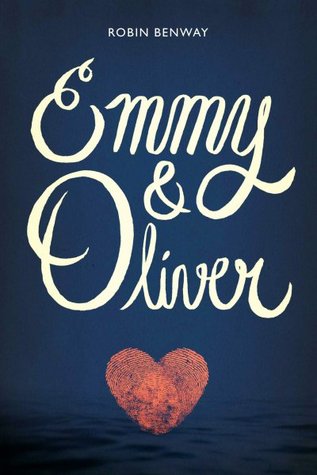 Genre: YA Contemporary
Publisher: HarperTeen
Publication Date: June 23rd, 2015
Goodreads Rating: 3.92 stars
Pages: 352
Synopsis:
"Emmy's best friend, Oliver, reappears after being kidnapped by his father ten years ago. Emmy hopes to pick up their relationship right where it left off. Are they destined to be together? Or has fate irreparably driven them apart?
Emmy just wants to be in charge of her own life.
She wants to stay out late, surf her favorite beach—go anywhere without her parents' relentless worrying. But Emmy's parents can't seem to let her grow up—not since the day Oliver disappeared.
Oliver needs a moment to figure out his heart.
He'd thought, all these years, that his dad was the good guy. He never knew that it was his father who kidnapped him and kept him on the run. Discovering it, and finding himself returned to his old hometown, all at once, has his heart racing and his thoughts swirling.
Emmy and Oliver were going to be best friends forever, or maybe even more, before their futures were ripped apart. In Emmy's soul, despite the space and time between them, their connection has never been severed. But is their story still written in the stars? Or are their hearts like the pieces of two different puzzles—impossible to fit together?
Readers who love Sarah Dessen will tear through these pages with hearts in throats as Emmy and Oliver struggle to face the messy, confusing consequences of Oliver's father's crime. Full of romance, coming-of-age emotion, and heartache, these two equally compelling characters create an unforgettable story"
You can buy this book on Amazon here!
You can buy this book on Barnes and Noble here!
******************************************************************************************
Robin Benway:
From Robin's website, which you can find here!
"I'm the author of "Audrey, Wait!", "The Extraordinary Secrets of April, May & June", and the AKA series. My latest book "Emmy & Oliver" will be released on June 23, 2015. I live in Los Angeles with my extremely stubborn shih tzu, Hudson. I like cooking, puppies, and coffee, but not in that order. We should be friends."
******************************************************************************************
My Review:
Honestly, I like this book. I can't lie and say that I didn't. I was engaged with the story and the characters and I wanted to keep reading through to the end. I wanted to know what happened… but that's just it… I was just reading. I didn't feel like I was involved in the story at all. I didn't cry, I didn't smile, I laughed once when Oliver referenced the eye lash curler as a medieval torture device (which I fully believe to be true), but there was no connection for me. I could see the reasoning behind the story, the characters, the ending, but I felt nothing. There was no book coma when I finished and I was actually just peaceful and slightly irritated that I didn't feel a connection. I believe that it may be time for me to get back to fantasy novels, sword fights, assassins, and extreme fantastical worlds where anything can happen and characters can die in an instant. I'm blaming my disconnect on that need.
In the meantime, Here's what I did like about Emmy & Oliver:
1. The characters and their friendship
Emmy, Oliver, Caro, and Drew were all very real characters. They had roller coasters of emotions, real life problems, and for the most part, were relatable. They're all just teenage kids trying to live day by day in their messed up lives while figuring out how to deal with the emotions thrown at them because of an insanely unfair occurrence. Throughout this entire novel, they were constantly working on their friendship and being there for each other too. I loved that. It was wonderful and inspiring reading about true friends and people who stick together, no matter what. Was I able to truly relate with any of them? No. But, that doesn't mean you can't. 
2. The character development.
I did like the character development I saw with Emmy and Oliver. Both characters, after going through such an ordeal, had to learn how to become themselves again. They had to learn how to stand up for themselves, open up and share their emotions, and get along with each other and their families. That's not easy for anyone to go through, let alone teenagers. Their situation was strange and I was happy to see that they took the unfortunate experience, learned from it, and grew. That is important. Because of this, I will say that I was never irritated with these two at all. They were extremely mature for their age (17) and i thoroughly enjoyed their ability to handle the situations they came across.
3. The slow burn.
I did enjoy the fact that Emmy and Oliver had to ease back to their 2nd grade relationship (come on now, it's no spoiler. Their names are in title. You know they're getting back together) and didn't just run into each others arms like love at first sight all over again. Emmy even acknowledges that Oliver is a stranger when she first sees him again. The building back up of their friendship was the most relatable part of this book to me and I really enjoyed it. There was just something so beautiful about the way they slowly opened up to each other and found their solace in one another.
******************************************************************************************
And here is what I didn't like:
1. The disconnection of emotion.
Like I said before, I just felt like I really had no connection to the characters or their emotions. I didn't feel pulled into the story at all. I wasn't worried that something was going to happen to any of them and I had no fear that Emmy and Oliver would break up. I just kind of… read the book… and that so rarely happens that when I finished it, it took me a bit to realize why I kind of felt a little irritated…
2. The parents.
Gosh the parents. I understand why they are the way they are, but goodness I wanted to punch them in the face and be like, "LISTEN. I UNDERSTAND YOUR DILEMMA BUT YOU'RE BEING A HORRIBLE PARENT RIGHT NOW AND TEACHING YOUR CHILD NOTHING!" But then again… I don't necessarily fully understand the love of a parent for their child because I don't have one. All I know is that the way they acted towards their children irritated me beyond belief. This could all be solved if people would just listen!
Overall, I'm giving Emmy & Oliver a rating of 3.5 hearts. 
I did still like it, so I can't find it in me to just give it three, but I was so disconnected from the book by the end of the story that I really didn't enjoy it all that much. 
******************************************************************************************
The Giveaway!
Though Emmy & Oliver wasn't for me, I'd like to give this book a chance for someone else to love it more than I did. So, I'm giving it away! I honestly hope that whoever gets this book likes it as much as everyone else seems to! Everyone else is raving and I feel like I'm just sitting here looking suspiciously like the black sheep of the bunch. 
This giveaway is US only and you need to be 13 or older to enter. 
******************************************************************************************
Coming up:
Reviews, reviews, reviews GALORE!
Tangled Webs by Lee Bross
The Leveller by Julia Durango 
Paperweight by Haston
Henrietta the Dragon Slayer by Beth Barany
We are busy here at Live, Love, Read this month and it's AWESOME! We can't wait to give you a few more giveaways and to keep this mojo going! =)
❤
Kelly