Top Ten Tuesday: Our Most Anticipated 2015 Releases!
Today is our first Top Ten Tuesday together and BOYYYYYY do we have a great YA fantasy (minus 1 book) list for you! =) If any of you are like us and love your fantasy novels more than you love your own bed… welp, let's just say that I'm sure we will have a lot in common! 
As always, Top Ten Tuesday is hosted by The Broke and The Bookish!
So, here's our list and we've incorporated our own thoughts, feels, and the publication dates for you! ENJOY!
*Side note: We split this TTT! All of Kelly's reactions are in BLUE. All of Lauren's reactions are in PURPLE! 
1. Queen of Shadows by S. J. Maas
Publish Date: September 1st, 2015
If you honestly need to ask me (Kelly) why this book is number one, above all, than you seriously need to go back and read my first post on this blog and all the rest since! Heir of Fire is the novel that inspired me to start writing again… Plus, I LOVE ROWAN! End of story. ❤
2. Six of Crows by Leigh Bardugo
Publish Date: September 29th, 2015
I know it's wrong to judge a book it's cover, but can you honestly say this didn't catch your attention?? Not only is the cover beautiful, it is said to be Game of Thrones meets Ocean's Eleven. I have just recently started watching GoT, and bank heist movies are something I enjoy, so I really don't need more of a reason to pick this book up. Plus all the reviews I have seen from those lucky enough to get ARCs have been nothing but good so far!
3. Library of Souls by Ransom Riggs
Publish Date: September 22nd, 2015
This series is phenomenal. There's no other way to say it. It's unique, intriguing, and mysterious. If you haven't read it yet, you really need to! Ransom Riggs is an awesome YA writer and this series shows that. Also, it's rare that I (Kelly) pick up a novel that has a male MC/POV in it, but Miss Peregrine's has honestly changed my perspective of that! I will be picking up more male POV YA fantasy novels shortly! Percy Jackson included! (Lauren is going to kill me when she finds out I haven't read Percy yet!) 
4. Ice Like Fire by Sara Raasch
Publish Date: October 13th, 2015
Snow Like Ashes was one of my first reads this year and I can't wait to read Ice Like Fire! I started off unsure about Snow Like Ashes, but by the end I was ready for more! I'm ready to get back into this world and see what happens. Plus, look at the cover on this one too! Sara Raasch's books have some of the nicest covers.
5. A Madness So Discreet by Mindy McGinnis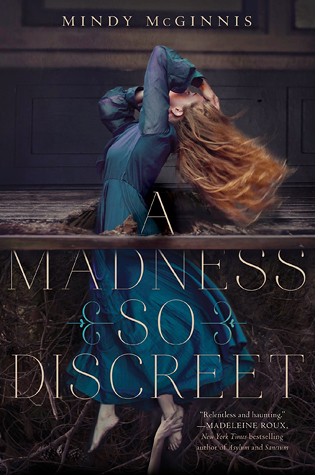 Publish Date: October 6th, 2015
Mindy, whoever your cover artists and publicists are, you seriously need to send them an Edible Arrangements because they are DEAD ON with this cover! LOOK AT HOW BEAUTIFUL THIS COVER IS!!! Gosh, I can't even imagine. How do you come up with that amazing of an aesthetic for a picture?! I could stare at it for days. It's just. so. dang. GORGEOUS! I NEED!
6. Dreamland by Robert L. Anderson
Publish Date: September 22nd, 2015
A story about a girl that can walk through dreams just sounds really intriguing to me. The description for this story and the cover give a creepy feel to it, which pulls me in for some reason. I am a wimp when it comes to scary movies, but books with a creepy feel I can handle. Might be a good book to read close to Halloween! 
7. Firewalker by Josephine Angelini
Publish Date: September 1st, 2015
THIS!!!! THIS BOOK IS GOING TO BE AMAZING! For any of you who have not picked up Trial by Fire by Josephine Angelini, YOU NEED TO DO THIS RIGHT NOW! It's AMAZING and please trust me when I say that YA fantasy lovers will LOVE, LOVE, LOVE this book! I've already gotten many of my friends hooked on it and I can promise you that you will be too! Also, I just received this ARC in the mail… I totally did a really embarassing, Jennifer-Lawrence-worthy, obnoxious happy dance. THANK YOU KIM!
8. Carry On by Rainbow Rowell
Publish Date: October 6th, 2015
While reading Fangirl (which I loved!!) I would always think how I would love to read the book Cath always fangirled about. It sounded similar to Harry Potter and Cath's love for it reminded me of my own obsession with books. Which is why I probably loved it so much. When I heard Rowell was coming out with Carry On I knew this would be a book I will definitely pick up!! I'm excited to see how Rowell does with her first Fantasy novel.
9. Happily Ever After by Kiera Cass
Publish Date: October 6th, 2015
Even though this is not the next book in the series, I am ready to read more stories from Kiera Cass! I am going to need something to hold me over until the next book comes out! I need a chance to read about Maxon and America more! (Who cares about Aspen!) 
10. Unforgiven by Lauren Kate
Publish Date: November 10th, 2015
Did any of you Fallen lovers know that Lauren Kate is coming out with a Fallen #5 in November?! WELL NOW YOU DO! This book is in Cam's point of view though and I already know that I'm going to need a tissue box, chocolate, a big spoon, and a lot of ice cream to get through the wreck and sadness that is his lost love life. Anyone else with me? We can cry together?!
Well, that's it for today! What do you think? Do we have any in common?! Are there any we should be adding to this list (even though our real list for the rest of the year is SO much longer)! 
We want to hear from you: What's your most anticipated releases for the rest of the year?!
We hope you have an amazing day! Stay tuned tomorrow for our first ever Waiting on Wednesday! We can't wait to announce this book!!!! 
Lauren and Kelly