The Gemstone by Sarena and Sasha Nanua
The Pendant Trilogy, Book #1
Genre: YA Fantasy
Publisher: iUniverse
Publication Date: May 22nd, 2012
Goodreads Rating: 4.04 stars
Pages: 296
Synopsis:
"Arica Miller is thrilled to begin her sophomore year at Hill Valley Private Arts Academy. Little does she know that the prestigious school holds more hidden secrets than she'd anticipated—especially with the headmistress.
When Arica accidentally comes into contact with a mysterious gemstone necklace, she receives strange hallucinations that connect to her family's past. She soon realizes it is no regular necklace, but a necklace that contains power beyond her knowledge. Things take an even more dangerous turn when she is absorbed with knowledge of a world of sorcery.
Follow Arica as she faces suspicious friends, monstrous creatures, and struggles to come to terms with the truth of her family's connection with sorcery. Can she defeat a powerful enemy keen on getting the gemstones?
Unravel the intriguing answer as you witness Arica's thrilling journey in The Gemstone!
Buy the Books!
Goodreads Information:
Sasha Nanua's Goodreads Profile
Sarena Nanua's Goodreads Profile
The Gemstone (#1) on Goodreads
The King's Jewel (#2) on Goodreads
The Poisoned Emerald (#3) on Goodreads
More Information on The Pendant Trilogy:
Website: http://thependanttrilogy.com/
Blog: https://thependanttrilogy.wordpress.com/
Facebook page: https://www.facebook.com/ThePendantTrilogy
Twitter: https://twitter.com/pendanttrilogy
Instagram: https://instagram.com/sarenasashabooks
Tumblr: http://thependanttrilogy.tumblr.com/
*************************************************************************************************
Sarena and Sasha Nanua:
Sarena and Sasha Nanua are teenage twins living in Ontario. They love reading books in their spare time and enjoy science fiction and fantasy novels. They have been writing books since they were nine years old. The Gemstone is their first novel.
*************************************************************************************************
My Review:
I actually really enjoyed this book. It was a fun read, one that I easily passed the time away with and that kept me engaged with it throughout the day. I read it in less than 24 hours and am still thinking of it, debating on whether or not I'd like to jump right into the next one. Here's the layout of my thoughts:
1. This book contains a very unique story line.
I haven't seen any book with a plot quite like this one. It has a very unique take on magic, sorcerers, and the abilities that come with it. The basics are that there are three gemstones that were stolen from a sorceress many generations ago. Since then, they have been passed down the family line that they now belong to and have given magical powers to the holders of the stones. I haven't read a book with anything even close to this kind of background story, mixed with magic.
2. The plot twists were predictable, but at the same time, came as a surprise…
Though the sense of foreboding was imminent, I was surprised by how the plot twisted and turned. It was like I knew it was coming, and the plot would still make a twist when I thought it would, but it would add an extra "OOMPH" just for some element of surprise. It left me wanting more and constantly engaged with the book. I was curious as to how this all was going to end, especially if it leads to two more books!
*************************************************************************************************
There were a few things about this book that I didn't exactly dislike… but I didn't necessarily really enjoy them either. The following are a few things I noticed that I'm hoping may be able to help the authors along the way:
1. The language used and the somewhat predictability make this book read more like a middle grade novel.
Many of the words used in this book were easier to read, which is great! We need more books that have a good plot and are easier to read because keeping teens engaged in reading is a challenge for teachers these days. They would be more likely to pick up a book like yours that flows smoothly and does not have as challenging of a vocabulary as we see in many YA books today. However, because of the language used, plus the fact that the main character is only 15, I honestly believe that you might have a little more success if you market this book as a middle grade fantasy!
2. There are a few times the plot skips around or where the conflict is easily solved in order to get to the next part of the story.
This is COMMON in many middle grade novels that I have read. Where there should have been more hesitation or questioning, the characters easily oblige. Where there should have been more hardship, because life really isn't that easy, the characters get a break and the problem is solved. Nowadays in YA literature, the characters have it REALLY, REALLY hard. The fantasy novels are turning much darker and the favorites contain characters who go through a tremendous amount of anguish and hardship, more than anyone should have to bear. However, in this novel, many of the problems were easily solved for the characters by some fate of circumstance… but that's not necessarily life of the YA reader. Older teenagers' lives are ABUNDANT with drama and problems. I remember my years where every single problem seemed like the end of the world, whereas the characters in The Gemstone also seem to think more like middle grade readers because they only have one problem and it's the conflict within the book.
Overall, great plot and individuality. I truly enjoyed this book and it was a relaxing, fun, entertaining read for me! It's a perfect debut novel for Sasha and Sarena! I'd give this novel 4 stars! Keep working at it ladies!
*Side note: There is a giveaway of this book at the bottom of this post!*
*************************************************************************************************
The Pendant Trilogy: The King's Jewel (#2)
Summary:
After an unthinkable battle, Arica Miller is bursting with questions. The last thing she expected was to go to the source of all magic—the Sorcerers Underworld. She soon realizes the magical world is facing an immense threat: The king's crown, also known as the Jewel, has been stolen by an unknown thief. And what's worse, the gemstones have been taken by a magical flood that has a suspicious link to the headmistress.
Now Arica and her cousins are summoned to go on a dangerous search that leads them to the waters of the Bermuda Triangle. If Arica wishes to return home, she must find the gemstones and unlock the mystery of the Jewel's thief; but what she doesn't realize is that the culprit could be closer to her than she'd ever imagined….
Follow Arica in a new quest to unravel the mystery of The King's Jewel!
The Pendant Trilogy: The Poisoned Emerald (#3)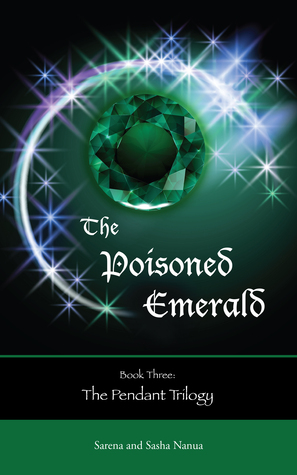 As winter arrives Arica Miller is back to regular school life at Hill Valley. After resolving the disappearance of the King's Jewel and returning it safely, Arica doesn't expect anything else to go wrong. Too soon does Arica learn that a great evil—a poison—has spread through the Sorcerers Underworld, threatening to take away all magic. And worse, the only person who can save the magical world has been kidnapped: the king.
In order to find the king, Arica and her friends must follow an ancient prophecy in which they must defeat vicious creatures, travel through mysterious forests, and restore peace to the poisoned land—no matter how dangerous it could be…
In this final installment of The Pendant Trilogy, Arica learns of dark pasts, unknowable futures, and the truth of the pendant's origin.
Arica doesn't have much time left—and if she fails, the mortal and the magical worlds are both at stake.
*************************************************************************************************
Signed Book Giveaway!
Sarena and Sasha Nanua are generous enough to be giving away ONE SIGNED COPY of any of their books! You can enter the giveaway by clicking on the Rafflecopter link below!
*************************************************************************************************
I hope you all have a great weekend!
REMEMBER: Spectacularly Swanky Saturday is TOMORROW and we are posting about our most anticipated summer release! Join us by posting your own most anticipated summer release on your blog or in our comments! We'd love to hear from you and find some new books to read and share! =) You can find more information by clicking here!
 ❤ Kelly