Top Ten Books On My Spring TBR List!
I know I'm posting this a little early this week, but I'll be putting up an interview with Andrea Cefalo, author of The Fairytale Keeper, tomorrow! My first ever blog tour and interview post! Wahooo!!! Andrea is wonderful and you will all love her, so please stop by to show some love, check out her book, and read her interview!
Top Ten Tuesday is hosted by Broke and Bookish!
Can I just tell you all how excited I am for this Top Ten Tuesday?! I LOVE, LOVE, LOVE Spring! Especially because the first day of Spring is my BIRTHDAY!!! WAHOOO!! Plus, this snow thing is getting old. Mother nature can take her white, fluffy crap back and give me some warm sun, please and thank you!
So, anyways, I now present you my TOP TEN SPRING TO-BE-READ LIST!
1. A Court of Thorns and Roses by Sarah J. Maas
Of course, how could you not expect me to have this one on here? Come on now! Do you all even know me?!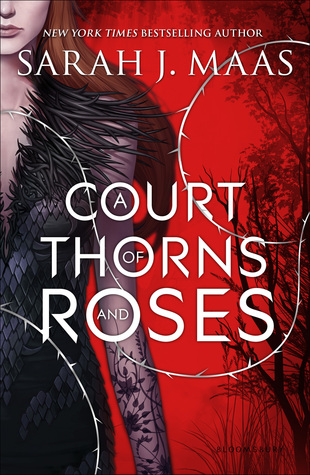 2. A Darker Shade of Magic by V. E. Schwab
I'm a little apprehensive of this one because it seems a little different from what I am used to. I'll be reading it with Andi though, so that should make everything better!!!
3. The Haunting of Sunshine Girl by Paige McKenzie
Though I'm not much of a contemporary person, I AM a ghost person! I watch every ghost show under the planet. Give me creepy spirits haunting the TV any day (haunting me is a whole other ball game)! I hear this has let down a few people who have expected it to be really scary, but the truth is that I would rather it NOT keep me up at night! So, I am very much looking forward to reading this one! I could use a good ghostly thriller (that doesn't keep me up listening for the bumps in the night)!
4. An Ember in the Ashes by Sabaa Tahir
Ahhhhh Sabaa, my heart is yearning for this one. I can't wait to read all about the adventures of Laia and her journey to get her brother back. I've heard a few mixed reviews, but most of them seem to be on the higher side of the star table! I'm hoping that Laia turns out to be as BA as she is described!!
5. The Gates of Thread and Stone by Lori M. Lee
Because I've been talking to Lori on twitter, it makes this series SO MUCH MORE appealing than it already was. All I want to do is read it and tweet Lori going, "OMG I LOVE IT AND YOU AND IT'S JUST SO AMAZING AND YOURE AWESOME!"… which I have a very strong feeling I'm going to do anyways. Hahaha, beware Lori! Beware!!!
6. Winterspell by Claire Legrand
I. LOVE. THE NUTCRACKER! Being a ballerina, this was my favorite ballet in the world growing up because I actually got to be in it multiple times through the years in different parts. It was so much fun! Now, add a really messed up world and some dark characters and call it a really mentally screwed up nutcracker?… Well, let's just say that my mind is screwed up enough to love this idea and be excited to see how Claire managed to derange the fantasies of Clara.
7. The Assassin's Blade by Sarah J. Maas
No, I haven't read this one yet. Yes, I know it's a prequel to my favorite series. Yes, I know it's my favorite author. No, I'm not ashamed! I will read you!!! I am just waiting until I thoroughly miss Celaena Sardothien's kick-assness to pick it up, open it, and start getting caught in that world again.
8. Graceling by Kristin Cashore
I have heard so. many. good. things. about this series. A ridiculous amount of my bookish friends have told me that I'm going to love Katsa and her BA tendencies. I'm really excited to read this one!! I could use a good BA heroine that kicks butt on a  daily basis. =) I'll be reading this one with Lauren!
9. Incarante by Jodi Meadows
After reading The Orphan Queen and loving it, I've been asking around about Jodi's Incarnate series. I've heard quite a few good reviews, so this one just recently made it onto my TBR shelf! It's so pretty and the topic of reincarnation is something I feel doesn't get touched on very often in this sense. Plus… I've heard the swoons are to die for! ❤
10. The Heir by Kiera Cass
Queen. of. feels. Kiera Cass! The Selection ripped my heart open, shredded it into a million pieces, and then spit it back out again because Kiera's main character, America, was so insanely relatable because she was created with flaws, insecurities, and all the like that come with being in love. It hurts my heart to know that she's going through what I have gone through. The ache in my chest took two days to fully go away! Needless to say, I am not-so-patiently waiting for this book to be released in May!
Those are my choices! If anyone wants to buddy read, let me know! Although, I will give fair warning that I am not an easy person to buddy read with because I like speed read through everything or keep having to read other books that have deadlines! I'M SORRY LAUREN AND ANDI! But, I love having people to swoon and fangirl with! especially when there are hot, male, fictional characters involved (I swoon over my boyfriend all the time, I'm allowed to swoon over a fictional character, right?!)
What would your choices be?! What are all of you trying to read this Spring? I'm interested to hear what's next on deck on your TBR shelf! =)
❤ Kelly
Save